Anybody that hasn't followed Zynga (ZNGA) over the last year will be shocked reading the Q2 shareholder letter. The mobile-game developer constantly talked about either record mobile numbers or the best financial metrics in five years.
As mobile has become nearly all of the revenues and bookings, the market is starting to see the growth potential long hidden by the declines in web bookings. The question is whether Zynga is still a buy near multi-year highs of $3.80?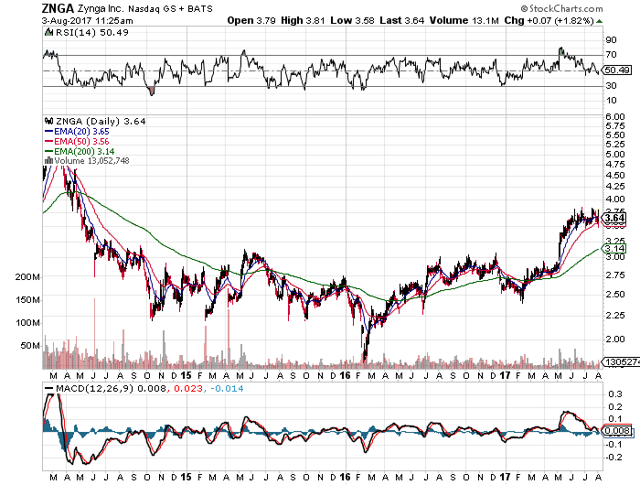 Even with the headwinds of declining web revenues, Zynga generated 20% growth in bookings for Q2. The quarterly number at $209.2 million was also at highs.
Mobile numbers were even more impressive. Mobile revenues were up 30% and bookings were up 33% to $182 million. Both numbers were records for the company.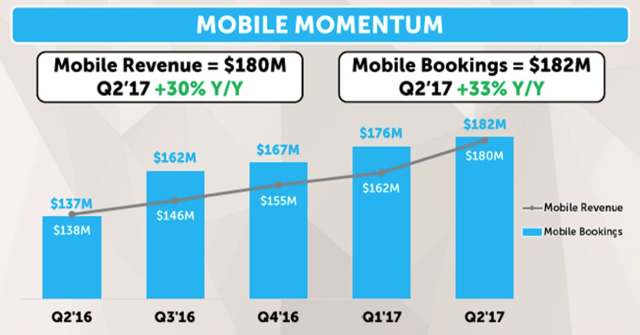 Source: Zynga Q2'17 shareholder letter
The stock would be viewed entirely different if the market only focused on these growth metrics for mobile plus the 45% growth in average mobile MAUs to 71 million. Zynga is only worth $3.1 billion and still has $740 million in cash and a valuable headquarters in San Francisco where Airbnb (AIRB) just rented 287,000 square feet for nine years.
If Zynga was valued like a fast growing, game developer, the stock would trade at a higher multiple. Take-Two Interactive Software (NASDAQ:TTWO) surged on 28% revenue growth and Electronic Arts (EA) trades at double the EV to Revenues multiple though revenues only grew 14% in Q2.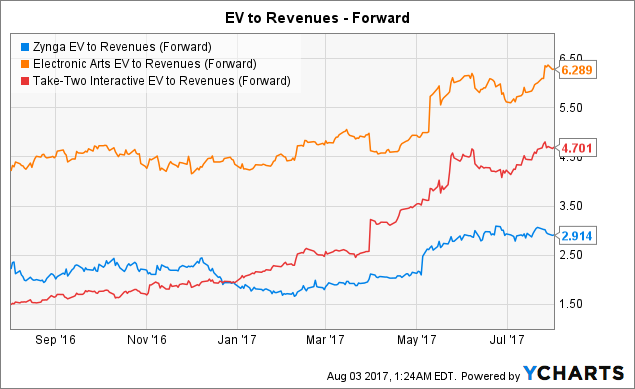 ZNGA EV to Revenues (Forward) data by YCharts
The key investor takeaway is that Zynga still trades at a valuation suggesting the market hasn't caught on to the return to growth. The stock remains cheap compared to other game developers.