I like to keep my viewers updated with the latest news on stocks that I considered undervalued or worthy to be watched! You can check out all of my recent buys/sells and stock considerations at my site which can be found in my profile.
I like to use the CCC spreadsheet which is run and maintained by Dave Fish. When looking at the spreadsheet I like to add my own data filters. This helps me find companies that meet my set of criteria. After the filters were added, I now had a list of companies that I can start researching. This is how I came up with the three stocks listed today.
QUALCOMM, Inc. (QCOM)
Qualcomm is a semiconductor and telecommunications equipment company that primarily focuses on manufacturing components for mobile devices. The company pioneered the 3G and 4G networks and is now leading the industry into 5G. Founded in 1985, Qualcomm has a market cap of $78 billion.
I am considering QCOM as a potential buy because of its history and the great value that it currently has.
QCOM currently has a dividend yield of 4.27%. The 5-year average is 2.51%. That is almost an 180 basis point higher compared to the 5-year average. I like to look at this dividend yield of today vs. the 5-year average because it helps me determine if the company is worth my time for further research.
The next question I like to ask myself is "Can QCOM continue to pay this dividend?"
The answer is yes, QCOM can.
QCOM has a dividend payout ratio of 83%. This payout is a lot higher than what I normally like. However, when looking at the Free Cash Flow Per Share and comparing it to the dividend we get a payout ratio of 48%. This tells me that QCOM does have the cash to continue to payout this fantastic dividend.
Another metric I like to look at is the current PE, the PE 5-year average, as well as Forward PE.
Right now QCOM sits at a PE of 20.4 with a 5-year average of 18.3. At first, this would mean that QCOM is a little over priced compared to the 5-year average, but when looking at the forward PE, we get it at 11.2.
Here we have a chart from F.A.S.T. Graphs and whenever the black line is under the orange/blue line, it is considered to be undervalued. Here we see that QCOM is indeed undervalued since it is under both the blue and orange line.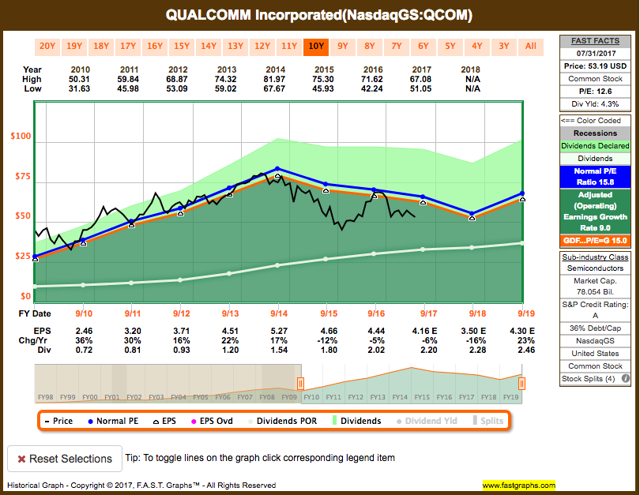 Source: Fastgraphs.com
Omega Healthcare Investors Inc (OHI)
Omega Healthcare Investors Inc is a self-administered real estate
investment trust (REIT), providing financing and capital to the long-term healthcare industry with a particular focus on skilled nursing facilities and assisted living facilities, independent living facilities, rehabilitation and acute care facilities located in the United States and the United Kingdom.

I am considering OHI as a buy because of the amazing dividend yield, and the fact that this company has been raising dividends for over 20 straight quarters.
OHI has a dividend yield of 8.24% with a 5-year dividend growth rate of 8.8%. This means that OHI has a Chowder Rule of 17.04. (Chowder Rule is when you add the current dividend with the 5-year dividend growth rate). Normally for REIT, you would like a Chowder Rule of 8 or higher, but OHI is giving you 17.04 WOW!
The 5-year dividend yield average is 6.5%. So you can buy OHI over 174 basis points compared to the 5-year average.
Now "Can OHI continue to pay this dividend?"
The answer is yes, OHI can.
When analyzing REIT, you must look at Funds From Operation (FFO) instead of Earning Per Shares (EPS).
With that said, OHI has a payout ratio of 70%. Not only are you getting a high dividend yield, you are also getting a safe coverage with plenty of room to continue to grow the dividend.
As you see below in the F.A.S.T.Graph, OHI is very much undervalued. OHI 5-year P/FFO is around 11.5. OHI is currently on a P/FFO of 9.1.
If OHI were to hit is normal P/FFO 5-year average, in 3 years you would have a Rate of Return of 53.3%.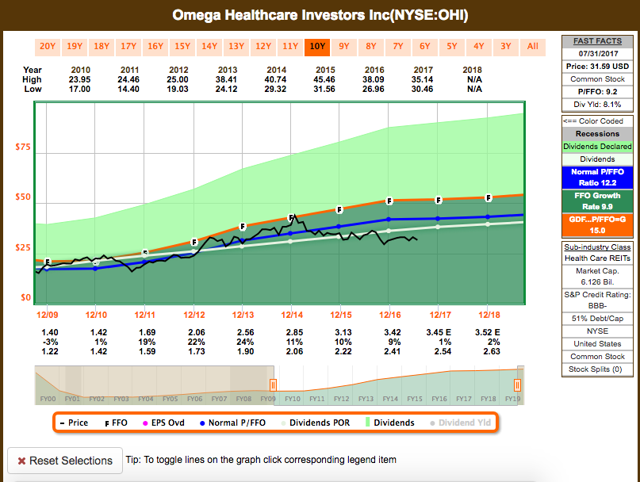 Source: Fastgraphs.com
Pfizer Inc. (PFE)
"Pfizer Inc. is a research-based global biopharmaceutical company. The Company is engaged in the discovery, development, and manufacture of healthcare products. Its global portfolio includes medicines and vaccines, as well as consumer healthcare products. The Company manages its commercial operations through two business segments: Pfizer Innovative Health (IH) and Pfizer Essential Health (EH). IH focuses on developing and commercializing medicines and vaccines, as well as products for consumer healthcare. IH therapeutic areas include internal medicine, vaccines, oncology, inflammation and immunology, rare diseases and consumer healthcare. EH includes legacy brands, branded generics, generic sterile injectable products, biosimilars and infusion systems. EH also includes a research and development ((R&D)) organization, as well as its contract manufacturing business. Its brands include Prevnar 13, Xeljanz, Eliquis, Lipitor, Celebrex, Pristiq and Viagra."
Source: Google.com
I am considering buying shares of PFE because I want to diversify and add more companies in the health sectors into my portfolio. I also find the company to be fair to undervalue right now.
Let's talk about the current dividend yield state. PFE dividend yield is at a nice level of 3.89%. The 5-year dividend yield average is 3.4%.
You do not get that big basis point jump like QCOM and OHI, but PFE yield is higher than the 5-year average as well as the broader market.
Back to the same question as the other two.
"Can PFE continue to pay this dividend?"
Yes, PFE can.
PFE has a payout ratio of 48% based on 2017 EPS estimate of $2.55. So not only does PFE has a nice yield of 3.89%, they also have a 5-year dividend growth rate of 8.4%.
This gives us a Chowder Rule of 12.29. Which means this is a company worth looking into.
The F.A.S.T. Graph picture below shows that PFE is somewhat in the fair to undervalued area.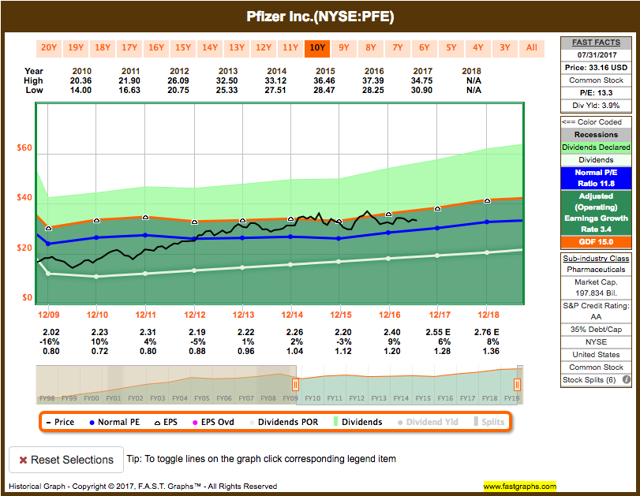 Source: Fastgraphs.com
Conclusion
This month I plan to make three buys of $1,200 each. I plan to buy one, two, or all three of the companies listed above. I currently own QCOM and OHI. I am a little in the red with both of them. This is why I am planning to buy more.
These are just recommendations and I recommend you to do your own due diligence before investing in any of the stocks listed.
Thanks for reading! If you like this article and would like to read similar ones in the future, please click the Follow link at the top of this article.