I will do some profit taking on Apple (AAPL) this week to finance going long on Kingsoft Software (OTCPK:KSFTF) (HKG:3888). I argued before that Kingsoft's freemium WPS Office 2016 is a threat to Microsoft's (MSFT) Office productivity suite. I know Kingsoft generates most of its revenue/profit from its subsidiary, Cheetah Mobile (CMCM). However, the popularity of its WPS Office is why Kingsoft is famous around the world. The free and premium WPS Office desktop and mobile productivity suite versions tout 1.25 billion installs.
The business unit responsible for WPS Office is the smallest but second-fastest growing revenue contributor to Kingsoft software over the last four years, 742% growth in revenue from 2012 to 2016.

(Source: Kingsoft) Figures above are in Renminbi. 1 RMB = $0.15
The global success of WPS Office has inspired Kingsoft to apply a separate stock market listing for it at Chinext Shenzhen Stock Exchange. Once approved, the WPS Office subsidiary can concentrate more on improving the paid ($29.99/year Premium version, $79.99/year for a lifetime license) versions of WPS Office.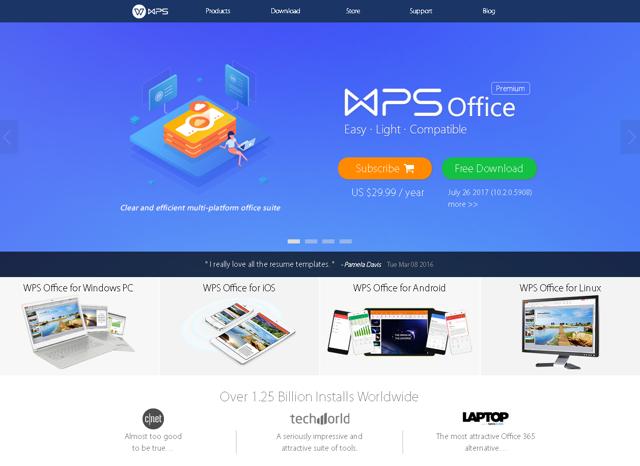 (Source: Kingsoft Software)
The Long-term Value Of A WPS Office Spin-Off
Going forward, I believe Kingsoft will treat this WPS Office spin-out listing at Chinext like it did when Cheetah Mobile got publicly listed in the U.S. Like Cheetah, Kingsoft can raise funds by selling shares of WPS Office division, but it will retain a controlling stake. The Cheetah Mobile IPO in 2014 raised $168 million, representing sales of 12 million American depositary shares at $14 each.
Before it did its IPO, Cheetah Mobile's Q1 2014 revenue was $50.8 million. The WPS Office subsidiary of Kingsoft had Q1 2017 revenue of RMB 127.8 million or $19.17 million (up 58% Y/Y). WPS Office listing at Chinext could probably raise at least $70 million for Kingsoft. The $70 million relative guesstimate is based on Cheetah's quarterly revenue and IPO cash raised. $19.17 is almost 40% of $50.8, $70 million is almost 40% of $168 million.
Retail and institutional investors who play the Chinese stock market know that WPS Office is 90% similar to Microsoft's Office 2013. The User Interface and features of WPS Office's word processor, spreadsheets, and presentation software programs are very similar to Microsoft Word, Excel, and PowerPoint.
I can customize the ribbon menu of Kingsoft's free Writer word processor to actually look like Word 2013. This unrestricted ability of Kingsoft to copy the User Interface [UI] and User Experience [UX] of Microsoft Office programs is why I am bullish on its stock. Kingsoft's WPS Office enjoys this unique advantage against other rivals of Microsoft's Office productivity suite.
I opine that Microsoft would have sued Google (GOOG) (GOOGL) if it tried to copy Office 365 or Office 2016's User Interface design. Microsoft will also not hesitate if Corel Office or Corel WordPerfect starts copying the User Interface look of Microsoft Office. WPS Office's future market valuation resides in its invidious advantage that it can copy the user interface/experience of Microsoft Office without fear of reprisals.
Small and large business users of Microsoft Office will have an easy time migrating to the cheaper business editions of WPS Office. There is almost-zero learning curve when they defect to WPS Office 2016 from Microsoft Office 2013/2016/Office 365.
Kingsoft's co-founder and chairman is Lei Jun. He is also the founder and CEO of Xiaomi. Xiaomi started its Android smartphone/tablet business by copying the physical aesthetics and User Interface designs of Apple's iPhone. American firms like Apple and Microsoft are not strict against Chinese companies which copy the UI/UX designs of their products.
Lei Jun's estimated net worth is estimated to be $6.8 billion, this is partly (or largely?) thanks to his brilliant decision to imitate the UI/UX designs of American products.
As far as I know, no Chinese judicial court has declared copying other software's UI design as something illegal. As far as I know, patents and trademark rights protect only proprietary software code. WPS Office's code is original. Kingsoft released version 1.0 of WPS Office in 1989.
Kingsoft started imitating the UI/UX design of Microsoft Office more than 10 years ago when it first released the international English version of WPS Office. Until now, Microsoft never made any complaints regarding Kingsoft's WPS Office suite.
What's Ahead for a Spun-out WPS Office
The Chinext listing will probably happen next year. Nevertheless, Kingsoft could use the funds raised from the said listing to develop more features for the paid versions of its WPS Office Suite. It needs to have better cloud storage, collaboration, and security/privacy features. These are the features that WPS Office must have to compete better against Microsoft Office and Google's G Suite.
If these features are implemented, Kingsoft could attract half-million subscribers to its $44.99/year business edition of WPS Office.
$44.99 x 500k = $22.49 million of possible new revenue.
My half-million guesstimate is actually very conservative. Google has 3 million business customers of its G Suite. I opine that WPS Office is much better than G Suite. G Suite doesn't look like Microsoft Office. It's the bane of G Suite that it cannot imitate the UI/UX of Microsoft Office. There are 1.2 billion people using Microsoft Office because it became the de facto standard.
If we guesstimate that WPS Office Business Edition also gets 3 million paying business clients, the potential annual revenue would be $134.97 million. That is just from business users. We also have to take into account the $24.99/year home edition. I could see Kingsoft eventually attracting 8 million home users to pay $24.99. Home users could contribute another $199 million/year to WPS Office.
I am discussing annual subscriptions because if I am Lei Jun, I will get rid of that $79 lifetime license option for WPS Office Professional versions. The best way to monetize commercial software is to rent them, not sell them for a one-time license.
What WPS Office Needs
WPS Office mobile and desktop versions already tout the same feel and look of Microsoft Office/Office 365. Kingsoft only needs to offer the same cloud collaboration/communication features of Office 365 for Business. The $12.95 per user/month Office 365 For Business package from Microsoft includes free Skype for Business, Microsoft Teams, Yammer, OneDrive, and SharePoint.
Kingsoft needs to build a team voice/chat/email/collaboration software to make WPS Office more palatable to schools and business users. The current Achilles Heel of WPS Office is it still lacks important online communication and collaboration components.
Aside from the notably lower price of WPS Office Professional, it is a lightweight alternative to the bloated Microsoft Office 2013/2016 suite. WPS Office comes with an install file size of 70.6 MB. The 64-bit Microsoft Office 2013 ProPlus which I use now have a 702 MB download file size. Add the 32-bit version and you have a 1.4 GB install size. The Chinese programmers of WPS Office definitely care about software optimization.
If they can create a lightweight version of Microsoft Office, Kingsoft's employees could also create optimized software copycat versions of Skype for Business, OneDrive, Microsoft Teams, and Sharepoint.
The future growth prospect of WPS Office will greatly depend on how fast/good it can imitate the cloud-based or online features of Microsoft Office/Office 365. Imitating the UI/UX design of Microsoft Office is only efficient in attracting people to install and use it. WPS office already has 1.25 billion installs.
The next logical step is for Kingsoft to start making features that could attract paying home/business customers for WPS Office. The current $44.99/year Professional Business Edition of WPS Office allows online collaboration/sharing of documents. It also offers document encryption and free templates. However, those features are not yet enough to land nine-figure numbers of long-term paid subscriptions from business customers.
What Happens After WPS Office Is Spun Out
Kingsoft Software's annual revenue from Cheetah Mobile grew faster, 251.51% growth since 2014, after it was spun out. My fearless forecast is that it could also happen to WPS Office. An independent WPS Office unit could laser-focus on attracting customers away from Microsoft Office and Google G Suite. A 250% three-year growth for WPS Office Revenue is a grand slam future scenario.
The money raised from listing at Chinext Shenzhen Stock Market could fund research and development to create online collaboration/communication features for WPS Office.
Any extra money left from the said listing can be used by Kingsoft to improve its growing PC and mobile games division. The extra money could also be used to help finance its ambition to compete with Alibaba (BABA) Cloud. My attraction to Kingsoft as a long-term investment is also partly because of its proven success as an online games operator. The PC and mobile online games of Kingsoft generated 2,545,641,000 Renminbi ($378.60 million) last year, up 85.97% Y/Y.
Unlike the declining pay-to-play World of Warcraft PC MMORPG title of Activision Blizzard (ATVI), Kingsoft's Chinese freemium PC MMORPG game JX Online III is still growing. JX Online III's FY 2016 revenue was RMB 1,392.8 million ($207.94 million), 56% higher than FY 2015. JX Online III posted a Q1 2017 revenue of RMB 458.2 million ($68.16 million), up 38% Y/Y. If JX Online III can post average sales of at least $65 million for the remaining three quarters of 2017, JX Online III's FY 2017 revenue will be $260 million, 25% Y/Y increase.
China is the biggest market for video games, and Kingsoft has a strong IP in JX Online. Along with Tencent (OTCPK:TCEHY) and NetEase (NTES), Kingsoft is going to be among the biggest beneficiaries of the growing gaming industry in China.
China's video games industry is estimated to generate $27.5 billion in revenue this year. I am an avid investor on video games-related companies. I am long in ATVI, TCEHY, and NTES. I also previously went long King Digital (KING) and SoftBank (OTCPK:SFTBY) when they were still independent mobile games publishers.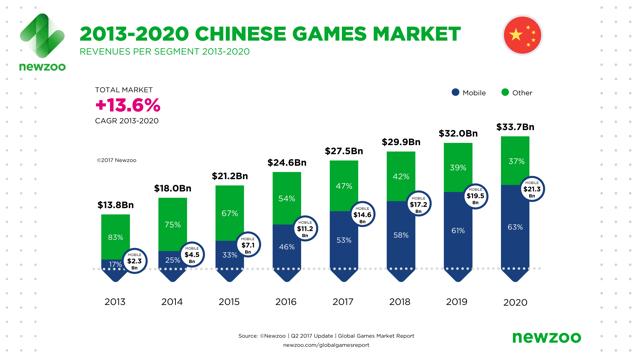 (Source: Newzoo)
Kingsoft has released the Chinese mobile version of JX Online. Kingsoft is wisely leveraging and transitioning its biggest PC game to the mobile platform. The PC-to-mobile transition is congruent to the rise of mobile games over PC games revenue in China this year.
Tencent, the world's biggest video games company, has licensed the JX Online IP from Kingsoft. Kingsoft has long-term benefits from licensing its IP to Tencent. The mobile games initiative of Kingsoft is also boosted by partnerships with mobile developers, 70yx.com and NetDragon Websoft. By expanding its JX Online PC games (JX Online I, JX Online II, and JX Online III) to the mobile platform, Kingsoft could further boost its online games business.
My five-year projection for the online games segment of Kingsoft is presented below. I used a lower than 25% CAGR.
2017 = $473 million
2018 = $591 million
2019 = $738 million
2020 = $902 million
2021 = $1.1 billion
As for Kingsoft's biggest business segment, Cheetah Mobile, I'm pretty satisfied with its consistent annual revenue growth. The American depositary shares of CMCM have declined well below its $32++ price levels in 2015.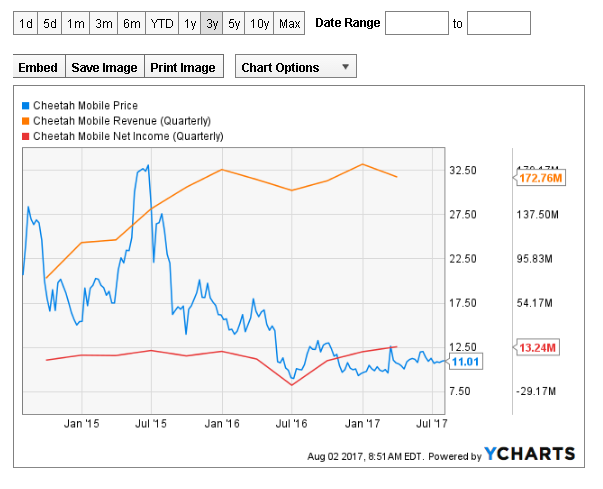 (Source: YCharts)
However, a check on Morningstar's five-year quarterly report revealed that Cheetah Mobile is back to black. The Q4 2016 and Q1 2017 of CMCM have positive net income numbers. Consistent revenue growth plus a decent net income is satisfactory to me.
Figures are in Chinese Yuan Million.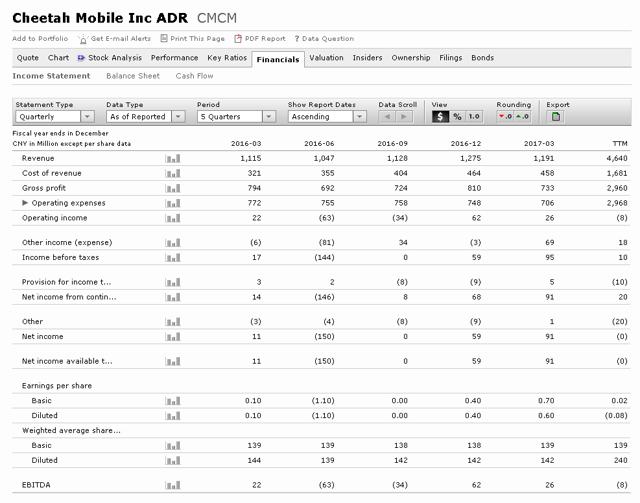 (Source: Morningstar)
Conclusion
I opine that WPS Office's chance of long-term success is better if it is released as a separate, publicly listed company. A WPS Office Suite with Microsoft Office-like online collaboration and communication features could eventually propel Kingsoft as one of the world's top companies involved in productivity/collaboration Software-as-a-Service [SaaS].
Like Office 2016/Office 365 propelled Microsoft to the top of the $13 billion per quarter enterprise SaaS industry, WPS Office could also propel Kingsoft to the top of China's SaaS industry. Kingsoft is in a great position to take advantage of the heavy restrictions on foreign-made software inside China. Once more Chinese businesses/citizens stop using pirated versions of Microsoft Office 2016/Office 365, Kingsoft's WPS Office will find more success in its domestic turf.
The only obvious headwind I could see is that some American and European firms may not fully trust the Chinese-made WPS Office. However, unlike Huawei, no country has banned Kingsoft's products.
Editor's Note: This article discusses one or more securities that do not trade on a major U.S. exchange. Please be aware of the risks associated with these stocks.