Apple (AAPL) gapped up 6.5% yesterday, 2nd August, on a Q3 earnings beat. You'd think the broader market (SPY), or at least Tech (QQQ) would follow it higher and make new highs, but neither moved much, and the S&P500 actually closed flat.
As for Apple, it sold off for most of the session, but did manage to hold the previous high and break-out level of $156. Still, when the high of the session is made in the first minute, it suggests the stock is tired. Exhausted even.
Fitting, then, that the gap higher was clearly an exhaustion gap.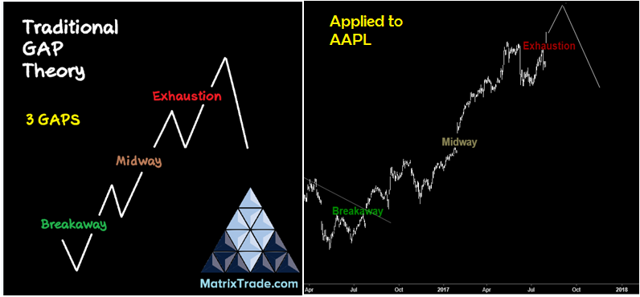 Now this doesn't mean Apple will collapse immediately, but it does warn us that the last leg of the rally is underway. This will be Apple's blow off top, and targets for this type of move can get plain silly; I would not be surprised to see AAPL at $180. Yet ultimately the higher it goes, the more it will fall.
But what of the stock market? Is the inaction yesterday a sign of a topping market, where not even the largest stock in the history can inspire new highs?
The answer appears to be 'no', as the S&P500 acted in a very similar way when Apple spiked 6.26% higher on February 1st, again after earnings. During this session the S&P500 did not break to new high and after a brief gap up, sold off and again closed flat.
Yet a week later the S&P500 broke higher in a powerful 5% rally.
And amazingly it seems ready to repeat.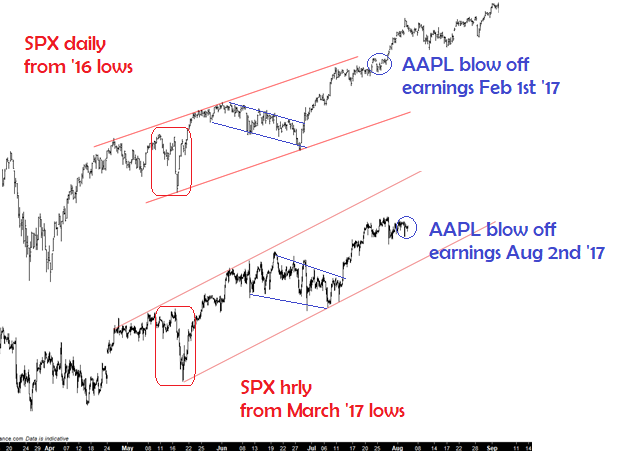 This is an update of a chart I published in my weekly update on the markets. The price action of the larger rally from the 2016 lows is repeating on a smaller scale from the March 2017 lows. However, I just noticed how well Apple fits into the overall picture.
Just when it seems the market is tired and rolling over, a rally can come out of nowhere and kill the bears all over again.
Where is this view wrong?
It has consistently paid to give the benefit of the doubt to the bulls. Look for ways the market can move higher instead of looking for tops. But the bull market is undoubtedly mature (consider again Apple's exhaustion gap) so it is not a time to be stubborn.
I am therefore using inflection points. The $156 break-out point on AAPL is perhaps a bit too tight, but the inverse head and shoulder neckline at $153 should really hold as support as it did in May (circled).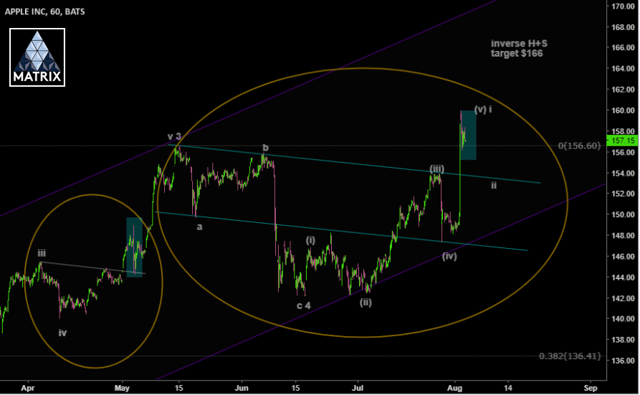 As for the S&P500, I would not be long below this channel, currently at 2,443.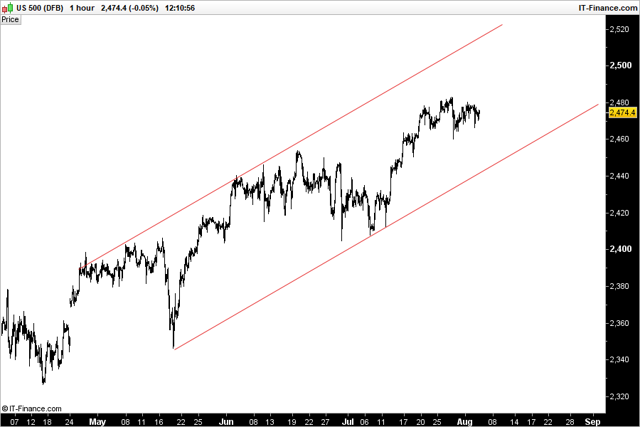 It's as simple as that really.
Conclusions
Don't fret about the S&P500 reacting sluggishly to the big Apple break-out. It has done the exact same thing before and if the price action keeps repeating the market could be about to blow off even more.