Amaya Inc. (AYA) is a good long-term investment since it currently generates free cash flow of $335MM, has many competitive advantages such as its scale and market share, and is best positioned to benefit from the increase in demand for online gaming with its Stars brands. Once the U.S. legalizes online gambling, Amaya will be able to quickly capture the pent-up demand in the U.S.
It's interesting to see a scenario like Amaya, the online casino, sports book, and poker room provider based out of Canada. U.S. companies that have reached peak market share/opportunity domestically are often pressured by investors to expand overseas internationally in order to fuel growth and add to the top line. Once there are plans proposed by the company to do so (and those plans are executed successfully), shareholders are rewarded with higher earnings and therefore a higher stock price. Amaya is kind of like the opposite scenario. The company is currently the dominant player in the online gambling space globally, generating revenue from big European markets such as Italy, UK, Spain, and France. But the big question mark surrounding Amaya's true potential for global domination of the gambling space is the United States. It seems almost inevitable that within the next 10 years, online gambling will eventually be legalized on a federal level within the U.S. given that there are multiple states that are going through the legislative process to legalize online gaming. What better exposure can an investor get than Amaya?
Amaya's Business Model
Amaya has been able to grow its revenue over the past five years, increasing its revenue from $77MM in 2012 to $1.2 billion in 2016. The growth has certainly been appealing and should have investors interested. Amaya's decision to build out its online casino and sportsbook is a step in the right direction given it already has the infrastructure and scale in place. I don't believe the company will have any trouble holding onto its market share. The business, by nature, has high barriers to entry given the requirement of licenses. Additionally, Amaya has the benefit of a recognized brand, scale, and infrastructure. Once gambling is legalized on a national scale within the United States, Amaya should be able to dominate the space domestically, just as Poker Stars and Full Tilt had done before 2011.
Amaya's Financials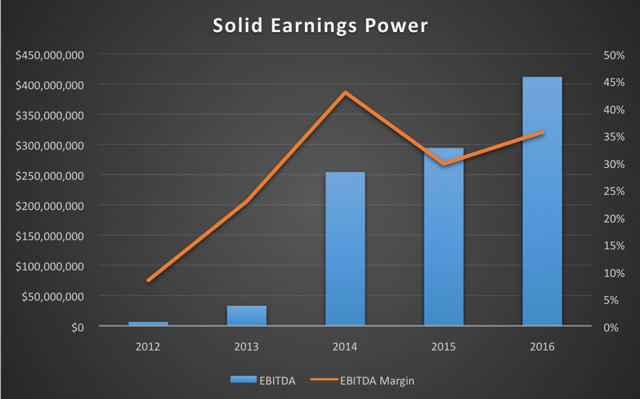 Source: GuruFocus
Amaya has had success in growing its EBITA and EBITDA margins over the past five years. This earnings power can be attributed to Amaya's position as a leader in the industry and the operating leverage associated with its business model. The majority of Amaya's costs being fixed allows its incremental revenue dollars to flow straight to the bottom line, which can be attractive for an investor and goes well with the company's ability to maintain its huge market share. The competitive advantages speak to the quality if this cash flow as well.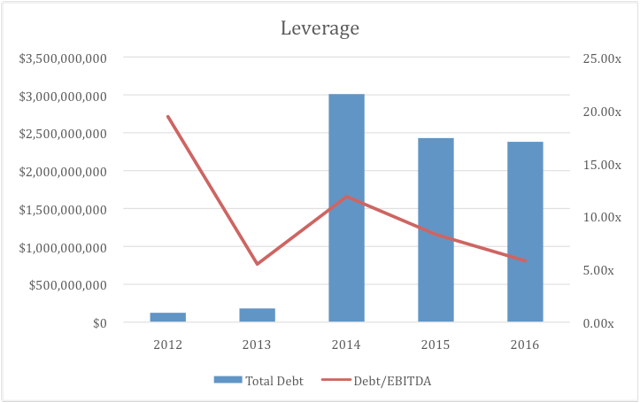 Source: GuruFocus
I don't believe the company is overly levered at this point in time, as debt to EBITDA has come down a bit and is hovering around 5.5-6.0x. The chart above illustrates the company's recent deleveraging, as a result of amortization of term loans issued in 2014.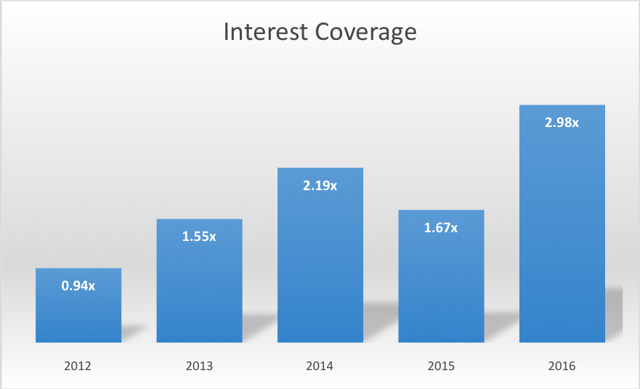 Source: Author/GuruFocus
The interest coverage (as measured by EBITDA/Interest Expense) for FY 2016 is the highest it has been in five years. This is driven by higher EBITDA and lower leverage for 2016. A high coverage at close to 3.0x gives an investor comfort in knowing there hasn't been overextension by management. Additionally, the company has clearly proven that it can successfully de-lever after having taken on close to $3 billion in long-term debt.
Poker's Potential in the U.S.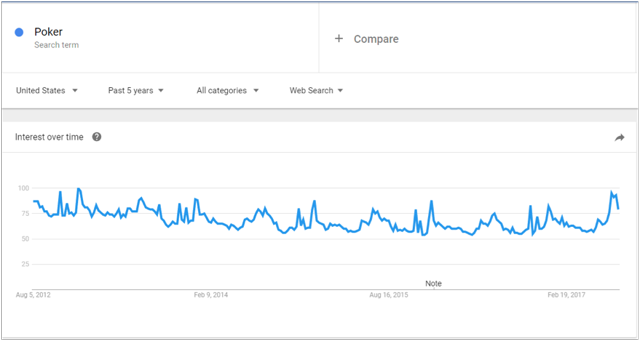 Source: Google Trends
Poker is once again on the rise in the U.S. The 2017 WSOP Main Event was the 3rd largest event in the history of the WSOP. Poker in the form of entertainment is also growing, with the new streaming service PokerGO that allows subscribers access to poker broadcasts, whether live or pre-recorded. The chart above shows the term "Poker" in Google's search trends increased to a level not seen since 2012. This data is cyclical in nature given the timing of the WSOP main event. However, the peak is what's important. This data supports the potential shift in popularity surrounding poker, which should lead to pressure to allow gaming in the U.S. as popularity continues to rise back up to pre-2011 levels.
Valuation
Assumptions when doing a valuation for AYA were taken from historical data. Free cash flow for FY 2016 was $335MM, which was a 6.72% increase from the year prior. I believe this growth rate is sustainable long term especially with the prospect that this company may be able to enter the U.S. market over the next 10 years. Running a DCF using conservative assumptions yielded the following results:
| | |
| --- | --- |
| Growth | 0.00% |
| WACC | 12% |
| 2016 FCF | $335,460,000 |
| PV of 10 years | $1,895,423,817 |
| Terminal Value | $2,795,500,000 |
| PV of Term Value | $900,076,183 |
| Intrinsic Value of FFCF | $2,795,500,000 |
Source: Author/GuruFocus
I assumed no growth over the next 10 years (which is highly unlikely) and a discount rate of 12% (given WACC of 11.29%). For terminal value, I assumed the same discount rate at year 10 and discounted it to arrive at its present value. The result is an intrinsic value of the cash flows of the business of $2.8 billion. Today's market cap of the company is around $2.6 billion. There's a small margin of safety given extremely pessimistic assumptions about the future cash flows of the company. This analysis should provide comfort for a long-term investor.
Disclosure: I/we have no positions in any stocks mentioned, and no plans to initiate any positions within the next 72 hours.
I wrote this article myself, and it expresses my own opinions. I am not receiving compensation for it (other than from Seeking Alpha). I have no business relationship with any company whose stock is mentioned in this article.