Starbucks (SBUX) has taken a tumble after Q3 earnings.
You could attribute this to the top line miss, but the price action over the last two year tells us the issue is much larger.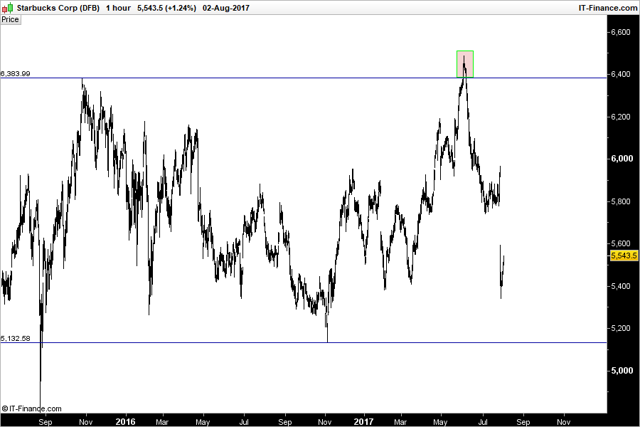 The first new high in 18 months was made in June, and it failed spectacularly; there is just no appetite to buy above $64.
And for good reason.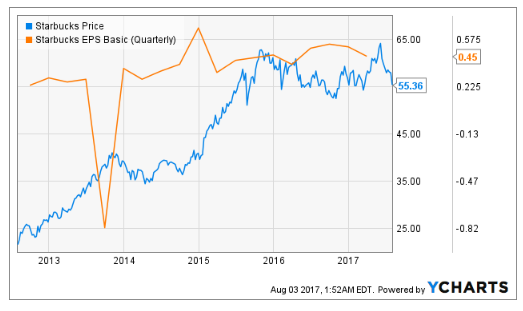 Bottom line growth is non-existent. Combined with a PE ratio of 27.8 and a CFO who just stated he is 'cautious going into Q4', it is understandable why SBUX is struggling to break higher.
But SBUX cannot stay in a $51 to $64 price range forever. Which direction will it break out?
Consolidation or distribution?
To answer this question I will refer back to my November 2016 article Starbucks v McDonald's.
This article compared Starbucks in 2016 to McDonald's (MCD) in 1997, back when MCD had very similar growing pains. MCD had stalled for 18 months, despite the number of restaurants growing at a rate of 2000 (the same rate Starbucks is growing at now).
But I wasn't really comparing the two companies, I was comparing the stocks: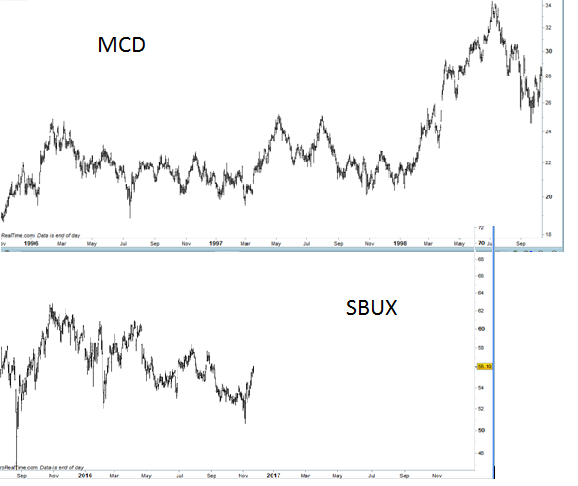 It is quite logical for the two stocks to act in similar ways as concerns about growth and valuation limit any rallies. I used the comparison to conclude 'price is likely to make another high, but the general direction is sideways for another year before a final larger rally.'
Six months later SBUX did indeed make a new high, but as we saw already, it failed and continued in the sideways range as predicted. Here is an updated chart.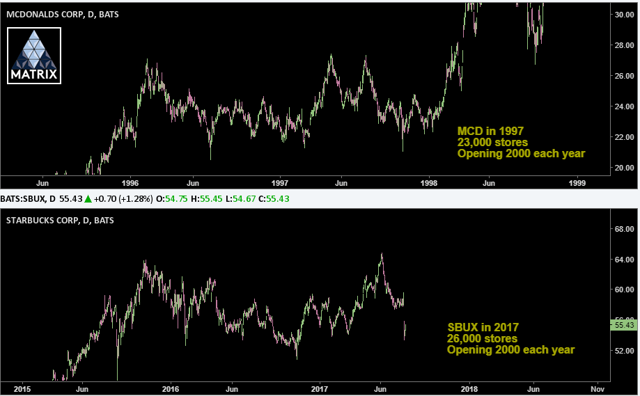 This chart is the reason I am interested in buying SBUX again. It suggests SBUX will hold the low $50s and break higher.
Perhaps buyers are finally willing to overlook their concerns about valuation, much as MCD investors did in the late 1990s. In this period the MCD PE ratio went from 20 in 1997 to over 35 in early 1999. A comparable move in SBUX may create a bubble, but if I can make 25% riding a bubble then I am all for it.
The 'perfect' spot to buy is $52.2-$53 based on a technical measured move from the June high. However, I am aware the market does not care what I consider to be perfect, and given the potential reward I am buying in stages below $55 for a target of $65 and $70 on a break-out.
What if I'm wrong?
I like SBUX the company, and I like the dividend, but I am not willing to hold through any major correction triggered by the broader market. The recent technical break-down should be noted: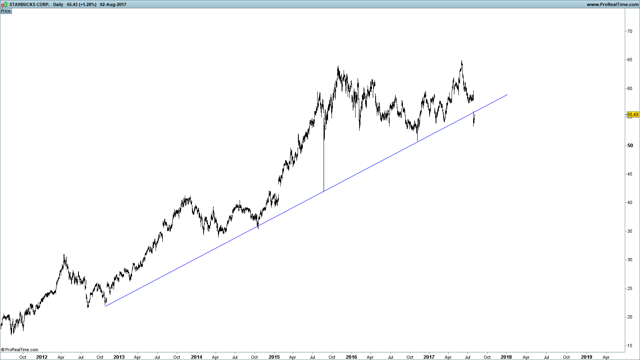 A failed high in June followed by the gap below a 5 year trend-line does send a warning message. I therefore have stops under $51 in case I'm wrong and SBUX breaks the range to the downside.
Conclusion
With little progress over the last 18 months, it is hard to imagine how SBUX can sustain a break higher. But when stocks consolidate for such long periods, they tend to break higher on speculation and sentiment. MCD did this in the late 1990s and SBUX seems to be in a very similar situation. I am once more betting on SBUX, but this time with more caution due to the technical break-down.
Disclosure: I am/we are long SBUX. I wrote this article myself, and it expresses my own opinions. I am not receiving compensation for it (other than from Seeking Alpha). I have no business relationship with any company whose stock is mentioned in this article.