Western Developed Economies throughout the world are a bad place to invest at the moment as they face three major problems: record high debt, record high asset valuations and aging demographics. Emerging markets have more potential, but include their own problems, such as corruption, lack of legal standards, and shallow inefficient markets. By investing in western-based companies that focus on natural resources, we can benefit from the legal standards and efficient markets of the west while mitigating some of the risks associated with emerging markets. Commodity investments help expose investors to future global growth, without having to predict the next tech-trend or hype. The record low prices of commodities relative to financial assets makes this an ideal time for investors to re-assess their outlook for the future and position their portfolios accordingly.
The Western Developed Economies have massive government debt, their bond markets have historically low yields, and the demographic picture is bleak, with the older generation preparing for retirement while the younger generation is heavily indebted and lacking in real skills. The massive debt in these countries has effectively pulled forward growth from the future and it will take many years of saving to provide these countries with the asset base from which to derive future growth. Asset prices in many of these countries, particularly the United States, are near record highs due to the monetary policy of the Central Bank. These policies, unfortunately, have increased the wealth gap, decreased employment, increased debt, and encouraged rampant speculation in the financial markets at the expense of savings. There are not enough buyers at current prices to allow all of the current owners to sell; only the fortunate few will receive all time high prices for their assets, you must sell to lock in these record high prices while they are available!
Emerging Markets have problems of their own, including opaque markets, corrupt government policies and no rule of law. These problems have encouraged market participants to trade these investments at a significant discount to 'Western' assets. I see an opportunity in the combination of real growth occurring in these emerging markets along with government policies to encourage the rule of law and foreign investment and to root out corruption. As emerging markets compete for foreign investment, they will resolve the inefficiencies that have historically discounted their markets. This will (at the margin) reduce the valuation discount long suffered by some of these countries and create a self-sustaining boom of real growth and pro-investor government policies, which will in turn benefit commodities.
Significant opportunities exist to invest in companies that own commodity assets throughout the world. Many of these 'commodity' related companies are trading at historic discounts to the 'financial assets' of the general stock and bond markets. Avoiding the richly valued assets and investing our capital in deeply under-valued hard assets, we can position ourselves for significant capital gains despite the likely stagflation that will be affecting western economies for the foreseeable future. As global growth shifts from the historic western economies to the emerging market economies, commodities will benefit from both the real increase in demand from emerging markets and the currency devaluation of the western world (which will push up hard asset prices in US dollars). By deploying our capital into real goods we will avoid the strategic currency devaluation employed by central banks, while participating in the global growth of countries that are not over-indebted, are improving their capital markets' efficiency, and are experiencing real growth from healthy demographic and political trends.
I'm including some charts of markets I believe are over-valued. I will follow up with charts of commodity related companies and ETFs that should benefit from the trends I've mentioned above. As the baton is passed from over-valued developed economies to under-valued emerging markets, there is a great deal of confusion in the financial markets. This confusion provides an opportunity to buy the dips in your favorite commodity funds or companies. These charts will represent broad generalizations, but should demonstrate my point and provide insight into trading opportunities: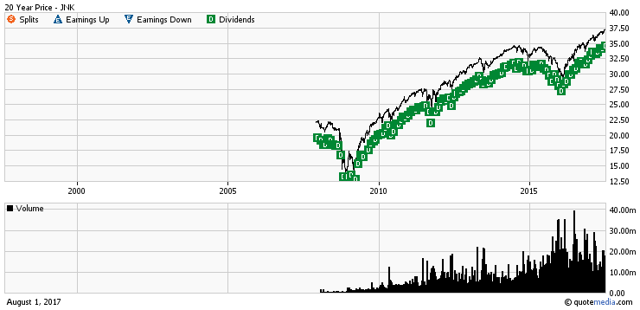 (JNK) representing corporate bonds. Highest price ever.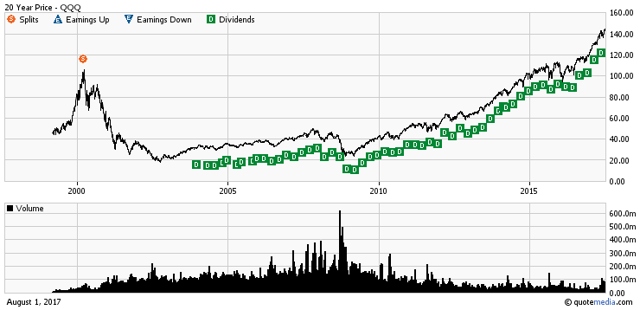 (QQQ) representing US Nasdaq. Highest price ever.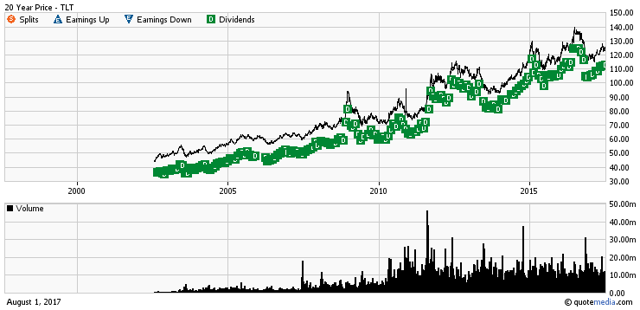 (TLT) representing long-dated US Treasury Bonds. Not highest ever, but not nearly as cheap 2007-2008. May have peaked after 30 year bull market, much closer to the peak value than the bottom, not attractive to purchase.
Shifting to value opportunities here are some commodity stocks and funds: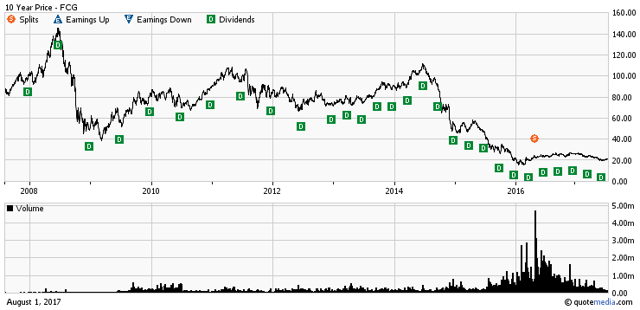 (FCG) ETF fund of Nat. Gas and Oil. Appears to have bottomed in 2016, putting in a higher low. Classic setup for opportunity to make money. Relatively cheap against its own historic prices. Relatively cheap against other assets. Insiders purchasing.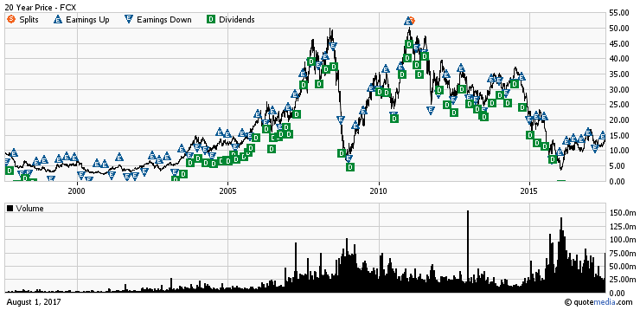 (FCX) Freeport McMoRan, a large copper producer. Appears to have bottomed in 2016, putting in a higher low. Relatively cheap against its own historic prices. Relatively cheap against other assets.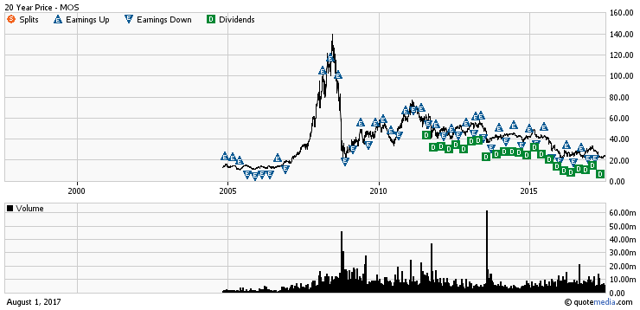 (MOS) Mosaic, a large potash and phosphate company. Prices are relatively cheap against its own historic prices, relatively cheap against other assets.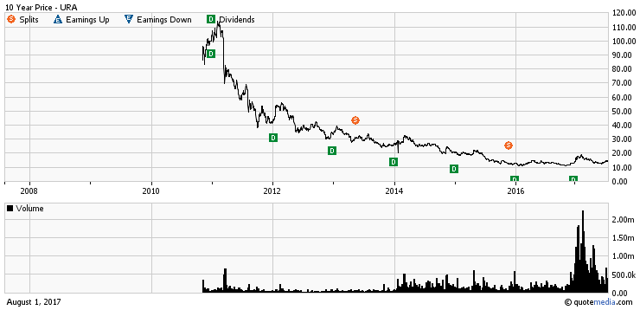 (URA) A uranium ETF, holds many uranium related investments. Prices are cheap against historic prices and relative prices. Many fundamental catalysts will eventually drive prices much higher (as with many of the undervalued commodities listed).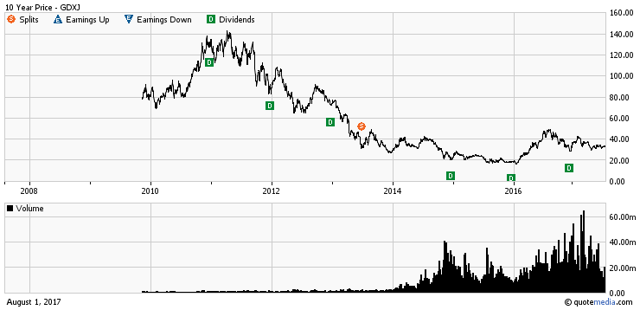 (GDXJ) Gold junior mining ETF. Same story as above. Appears to have bottomed in 2016. Uptrend in place. Good place to invest.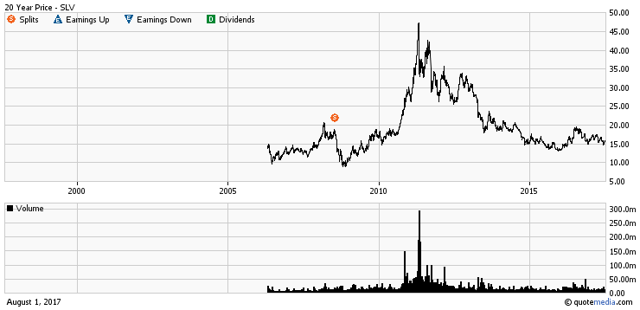 (SLV) ETF for physical silver. Appears to have bottomed in 2016. Relatively cheap compared to historic prices of silver and relative to financial assets. Uptrend in place, time to buy and hold.
Final charts were copied from Steve Saville at The Speculative Investor. He shows how commodities are cheap relative to financial assets: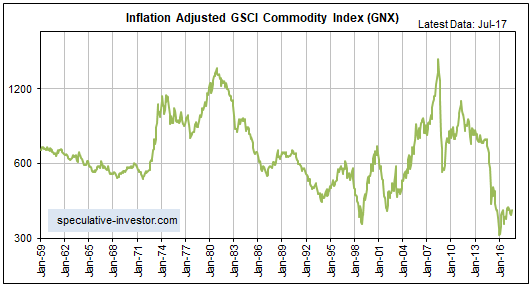 Commodities are cheap!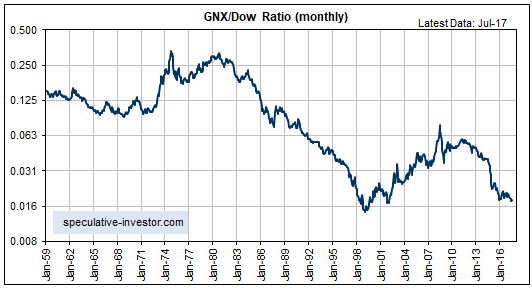 I have personally invested in a variety of micro-cap Canadian stocks that focus on natural resources. Due to their small market capitalization and SeekingAlpha's preference for larger companies, I have used the above ETFs and stocks to represent the opportunities available in the natural resource sector. The main point is that Western developed economies and markets are generally overvalued and commodities are generally undervalued. Invest Accordingly!
Disclosure: I am/we are long RRC, DVN, DNN. I wrote this article myself, and it expresses my own opinions. I am not receiving compensation for it (other than from Seeking Alpha). I have no business relationship with any company whose stock is mentioned in this article.
Additional disclosure: I invest in a variety of nano-cap junior natural resource companies. I own shares in Denison, which is held in the URA fund. I own shares of RRC and DVN, which are held by the FCG fund.