Summary
AMC's Q2 pre-release warning on August 2 caused collateral damage throughout the exhibitor industry.
Although 2016 was the best year ever for the US box office, market sentiment has reversed sharply against movie theater names in 2017.
These companies have solid fundamentals, and most of them pay generous dividends.
The bear thesis is superficial, and there is value in this industry at today's prices.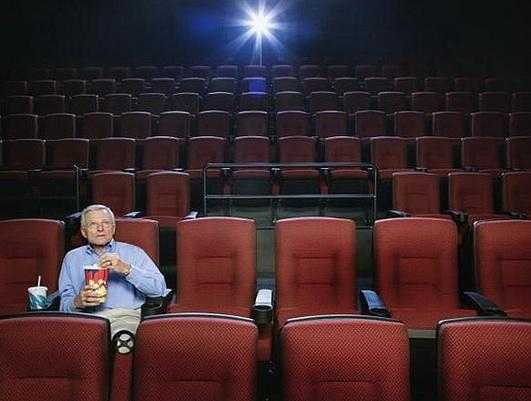 Theaters appear to be struggling to fill seats this year
On August 2nd, movie theater chain operator AMC Entertainment Holdings Inc. (AMC) dropped a bombshell on an exhibitor industry that was already on the ropes. AMC's second quarter pre-release warned investors that revenue, EBITDA, and net income will all miss analyst targets for the quarter ended June 30, 2017. Even worse, AMC lowered guidance in all three metrics for the full year and blindsided the market with a $202.6 million impairment charge that will lead to a net accounting loss for the quarter of at least $1.34 per diluted share. AMC's stock responded to the news by plunging a whopping 26.9%. Caught in the crossfire, shares of AMC's fellow exhibitors Regal (RGC), Cinemark (CNK), IMAX (IMAX) and in-theater advertiser National Cinemedia (NCMI) all suffered heavy losses.
The backdrop here is that fear and uncertainty have been building for several months around any name connected to brick and mortar movie theaters and the news just seems to be getting worse. If you had purchased an equal weight portfolio of the five leading exhibitor stocks mentioned above on January 1, 2017, then your year-to-date return would be -24.2% vs. an 11.9% return for the S&P 500.
The Mainstream Financial Media Thinks Exhibitors Are Doomed
For the bear thesis, look no further than the mainstream financial media whose pundits often double as apologists for the market's occasional dramatic shifts in sentiment. Their thesis largely rests on some formulation of the following points:
First, would-be moviegoers, and especially millennials, don't want to fight the crowds at an expensive theater when increasingly high-quality entertainment is available in the comfort of their own homes. All you need is an internet connection and a cheap subscription to a content provider like Netflix (NFLX), HBO (TWX), Amazon Prime Video (AMZN) or Hulu (Private) to access today's best passive entertainment options. A PriceWaterHouseCoopers study found that 53% of moviegoers thought theater tickets were too expensive, and 41% of them thought that box office films aren't as interesting as they used to be.
Second, brick and mortar retail appears to be in secular decline as consumers shift spending online. Sales per square foot in US malls have fallen 24% over the past decade. Since most cineplexes are located either in malls or in retail shopping districts, bears think that theater chains will eventually follow retailers like Mervyn's, Borders, and Aeropostale into bankruptcy.
Finally, Premium Video On-Demand (often referred to as PVOD) looms as an existential threat for exhibitors. An increasing number of analysts are predicting that in less than a year, studios like Fox (FOX), Time Warner, and Disney (DIS) will start cutting out the theater chains from their business by offering their new release films directly to movie audiences via online distributors like Apple (NASDAQ:AAPL), Netflix or Amazon. Bears think that PVOD will cause the exhibitors to lose their monopoly on new release movies, and when they do, their value proposition to entertainment seekers will be irreparably harmed.
Buy On The Drop?
"The most coherent stories are not necessarily the most probable, but they are plausible, and the notions of coherence, plausibility, and probability are easily confused by the unwary. The uncritical substitution of plausibility for probability has pernicious effects on judgments when scenarios are used as tools of forecasting." - Daniel Kahneman in "Thinking, Fast and Slow", Chapter 15
As plausible as the bear case above may sound, a few important counterpoints must be considered.
First, cord-cutting millennials may enjoy Netflix and Hulu, but this doesn't necessarily spell doom for the exhibitor industry. Recent industry research discovered that millennials are willing to pay top dollar for memorable "experiences" such as attending a movie on opening day at a theater with friends. The same study found that millennials are 50% more likely than the general population to say that they consider movies a passion of theirs.
Second, malls and retail outlets may be struggling, but theater ticket sales indicate that exhibitors are bucking the trend in brick and mortar retail. Although year-to-date receipts are down about 2% through July, it would be reckless to conclude that this moderate decline must be due to some unstoppable macro trend that spells disaster for the exhibitors - especially when 2016 was the best year ever for the US box office. As the chart below shows, box office receipts have been growing at a modest but consistent rate for over 20 years. (Of course, the bears would point out that the increase in ticket sales has been partly due to an increase in ticket price, but price increases indicate that consumers find increasing value in a product or service and at the end of the day, a sales increase is a sales increase). This data directly contradicts the theory that movie theaters will follow retail outlets like Mervyn's into bankruptcy.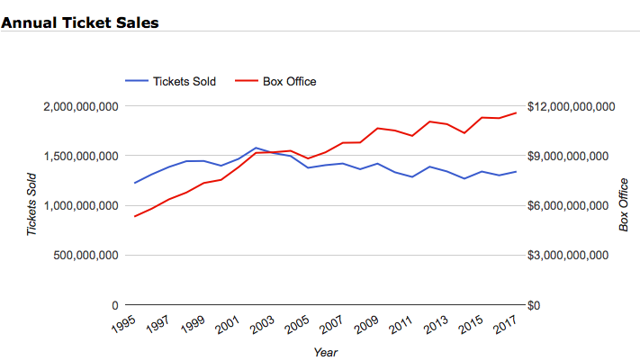 Chart from the-numbers.com
Third, ticket sales may be off a bit year to date, but the exhibitors depend on the studios to produce films that moviegoers want to see, and every few years, the studios simply don't produce anything that catches the public's interest. Statisticians know that every so often, nature provides anomalous outcomes, and there doesn't need to be an obvious macroeconomic force driving everything that happens in business. In other words, it is entirely possible that the current box office slump is a short-term phenomenon that does not have a satisfying cause, and there is no compelling story to tell here. Further, as early as this winter, movie attendance may revert to the mean, if not surpass it, when Disney releases Star Wars: The Last Jedi on December 15th, 2017. As a point of reference, 2015's Star Wars: The Force Awakens had ticket sales of about $2 billion (#3 all-time) and 2016's Star Wars: Rogue One brought in about $1 billion in receipts (#22 all-time).
Fourth, the sell-off on August 2nd in the exhibitor sector was sparked by AMC's Q2 earnings pre-release warning. Arguably, the worst news in that press release was the $202.6 million impairment charge, which was non-cash and explicitly linked to AMC's ongoing divestiture of the bulk its ownership of shares of in-theater advertiser NCMI. In other words, the entire sector got hit with some serious collateral damage from AMC because of an accounting nuance that is unique to AMC and has no bearing on the overall health of the movie theater industry. According to AMC's press release, the outsized impairment was "Due to the significant decline in value of the publicly quoted price per share of NCM, Inc." In other words, NCMI's share price has declined significantly, so AMC had to write down its exposure to NCMI. However, by taking this action, AMC caused a cascading effect wherein AMC sent NCMI's shares tumbling another 17.8% in one trading day. For NCMI, the irony here is palpable. The market reacted to AMC's acknowledgement that NCMI's share price had dropped by punishing NCMI's stock price even more. We could chalk yesterday's events up to Mr. Market's occasional irrationality, but I prefer to think that this was just the latest example of how trading algorithms are running our equity markets. I just can't picture a human making these trades.
Finally, Premium Video On-Demand may present a challenge for the exhibitors, but consider that since the advent of silent film in the 1890s, the exhibitor industry has proven to be highly resilient to disruptions due to technology and audience tastes. Perhaps you or someone you know remembers that for many years, people thought that television would kill movie theaters. Of course, the exhibitors continued to thrive even when Americans upgraded their TVs to color in the 1950s. Videocassette Recorders didn't keep audiences at home in the 1980s, and TiVo (TIVO) recorders failed to disrupt the industry in the early 2000s. Perhaps the exhibitors will find a way to make PVOD work in way that benefits them. On the other hand, even if PVOD cuts the exhibitors out of the new release business, the exhibitor industry's historical resilience seems to indicate that audiences will continue to enjoy the social experience of attending movies in theaters.
Conclusion
Value investing is all about finding beleaguered stocks with great fundamentals. Similarly, the best time to buy is when the proverbial blood is in the streets, and the mainstream financial media is convinced that a profitable industry is toxic. If the bear thesis extolled by financial media pundits sounds superficial to you, (as it does to me), then note that, thanks largely to the recent price drops, most of the exhibitors now sport generous dividend yields which are covered by ample free cash flow. Case in point, following the 17.8% slide on August 2nd, NCMI's dividend yield now sits at 14.7%. At the close of that brutal trading day, NCMI's board declared this quarter's $.22 payout which has an ex-dividend date of August 9th.
What's your take on the exhibitor sector? Are these names facing an existential crisis or is Mr. Market just overreacting to noise and uncertainty?

Disclosure: I am/we are long NCMI. I wrote this article myself, and it expresses my own opinions. I am not receiving compensation for it (other than from Seeking Alpha). I have no business relationship with any company whose stock is mentioned in this article.