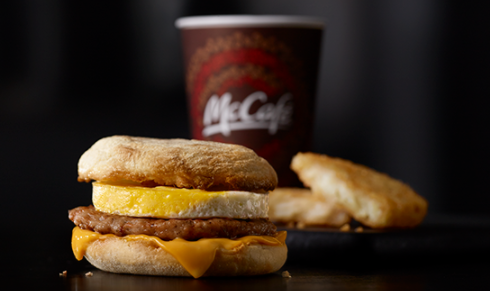 I'll just come straight out with it. I've been wrong on McDonald's (MCD). I thought $20 or $30 ago during this rally that the stock would stall out and a least consolidate, and perhaps sell off. I've given the reasons before but as you can see from the chart below, I was wrong. MCD has undoubtedly had some tremendous momentum and in the second quarter, that momentum seems to have increased. The thing is that at some point, the stock has to stop just going up in a straight line and there are some cracks appearing in the rally in addition to a very full valuation. I know, I know, "here we go again" you say, but hear me out.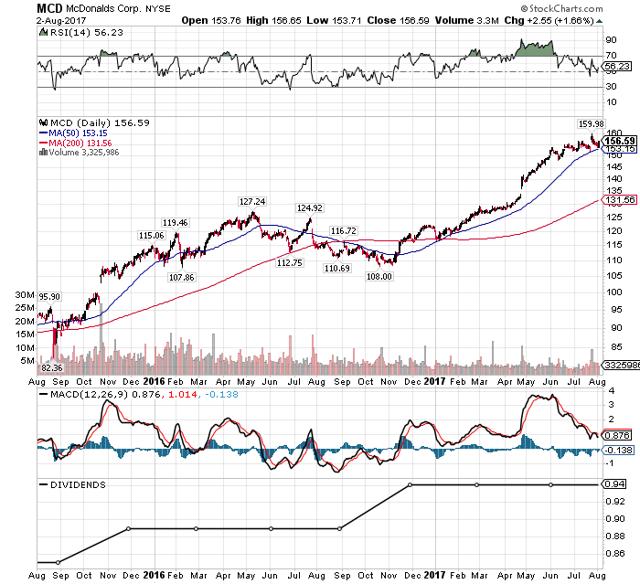 Let's start with the quarter itself because it was really quite something to behold. Total revenue was down, of course, as the company's refranchising strategy is still playing out but comp sales were absolutely massive. Global comps were up 6.6% on strong traffic and the US comp also beat estimates at 3.9%. The traffic drivers in Q2 were the premium sandwich line and value beverage promotion, both of which contributed to higher ticket counts. I'll admit the resilience that MCD's comps have had in the past has been absolutely staggering and I just can't say enough. MCD is comparing higher on some pretty robust numbers so this demand is real and MCD has figured out how to get people into its stores. There was a bit of a lull after the hugely successful all-day breakfast initiative but it seems MCD has dealt with that nicely.
Margins rose a bunch as well as MCD's refranchising strategy is playing out quite well indeed. Higher comp sales also helped leverage down G&A costs so operating profits rose better than 20% in Q2 despite lower total revenue. I was a critic of the refranchising strategy not because it doesn't work, but because replacing lost earnings from sold restaurants with franchise revenue is extremely difficult on a dollar basis. MCD is, however, in the process of doing just that and I'm taking my lumps here. In short, MCD's Q2 was absolutely outstanding and huge credit is due.
But is that enough? Perhaps, but it depends upon how much more upside you think there is on a fundamental basis. Keep in mind that when a company produces enormous comps like MCD has, it then has to comp against those numbers the next time around. MCD will be grappling with these enormous comps next year and while it could very well continue this string, the bar gets higher and more difficult to crest every time. That's something to keep in mind as you're managing expectations.
In addition, also keep in mind that MCD is in the sweet spot for margin growth from its refranchising strategy right now and beginning next year – just like with comp sales – margin comparisons are going to be more difficult. It isn't that MCD cannot continue to grow margins because it certainly can, but be careful about extrapolating these blockbuster results out into the stratosphere because that simply isn't realistic.
Also, there's the valuation, which is getting pretty pricey. MCD is going for 24 times this year's earnings and let's keep in mind that we are talking about a long-term EPS growth rate in the high-single or low double-digit range. That's impressive EPS growth and I'm not ignoring MCD's progress, but 24 times earnings is perhaps 2 to 2.5 times its EPS growth rate and that's steep. In other words, I believe the stock is pricing in more growth than what MCD can reasonably be expected to produce year after year. That doesn't mean the stock will sell off but it does mean that future expected returns from right here, right now will be lower simply because so much growth is already in the stock price.
Finally, despite all the great news that MCD has produced, I'm most worried about what the chart is saying and if you're long, you should be too. When MCD hit about $140 back in April, it was on an extremely strong rally where the momentum indicators made new highs. That's what you expect when a stock pushes to new highs because the bulls should be producing strong momentum to move the stock during rallies. But if you look at the chart above, the momentum indicators have made lower highs every step of the way since April, indicating waning enthusiasm from the bulls. This is a highly bearish divergence and it means that the bulls have far less conviction than they did in the earlier stages of the rally. The implication of this is that, with the stock testing the 50DMA on weaker momentum, a pullback becomes more and more likely. After all, if the bulls are losing momentum, who is there to prop up the stock? To be clear, I'm not saying MCD is going to crash tomorrow. I'm just saying that an abundance of caution should be exercised given what the momentum indicators are saying.
MCD's fundamental momentum is undeniable and I'll freely admit I didn't see this sort of thing coming. Its menu initiatives are absolutely blowing it out of the water and MCD is reaping those gains. However, at this price I believe far too much growth is priced in and that means expected returns from here – even if MCD continues to execute – are too low. In addition, remember that tough comps are coming next year off of the great numbers it has produced this year. Finally, the chart is saying caution is warranted because the bulls have very clearly lost momentum and that could swing it toward the bears, at least temporarily. In other words, caution is the name of the game here as expected returns going forward are very low based upon all of these factors.
Disclosure: I/we have no positions in any stocks mentioned, and no plans to initiate any positions within the next 72 hours. I wrote this article myself, and it expresses my own opinions. I am not receiving compensation for it (other than from Seeking Alpha). I have no business relationship with any company whose stock is mentioned in this article.