By Investment Strategy Group
The recent strength of overseas markets is a reminder of the potential drawbacks of home country bias and the upside of diversification.
Americans have long heard the advice that investing in foreign markets would open up opportunities, but have largely failed to respond. What's known as home country bias is alive and well, with portfolios typically holding over 70% of their equities in U.S. markets, despite only a 53% weighting of global market capitalization.1
In the years since the financial crisis, a stance favoring the U.S. generally has not hurt. From February 2009 to June 2017, the S&P 500 returned 16.1% per year on average, while the MSCI All-Country World ex-U.S. Index (or ACWI ex-U.S., covering non-U.S. developed and emerging markets) returned 10.2%. Starting last year, however, those results started to turn. After emerging equity markets began a rebound in 2016, non-U.S. developed market stocks joined the party in 2017, helping propel the ACWI ex-U.S. to a year-to-date return of 14.4% through May 31, compared to 9.3% for the S&P 500.2
More investors are paying attention. After a long cycle of net withdrawals, emerging market investment funds began to see inflows last year (see display). Developed non-U.S. equity funds have been slower to attract investment assets, but have begun seeing them with 2017's improved performance.
Emerging Markets Are Attracting New Flows
Net Flows in EM Funds ($ billions)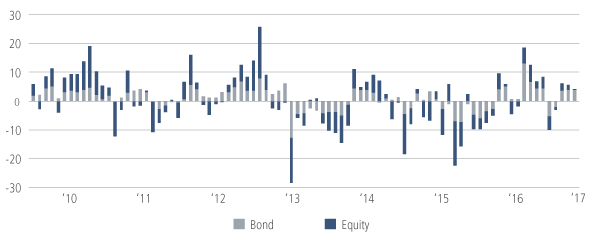 Source: IMF World Economic Outlook, April 2017.
Europe: A Fundamental and Political Story
The resurgence in global markets is largely a reflection of improved fundamentals. In Europe, recent economic news has generally been positive. Supported by still-accommodative monetary policy, Eurozone gross domestic product (GDP) is generally expected to grow at 1.7% this year, while purchasing managers' indices are showing healthy industrial and service activity. Just as important, earnings growth has been improving. Although much was made of U.S. companies' strong first quarter, European companies' earnings were better. Meanwhile, analysts are becoming increasingly optimistic about forward earnings results, in contrast to much of the current decade (see display).
Upward Revisions Reflect Renewed Optimism on Europe
Stoxx 600 EPS Consensus Growth Estimates (%)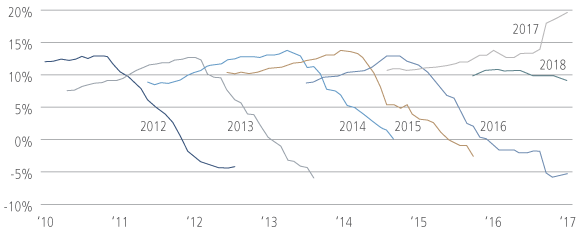 Source: BofAML Global Research, as of May 2017.
Beyond the fundamental results, the cloud of political uncertainty that weighed on Europe appears to be lifting. Last year, the U.K. vote for Brexit, followed by the surprise victory of Donald Trump in the U.S., heightened fears that populist upheaval could pull apart the European Union. However, electoral results in 2017 have had a moderate tilt - from the Dutch defeat of the nativist Party for Freedom to centrist Emmanuel Macron's victory over far-right stalwart Marine Le Pen in France - while Theresa May's loss of a Parliamentary majority has increased chances of a less disruptive "soft Brexit" as Britain's negotiations with the EU get underway. Germany is the last big "X" on the political calendar, but polling currently favors the incumbent.
These developments have helped stock prices so far. But we believe another key part of the story going forward will be valuations, which remain significantly lower than in the U.S., as reflected in cyclically adjusted price/earnings (or CAPE) ratio (see display).
International Stocks Are Deeply Discounted
CAPE Ratio: MSCI EAFE Relative to S&P 500 Index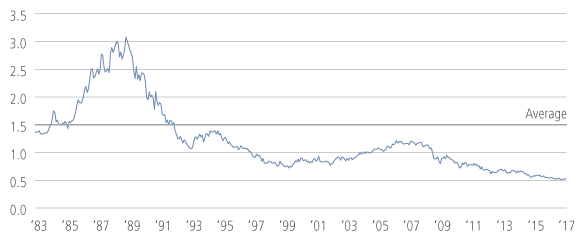 Source: FactSet, RIMES. Data as of June 30, 2017.
Looking ahead, earnings in Europe will likely benefit more from the moderate global expansion, not only because of exposure to external markets but because higher fixed costs make topline growth more additive than in the U.S., while there is potential for further cost cutting, which has already been implemented by American corporate peers. And although the European Central Bank has talked about a potential pullback of easing, they are very cautious about upsetting the still-nascent expansion, suggesting that the monetary backdrop will remain favorable.
Global Indicators Continue to Surprise on the Upside
Global Manufacturing and Services PMI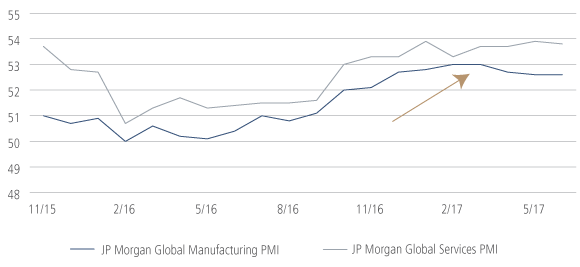 Source: Bloomberg, data through June 30, 2017. Shows purchasing managers' indices. Figures over 50 represent expansion.
Some parts of the international landscape are a bit less sanguine. Despite four years of economic stimulus, Japan's economy remains subdued and in need of meaningful reform. Exports are heavily dependent on a weak yen and any curbs on global trade could prove damaging to share prices. Elsewhere, the U.K. must grapple with the potential impacts of Brexit, including higher inflation, which could pressure the Bank of England to tighten monetary policy and potentially undermine the heavily consumer-driven economy. Still, much of the pessimism about the British economy may already be reflected in valuations while the recent election could, as suggested above, push U.K. negotiators toward a softer Brexit path, as well as prompt the government to boost infrastructure spending.
Resilience in Emerging Markets
A second key plotline in the current global story has been running for longer, but still appears to provide opportunity. In the immediate aftermath of the financial crisis of 2008, emerging markets displayed broad resilience, driving global growth during the early stages of the recovery. But as Chinese expansion slowed, albeit from unsustainably high levels, conditions took a turn for the worse, particularly for the countries that were dependent on commodities, which suffered severe price declines starting in 2011. The OPEC-driven 2014 collapse in the oil patch further exacerbated that weakness.
However, the EM environment since early last year has generally been more positive, with an improving global economy and a rebound in commodity prices. Markets have grown more comfortable with slower expansion in China (with a consensus GDP growth estimate of 6.6% for 2017), as the country's reform efforts could make that growth more sustainable over time.
Meanwhile, current account positions3 which had worsened after the global financial crisis have improved more recently, with lower oil prices benefiting the majority of EM countries that are energy importers. Crucially, emerging markets' traditional growth advantage over developed markets appears to be expanding again, after contracting for several years; and earnings projections have continued to increase, particularly in certain segments of the technology sector.
Emerging Markets' Outsized Impact
Contribution to Global Output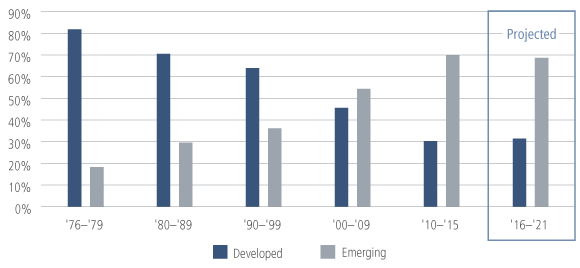 Source: IMF, April 2017. Weighted averages are calculated using market exchange rates. The bars show percentage of contribution to output growth.
Donald Trump's election victory in November created anxiety about the impact that American protectionism might have on emerging markets, but thus far it appears that the rhetoric may be worse than reality in terms of inhibiting global growth. Meanwhile, Chinese authorities are currently clamping down on non-bank lending and overheating areas of the housing market, an effort that in the short term could negatively affect trading partners and markets. Also, while fears of capital outflows (which pressured their currency) have dissipated, the issue of growing Chinese debt periodically makes headlines on a global basis.
Another worry has been the tightening of U.S. interest rates by the Federal Reserve, which traditionally has been seen as a headwind for emerging markets. However, the currencies of many countries already went through a significant adjustment in the "taper tantrum" of 2013, potentially minimizing the impacts today. Moreover, the rate hikes have not been accompanied by U.S. dollar strength (quite the contrary), which would likely tend to pull liquidity out of emerging markets. Given a broad investor focus on global markets, we see less potential for the dollar to move much higher for the rest of the year.
Still, it's important to note that emerging markets have often been quite volatile, suffering at least one 10% downdraft in each year since 1997,4 even in generally positive periods. Recent events provide a reminder of the risks, from revelations in May about government corruption which sent the Brazilian market down 8.2% in one day, to South Africa's downgrade to junk status in April. Emerging markets have tended to be particularly impacted by fund flows. So, while the general view is for benign growth and a moderate set of risks, a quick shift in sentiment can send investors for the exits.
That said, the EM universe is quite diverse in its fundamentals. China is the integrated economic engine that impacts companies globally, while reforms are contributing to India's growth potential. In contrast, Russia remains heavily dependent on commodities and although Brazil is attempting to improve its fiscal situation, it continues to struggle to right itself from sclerotic regulation and corruption. More generally, East Asian economies have tended to be heavily dependent on China, while Latin America has been largely resource-driven. So, investment in the asset class is greatly affected by the details - and a manager's approach to addressing them.
Thinking Beyond the Next Quarter
Beyond the current opportunity, we believe that investors may want to consider the merits of long-term exposure to non-U.S. stocks. Although results since 2009 have largely favored U.S. markets over other developed and emerging markets, it is worth remembering that performance leadership has often changed hands, sometimes for extended periods. For example, the last stretch of international outperformance versus the U.S. lasted for seven years through November 2007, with the previous six-year winning streak covering 1983 to 1989 (see display). (Emerging markets have experienced a similar pattern involving larger return differences.) This is not to say that we are in for another such long-term trend. But given the difficulty of predicting market inflection points, strategic exposure to non-U.S. markets could prove valuable.
U.S. and Foreign Stocks Have Traded Performance Leadership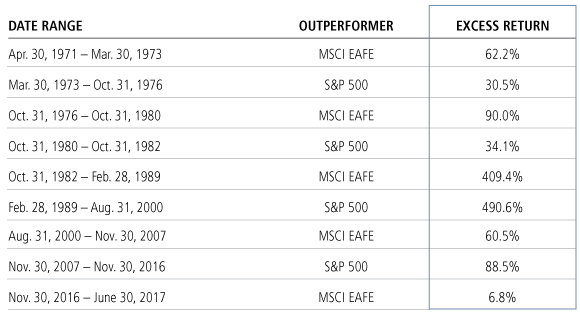 Source: Morgan Stanley, Bloomberg.
Today, there are multiple risks affecting global stocks - potential for excess monetary tightening by the Fed, the specter of worsening trade protectionism and China's struggle to curb excess debt, to name a few. But on balance we see a global investment environment in which growth conditions are supportive, earnings are improving and valuations remain reasonable compared to domestic equities - key reasons why the Neuberger Berman Asset Allocation Committee currently has an overweight view of non-U.S. stocks over the next 12 months. Beyond such tactical considerations, we believe that investors should consider working with their advisors to assess portfolios' foreign exposure in light of their overall goals and risk tolerance. Sidestepping a whole segment of the global economy may be the simplest choice, but it may not be the best one.
Looking Past 'Optics' in Foreign Markets
Often the satellite view is very different from what you find on the ground. As reflected by the MSCI indices, valuations for international and emerging markets are moderate compared to the U.S., with forward price/earnings ratios of 15.5 and 12.8, respectively.5 But these high-level index statistics and others like them can obscure underlying insights at the sector and country level, while also missing opportunities at the stock level.
For example, Benjamin Segal, head of our Global Equity team, notes that the headline price/earnings discount for the MSCI EAFE Index (15.5) versus the S&P 500 (18.8) obscures a similarity of valuation within most sectors. For example, the aggregate spread is influenced by sector mix: The pricier IT sector makes up only 6% of the EAFE versus 23% of S&P 500, while the cheaper financials sector is 21% of the EAFE compared to 14% of the S&P 500.6
These distortions may be accentuated further when it comes to emerging markets. Conrad Saldanha, EM equity portfolio manager, observes that certain markets like Russia appear cheap (see display) but are heavily weighted in commodities that generally carry a lower multiple. Meanwhile, India's widely owned consumer stocks are fully valued (inflating its index valuation), but some of the country's less well-known companies may provide attractive opportunities at more reasonable prices.
At a time when index funds are becoming more popular as a "one-click" option for non-U.S. or country exposure, we believe that active management can play a vital role in navigating the diverse and sometimes volatile dynamics of foreign markets. Having the ability to distinguish not only countries and sectors but also individual stocks based on fundamentals may provide potential for outperformance over the long term.
Emerging Market Valuations Vary Widely
Forward Price/Earnings

Source: Bloomberg, MSCI as of June 26, 2017.
1Source: MSCI. As measured by the MSCI ACWI Index.
2Source: Bloomberg.
3Current account positions are the difference between a country's saving and investment, one indicator of economic health.
4Source: Goldman Sachs.
5As of June 26, 2017.
6Source: Bloomberg (P/E), FactSet (index weight), Standard & Poor's, MSCI as of June 26, 2017.
This material is provided for informational purposes only and nothing herein constitutes investment, legal, accounting or tax advice, or a recommendation to buy, sell or hold a security. Information is obtained from sources deemed reliable, but there is no representation or warranty as to its accuracy, completeness or reliability. All information is current as of the date of this material and is subject to change without notice. Any views or opinions expressed may not reflect those of the firm as a whole. Neuberger Berman products and services may not be available in all jurisdictions or to all client types.
This material may include estimates, outlooks, projections and other "forward-looking statements." Due to a variety of factors, actual events or market behavior may differ significantly from any views expressed. Investing entails risks, including possible loss of principal. Investments in hedge funds and private equity are speculative and involve a higher degree of risk than more traditional investments. Investments in hedge funds and private equity are intended for sophisticated investors only. Indexes are unmanaged and are not available for direct investment. Past performance is no guarantee of future results.
The views expressed herein may include those of the Neuberger Berman Multi-Asset Class (NYSE:MAC) team, Neuberger Berman's Asset Allocation Committee and Neuberger Berman's Investment Strategy Group (NYSE:ISG). The Asset Allocation Committee is comprised of professionals across multiple disciplines, including equity and fixed income strategists and portfolio managers. The Asset Allocation Committee reviews and sets long-term asset allocation models, establishes preferred near-term tactical asset class allocations and, upon request, reviews asset allocations for large diversified mandates. Tactical asset allocation views are based on a hypothetical reference portfolio. ISG analyzes market and economic indicators to develop asset allocation strategies. ISG consists of five investment professionals and works in partnership with the Office of the CIO. ISG also consults regularly with portfolio managers and investment officers across the firm. The views of the MAC team, the Asset Allocation Committee, and ISG may not reflect the views of the firm as a whole and Neuberger Berman advisers and portfolio managers may take contrary positions to the views of the MAC team, the Asset Allocation Committee, and ISG. The MAC team, the Asset Allocation Committee, and ISG views do not constitute a prediction or projection of future events or future market behavior. This material may include estimates, outlooks, projections and other "forward-looking statements." Due to a variety of factors, actual events or market behavior may differ significantly from any views expressed.
This material is general in nature and is not directed to any category of investors and should not be regarded as individualized, a recommendation, investment advice or a suggestion to engage in or refrain from any investment-related course of action. Neuberger Berman is not providing this material in a fiduciary capacity and has a financial interest in the sale of its products and services. Investment decisions and the appropriateness of this material should be made based on an investor's individual objectives and circumstances and in consultation with his or her advisors. This material may not be used for any investment decision in respect of any U.S. private sector retirement account unless the recipient is a fiduciary that is a U.S. registered investment adviser, a U.S. registered broker-dealer, a bank regulated by the United States or any State, an insurance company licensed by more than one State to manage the assets of employee benefit plans subject to ERISA (and together with plans subject to Section 4975 of the Internal Revenue Code, "Plans"), or, if subject to Title I of ERISA, a fiduciary with at least $50 million of client assets under management and control, and in all cases financially sophisticated, capable of evaluating investment risks independently, both in general and with regard to particular transactions and investment strategies. This means that "retail" retirement investors are expected to engage the services of an advisor in evaluating this material for any investment decision. If your understanding is different, we ask that you inform us immediately.
This material is being issued on a limited basis through various global subsidiaries and affiliates of Neuberger Berman Group LLC. Please visit www.nb.com/disclosure-global-communications for the specific entities and jurisdictional limitations and restrictions.
The "Neuberger Berman" name and logo are registered service marks of Neuberger Berman Group LLC.
© 2009-2017 Neuberger Berman Group LLC. | All rights reserved