Several weeks ago I wrote that I was turning neutral on the 12+ forecast, due to the downturns in 3 of the 4 original long leading indicators. So I thought I would follow up by noting the ones that remain positive.
I already noted that real M1 is still quite positive: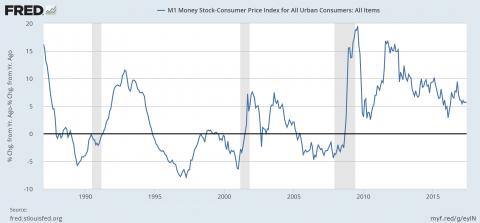 M2 (not shown) has decelerated considerably, and is more weakly positive, but hasn't even turned neutral yet.
The yield curve is also a positive: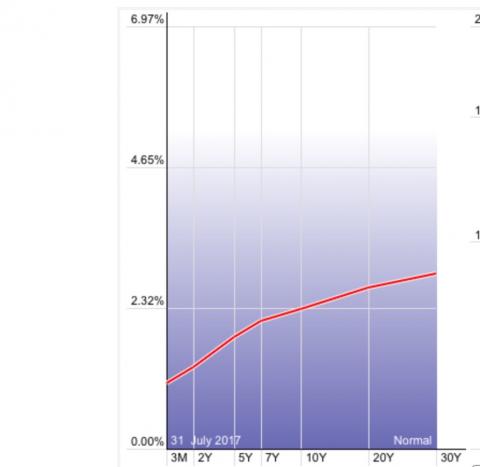 [I still suspect that the yield curve is the indicator most likely to not accurately signal in our deflationary era.]
The Labor Market Conditions Index, as constructed by the Fed, would have given one year or more warning of most of the recessions over the last 40 years. It's still positive too, if weakly so: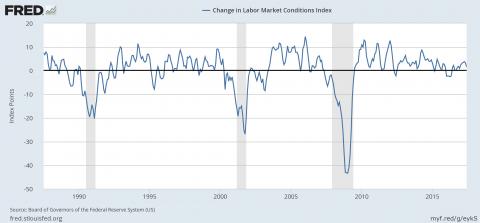 The same goes for credit tightness as measured by the Senior Loan Officer Survey, and also its more timely if noisier proxy, the Chicago Fed's Adjusted Financial Conditions Index: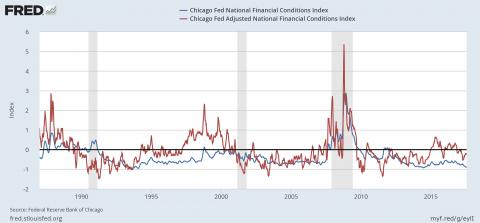 Finally, yesterday we got the 2nd Quarter update from the Senior Loan Officer Survey. Although the data hasn't yet been updated on FRED, the index declined to -3.9, meaning slightly looser credit conditions: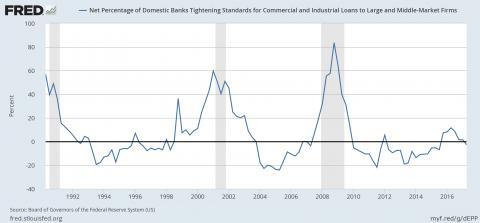 Note, by the way, that the Chicago Financial Conditions Indexes, which are updated weekly, once again accurately forecast the direction of the quarterly Senior Loan Officer Survey.
So, although corporate bonds have failed to make a new low in over a year, housing by almost all measures has failed to make a new high in the last 6 months and corporate profits have not made a new high in several years, not enough has happened yet for me to turn negative on the one-year forecast. In other words, there is nothing that causes me to think that employment, production, income, and sales will turn down before mid-year 2018.