Dividends By The Numbers In July 2017
Includes:
ADX, AMJ, AMJL, AMLP, AMU, AMUB, AMZA, ATMP, BDCL, BDCS, BIZD, CBA, CDC, CEM, CEN, CTR, DDIV, DES, DGRO, DGRS, DGRW, DHS, DIV, DIVC, DLN, DOD, DON, DSE, DTD, DVY, DVYL, ELKU, EMLP, EMO, ENFR, FDL, FDRR, FDVV, FEI, FEN, FGB, FMO, FPL, FVD, GER, GMZ, HDLV, HDV, HIE, HTD, ILPRX, IMLP, JMF, JMLP, JTD, KBWD, KMF, KYE, KYN, LBDC, LCEAX, LEAD, LMLP, LVHD, MIE, MLPA, MLPB, MLPC, MLPE, MLPG, MLPI, MLPJ, MLPN, MLPO, MLPQ, MLPS, MLPX, MLPY, MLPZ, NML, NOBL, NTG, PEY, PFM, QDEF, QDF, QDYN, RDIV, RDVY, REGL, SCHD, SDOG, SDY, SDYL, SMDV, SMHD, SMM, SPHD, SPYD, SRF, SRV, TTP, TYG, VIG, VYM, WBIY, YGRO, YMLI, YMLP, ZMLP
by: Ironman at Political Calculations
Standard and Poor's dividend data for July 2017 had a mix of good and bad news. For the good news, for the third month in a row, the number of U.S. firms announcing dividend cuts in July 2017 fell below the levels that would appear to be consistent with some degree of economic contraction within the U.S. economy.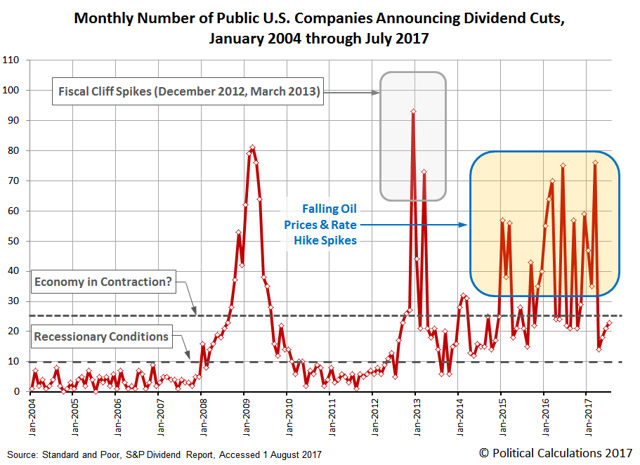 The bad news is that the number of firms announcing dividend cuts is still elevated at levels that are consistent with recessionary conditions being present in the U.S. economy. We can confirm that most of the current distress is concentrated within the oil and gas production sector of the U.S. economy, where a decline in oil prices since the beginning of the year that has only somewhat rebounded off a bottom in recent weeks is taking a toll on smaller producers and also companies that specialize in shipping petroleum products.
Looking at the bigger picture, the number of U.S. firms announcing dividend increases in July 2017 is up from a seasonal low last month, but is only even with the same month last year.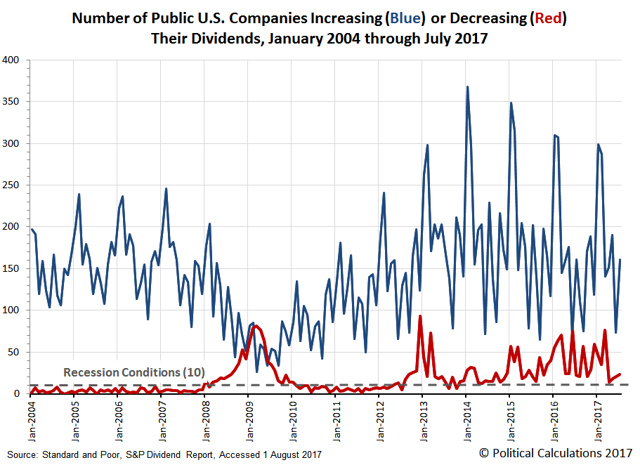 Let's roll through July 2017's dividend data:
There were 3,037 U.S. firms that issued some kind of dividend declaration during July 2017, down from 3,778 in June 2017 (the month ending 2017-Q2), and also down slightly from the 3,054 firms that declared dividends in June 2016.
There were 25 special or extra dividend payments announced in July 2017, which is down by 1 from the previous month and up by 1 from the same month last year.
161 U.S. companies announced that they would increase their dividends, up from the seasonal low of 73 in June 2017, but identical to the year-ago month of June 2016.
Meanwhile, 23 U.S. firms announced dividend cuts, up slightly from 21 in June 2017 and up by 1 from June 2016.
Finally, 6 U.S. firms omitted dividend payments in July 2016, down by 1 from June 2017 and up from the 3 that were recorded as omitting dividends in July 2016.
That summarizes the month for dividends that was July 2017. We're also paying attention to developments in the retail and automotive industries in the U.S., both of which have featured big companies falling short on earnings in this reporting season, but which have so far proven resilient in avoiding the need to cut cash dividend payments to their shareholders.
Data Sources
Standard & Poor. S&P Market Attributes Web File (DIVSTAT). [Excel Spreadsheet]. Accessed 1 August 2017.