One can dedicate extensive time and energy to observing the price of gold. Various explanations for its value involve attention to depressions, commodities that include oil, and the price of assets such as houses and automobiles. The precious metal can also be described as a type of insurance against extreme market volatility. My own impression is that one of the clearest ways to consider it is in relation to borrowing costs, particularly when interest rates also affect currency.
If you review online content made available several months ago, when there was criticism leveled at the newly-elected President Trump, you can find multiple high-profile opinions stating that his prospective policies should strengthen the United States dollar - as borrowing costs soar. However, the new administration has not favored a strong dollar, and a concerning border adjustment tax proposal that might have catapulted the currency higher is now almost certainly defeated.
International trade and borrowing costs should drive exchange rates in the future. Thus far, though there have been dislocations stemming from the trade deficit, it might continue, even though most recent data is positive and an objective of NAFTA talks is to reduce it. Unless there is news of anything concrete, an increase in interest rates would be the most obvious reason for the dollar to strengthen.
Separately, one explanation of the relationship between interest rates and gold involves the cost of holding the asset. Gold, as everyone knows, does not pay dividends. It is valuable and requires storage and security, which cost money. Even if it is profitably held, gains tend to be taxed as ordinary income. Thus, if interest rates go up, there is reason to believe the metal's attractiveness as a store of value simply decreases in relation to the alternative of lending.
Based on rates alone, one could have a predominately accurate method of valuing gold. You could predict its changing price and be right. However, any bet would be better if supported in other ways.
Which brings us back to currency. Higher rates can strengthen demand for currency, and if they go down, it weakens it. The dollar and commodities tend to move inversely. So, if rates and currency trade in tandem, then there should be a better perspective on gold.
Gold can also gain at times of uncertainty and volatility. If there is a financial crisis, market crash, or other tumultuous event, then its attractiveness tends to rise. Currently it seems that matters should remain relatively placid, however.
As shown by YCharts, thus far this year, the dollar (NYSEARCA:UUP) has weakened faster than the 10-year Treasury yield and a fund that tracks the price of gold (NYSEARCA:GLD) has in fact been moving in the opposite direction.
There is uncertainty about the dynamics of interest rates. The US Federal Reserve intends to unwind its bond holdings. The prospective selling should lower the prices of debt instruments and therefore raise borrowing costs. There also may be another increase to the Fed's policy rate this year.
Still, an imminent change in the recent trends shown would be surprising. In fact, long-term borrowing rates (TLT) have been declining.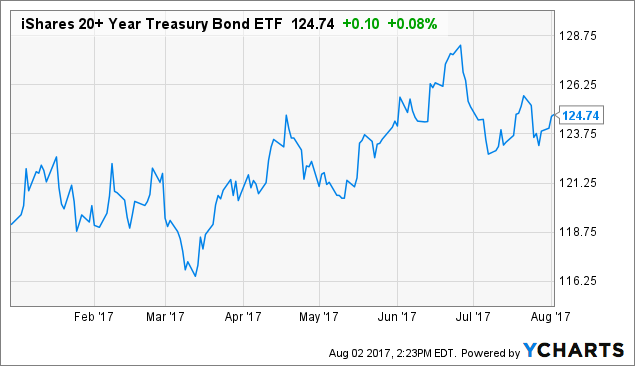 TLT data by YCharts
Still, when considering the US dollar, everything else might be outweighed by international trade. Even if bond prices move lower, an effect on the currency could be limited. Therefore, over the next month or so, there are probably worse choices than owning gold and related assets.
There are, of course, numerous funds whose role is to invest in stocks. At times it might be the case that gold mining stocks, being available to a wider grouping of investors, can be bid up by a broader group. Not only that but also some mining corporations pay dividends. There are also index funds such as the VanEck Vectors Gold Miners ETF (NYSEARCA:GDX) and the VanEck Vectors Junior Gold Miners ETF (NYSEARCA:GDXJ) that reduce the risk of individual stock ownership.
Jewelers, such as Tiffany & Co. (NYSE:TIF), can be affected differently. When gold is cheaper, Tiffany can have improved profitability because of lower cost. If the dollar is not strong relative to other currencies - which again can make gold expensive - then international travelers are more likely to use their purchasing power on the company's products.
It is probably a brief matter of time before rates rise. Perhaps debt markets can be expected to have some volatility. Even if it is severe, there could then be a lag of months before there is an effect upon other financial markets. Such turbulence probably would support the price of gold.
To summarize, shares of a gold mining corporation could be a decent store of value through the near time. However, it should be most interesting to watch the effect of prospective bond sales on interest rates. If borrowing costs rise, gold's attractiveness can decrease. Provided the exchange rate does not move substantially, with NAFTA discussions ongoing, the cheapening of the metal should be moderate.
Disclosure: I/we have no positions in any stocks mentioned, and no plans to initiate any positions within the next 72 hours.
I wrote this article myself, and it expresses my own opinions. I am not receiving compensation for it (other than from Seeking Alpha). I have no business relationship with any company whose stock is mentioned in this article.