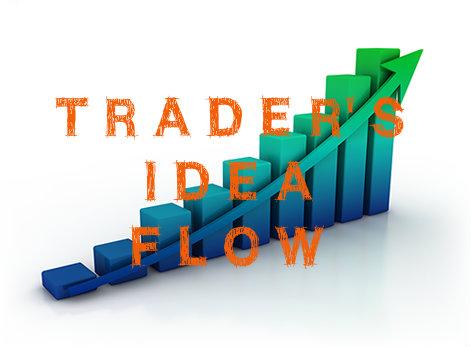 As the immortal Yogi Berra would say, "It's déjà vu all over again."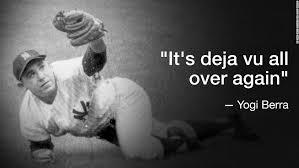 Every time some formerly popular tech stock begins its death spiral into the abyss of the discarded stocks of yesteryear, we begin to hear rumors of buyouts. Generally, when we begin to hear the bogus rumors of a buyout, it is a sign of desperation from shareholders who are hoping to exit the stock by any means possible.
If anything, these rumors should ring the dinner bell louder for the short-seller sharks circling in the waters of troubled companies. The hopes of a buyout can become all that the shareholders of failing companies have left to hold on to in many instances. In most cases, these hopes end up being false leaving investors with substantial losses.
On Thursday 8/3/17, it was reported that Snap (NYSE:SNAP) had been offered $30 billion by Alphabet's Google (GOOG) (GOOGL) last year in 2016. A spokesperson for Snap denies these rumors. Even if such an offer were bantered about last year, today the prospects for Snap's future have declined sharply and are becoming increasingly more bleak by the quarter. It is highly doubtful that any company would make an offer to acquire Snap in its current problematic condition.
The Snap spokesperson's denial of the rumored buyout indicates that this offer for Snap may never even have taken place. Candidly, this type of rumor should never even have been reported on major media outlets. First of all, it's an unsubstantiated rumor. Secondly, it has been denied by a spokesperson at Snap. And thirdly, if the rumor even had any substance way back in 2016, then the offer occurred over a year ago which makes it irrelevant today.
So why was this rumor introduced into the marketplace at all? One possible reason for the rumor to be placed in the media is that the stock is getting crushed during a lockup expiry period when some larger institutional investors are getting badly hurt. This rumor may have been an effort to stem their bleeding of losses while they dump their stock on unsuspecting retail investors who are vulnerable to bogus rumors of takeovers.
There may be another reason that the year-old, irrelevant, unsubstantiated, and denied by Snap rumor was prominently reported by CNBC on Thursday. CNBC's parent company Comcast (CMCSA), via their NBC Universal unit, made a $500 million investment in Snap at the IPO price of $17.
Kind of embarrassing for the parent company of an investment channel named CNBC to be down over $100 million on their Snap investment in just 5 months, isn't it? But CNBC has a vested interest in Snap. We might expect CNBC to continue to try to help Snap in the future as they tried today by reporting a bogus rumor, that was denied by Snap, and was rumored to have taken place last year.
But if the Google offer to buy Snap did occur, then management at Alphabet would be very relieved that Snap did not accept. Today Snap's market capitalization of $15.2 billion is about half of the amount rumored to have been offered by Google last year.
And Snap's future prospects seem to be very bleak. Recently, in July 2017, CNBC's Jim Cramer spoke candidly when he called the research downgrade, made by no less than Snap's own IPO lead underwriter Morgan Stanley, an "obituary." This certainly is a cautionary tale of how fast a company's prospects can change in the tech industry. Snap has gone from a highly valued stock of $29.44 per share after its IPO to now being given up for dead as the stock continues its precipitous decline as shown on the stock chart below.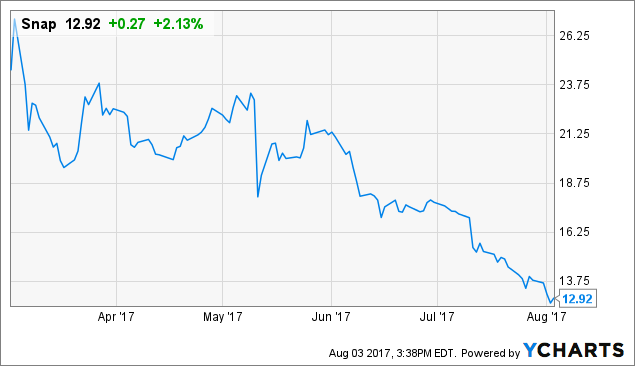 SNAP data by YCharts
Prospects for Snap's very survival are beginning to come into question as the company appears to be descending into disarray. Today Snap's business model is failing as advertisers are departing the platform, user growth is stalling, increasing competition is taking market share, serious lawsuits are pending, Wall Street is turning negative on the stock, and the CEO's response is to take lengthy vacations while his increasingly embattled company is in disarray.
Execution issues are prevalent as the important Self-Serve Ad Manager will not be fully rolled out as expected until an entire year after it was promised and today, 8/3/17, the Snapchat platform was suffering outages on its most basic function of sending simple chats as reported by Reuters on the Dow Newswire at 1:42 PM.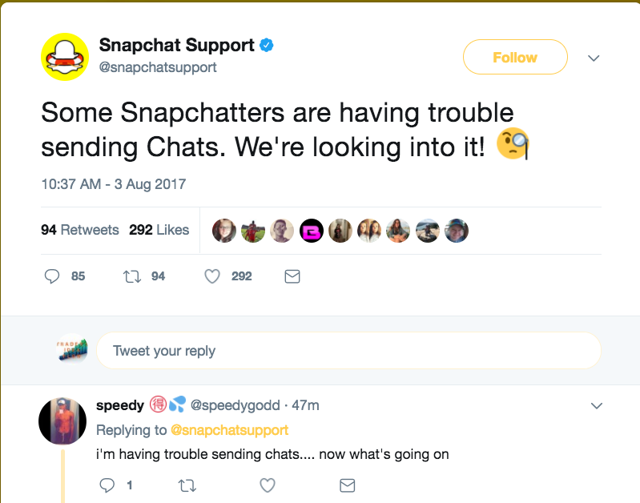 Candidly, we may very well be looking at a company that is in the early stages of implosion and failure. It is becoming increasingly worrisome that the business model may be failing. And it would be unlikely that the model could be rescued in its current form due to steadily increasing competition and higher expenses while at the same time growth metrics are sharply decelerating. It is highly unlikely that any other company would ever offer to acquire such a problematic company as Snap when it is clear that the company's valuation is still far too expensive.
The graphic below illustrates the sharply decelerating growth of Snap's revenues. These are not the type of results that were promised by management during the IPO process and pricing at a sky-high $17 per share giving the company a $20.4 billion valuation. Please note the sharp rate of deceleration that has occurred in revenues as shown in column three below:

And then there is the issue of the single class of voting shares whereby co-founders Evan Spiegel and Bobby Murphy control voting rights. My guess is that these two young executives are still in denial about their company's growing problems. At this point, they may be unlikely to sell their company. Consider that after Spiegel's lengthy $60,000 per night honeymoon with his new wife recently, he then elected to take an extended yachting trip with friends that has infamously been dubbed the "brocation."
The company appears to be in disarray, the stock is plunging, and the CEO is on back to back lengthy vacations while spending lavish amounts of money received from the proceeds of the IPO. If nothing else, the optics alone of this situation are horrible. It may also indicate a lack of awareness by the CEO that while Snap is burning, emperor Spiegel is fiddling around.
Bottom line: No company is likely to be interested in acquiring the troubled business model at Snap that loses staggering sums of money quarterly. And the young CEO likely sees no reason to sell. The yachting captain of the good ship Snap may even be willing to go down with his struggling venture. Will he take investors down with him? We will see.
Speaking of seagoing CEOs: If there is any upside to Spiegel's honeymoon-brocation debacle, I think it may be that GoPro's (GPRO) CEO Nick Woodman may feel vindicated at this point. Woodman infamously bought a yacht costing $40 million while the value of investors' GoPro stock plummeted. Shortly after Woodman bought his yacht, his company GoPro fired 7% of its workforce. Optics matter.
The following string of graphics are indicative of a failing business model at Snap that no other company is likely to be eager to spend billions of dollars to acquire. In fact, since Snapchat has no defensible technology moat, it enables other companies to simply build competing products. Indeed, competition from an increasing number of companies is now overtaking Snapchat in the marketplace. The graphics below indicate that Snap's prospects for survival should be questioned by prudent investors: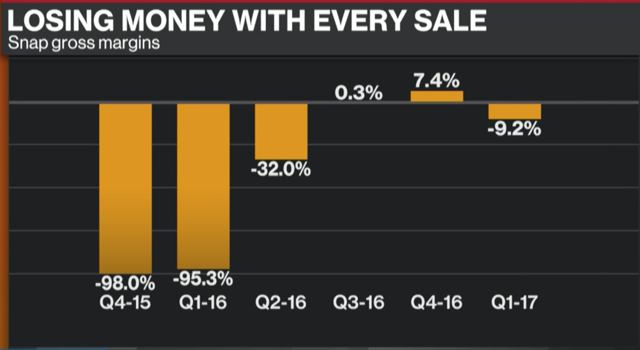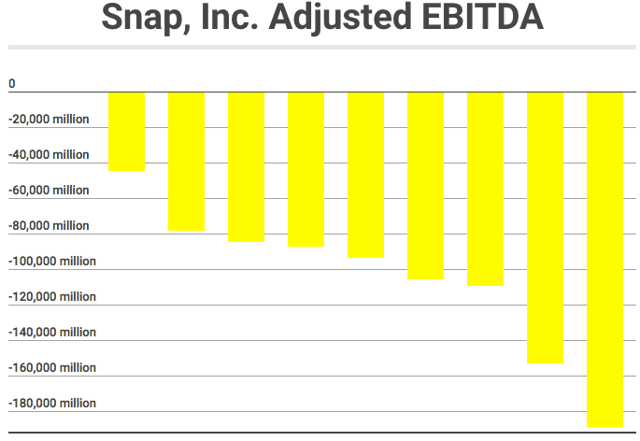 So if you were on the board of a potential acquisitor of Snap, how much would you be willing to pay for the huge losses that you would incur from the acquisition of a failing business model? Would you pay the current market cap of Snap, which is about $15 billion, to take on the huge quarterly losses and failing business model? I doubt many reasonable investors would answer this question affirmatively. Most investors run away from losses and would not seek to spend a single dollar of good money to acquire the staggering losses that Snap would bring to a buyer's balance sheet.
Even if you were interested in Snap as a prospective acquisition, why not just wait until the stock is revalued to a more appropriate level in the mid-single digits? The quarterly reports from Snap are going to be horrible for as far as the eye can see right now. Why buy Snap now when you can offer maybe one-third of the current value of this company into the future as the stock price continues its steady decline?
And then if you do acquire Snap, there is the problem of having this guy pictured below on the right on your tail. Gates and Zuckerberg are two of the fiercest, most ruthless competitors of our time. They are almost a mirror image of each other in this picture below, albeit from different generations. Do you really want to spend billions to acquire the continuous losses at Snap just to have this guy that they call "Zuck" destroy what remains of Snap after you buy it?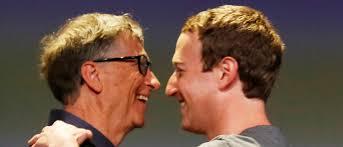 Summary and Conclusion:
There will be a string of buyout rumors swirling around the marketplace regarding Snap in the future. Did you happen to notice how often Twitter (TWTR) was rumored to be the target of a buyout as their stock price plummeted? Apparently, Snap is following in Twitter's failing footsteps in this regard. And notice how the strongest companies like Facebook (FB) are rarely rumored to be a buyout target? The strong, successful companies are rumored to be the buyers.
The weak, failing companies are rumored to be the buyout targets. If anyone still had any doubt on whether Snap would become Facebook or Twitter in the marketplace, then you just might now have your answer. In fact, Twitter has always been a much stronger company than Snap from day one of its IPO. Snap may literally not even survive as long as Twitter has. The free-spending CEO Spiegel has already managed to burn through 14% of the IPO capital in just the first 5 months of the company's public existence.
Now more foolish talk has emerged of acquiring a Chinese drone maker for up to $200 million. Combining drones and cameras has been tried before hasn't it? How did that concept work out for investors? Please review the performance of GoPro's stock on the chart below: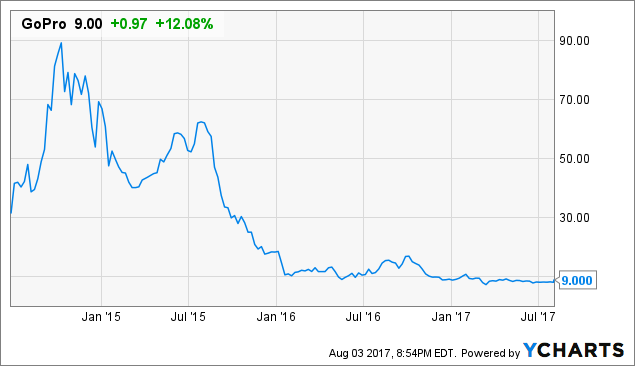 GPRO data by YCharts
Candidly, this bizarre news of Snap having discussions with a Chinese drone maker sounds like an effort to pivot away from the failing core business model and possibly distract investors from the company's increasing problems. It is peculiar that this news regarding the acquisition of a drone maker has surfaced just four trading sessions prior to the 8/10/17 Q217 financial report. If the company is trying to take the focus of investors off of the upcoming quarterly report with the news of a drone maker buyout, then they are not likely to achieve their goal.
Wasting another $200 million in IPO money on a drone maker will not increase Snap's chances to be acquired. In fact, the dwindling IPO money is the only true asset of value at Snap. There is very little chance that Snap will be acquired by any company at this time. But we will continue to hear these bogus rumors surface from time to time. Disregard them or use them as an opportunity to sell any price spikes that the rumors may cause.