The financial markets are at all-time high and keep going higher almost every week. As a matter of fact, we haven't had a correction of 20% or more since the financial crisis in 2008-2009, though we did come close in the year 2011. However, it does not mean the market can't go even higher. In fact, just read an article by a popular SA contributor Rida Morwa on " Why The Current Bull Market Will Continue", where he concludes a case for the continued bull market for some time.
Still, many investors are fearful of a correction, because of a perception that we are into a bull market for the last 8 or 9 years and a serious correction may be overdue. If you are a young investor in your 20's or 30's and have a very long investment horizon, you probably have nothing to worry about; instead, you should welcome a correction and lower stock prices. After all, who doesn't love to get some bargains? But, if you are an investor who is already retired or nearing retirement, a serious market correction can take an entirely different meaning and impact on your life savings.
Retirement Timing Matters:
To illustrate the point, let's consider a hypothetical example. John and Jim are two individual investors. Both of them retired at the age of 62 with one million dollars of financial assets invested in S&P500. John retired at the end of the year 1999, whereas Jim retired at the end of the year 2002. Both of them thought, at the time, that a million dollars were sufficient to take care of their retirement needs. They were advised to withdraw 4% of their initial capital with a yearly raise accounting for official inflation every year. So basically, they saved the same amount and lived a similar standard of life. At the end of 2016, let's see how they fared.
John's Portfolio (retired Dec. 1999):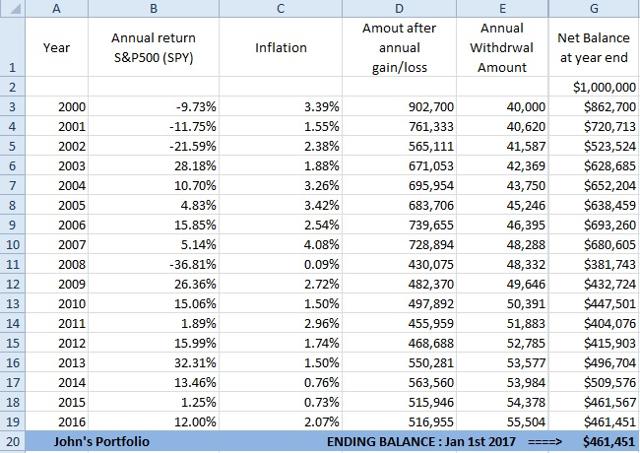 Jim's Portfolio (retired Dec. 2002)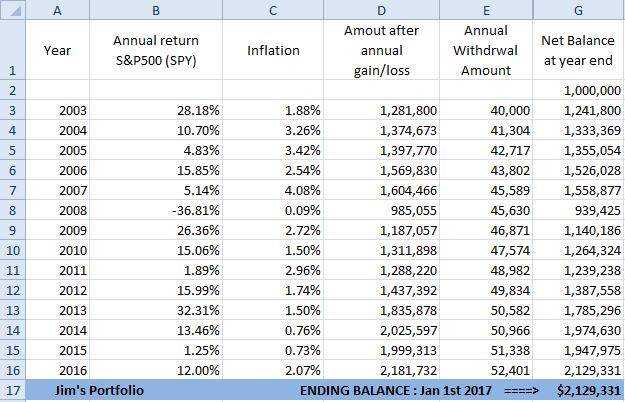 What a difference three years made. The results are a bit dramatic because of our selection of timing. The idea was to demonstrate that for retirees or near retirees, it does matter how the market performs during their first few years or early stage of retirement. I admit there could have been several other factors that would have changed the above outcomes. But, I guess you get the point.
The Alternatives:
No one really knows what the markets are going to do tomorrow or in the next 5 years. While you can't afford to lose a sizable chunk of your money in a future correction or any other crisis, whenever that shows up, but we need not be overtaken by that fear and miss all the wonderful gains that the market has to offer to us on a long-term basis.
Fortunately, we have a few solutions or alternatives:
The first option is that we always keep a certain amount of cash reserve, whether it is 20% or 30%, depends on personal situations. It ensures that we do not have to sell stocks at a wrong time to withdraw cash. Moreover, it provides us a chance to buy stocks at discounted prices, when there is a serious correction. However, since CASH earns almost nothing these days, that lowers your overall returns.
The second option, which we prefer: we divide our investible cash into three parts, or 3 buckets, as we like to call it.
The first bucket (33% of the capital):
We would invest in dividend paying blue-chip stocks. You could follow any DGI (dividend growth investing) model, and there are several great models available on SA, including ours, the "Passive DGI Core Portfolio."
Another hands-off and simpler choice could be to buy 3 or 4 dividend-centric ETFs. Just to name a few: AdvisorShares Athena High Dividend ETF (NYSEARCA: DIVI), Vanguard Dividend Appreciation ETF, (NYSEARCA: VIG), iShares Select Dividend ETF, (NYSEARCA: DVY), SPDR S&P International Dividend (NYSEARCA: DWX). Still, we like the individual stocks over ETFs.
The second bucket (33% of the capital):
We sell long term PUT options for dividend-paying stocks that we want to hold for the long term, but at 10-15% discount to current levels. We should also ensure if they were ever 'PUT' to us, we could earn at least 4% dividend on average. It will pay us roughly 4-5% as option premium for waiting, whereas CASH pays virtually nothing.
I will give three examples to give an idea, but you could apply the same to any number of blue-chip stocks:
As of August 3rd, we could sell AT&T (T) strike-price $35 PUT option expiring on Sept 21, 2018, a little more than a year from now, for $1.80 per contract. That means we will get a premium of $180 for the obligation to buy 100 shares of AT&T at $35 until Sept. 21st, 2018. That comes out to be 4.53% return over this period, which is not great but reasonable. If the stock is ever PUT to us, we will be earning a dividend of 5.70% on our investment, at that price, assuming one more dividend raise by that time.
Or we can sell Microsoft (MSFT) strike-price $65 PUT option expiring on Sept 21, 2018, for $3.75 per contract. That means we will collect a premium of 375 dollars for the obligation to buy MSFT at $65 a share until Sept. 21st, 2018. That comes out to be 5.01% return over this period. If the stock is ever PUT to us, we will be earning a dividend of 2.58% on our investment, at that price, assuming one more dividend raise by that time.
You could do the same with Realty Income Corp (O), with a strike price of $50, March 16, 2018, expiration for a premium of $145 per contract. That will give us 4.5% annual rate of return for 225 days. If the stock is PUT to us, we will be getting the shares at a 14% discount to current prices and earn a dividend of 5.25% on our investment at that price, assuming one more dividend raise by that time (the dividend yield today is 4.45%).
The third bucket (33% of the capital):
We would invest in a risk-adjusted portfolio, something like our "6% Income Risk Adjusted Portfolio". This portfolio earns 6% income in dividends & distributions, with 35% less volatility compared to S&P500 and a beta which is 1/5th of S&P500. More on this below.
Note: We also offer this portfolio (along with other portfolios) as part of our Premium SA Marketplace service. Please see details at the end of this article or at the top just below our logo.
6% Income Risk Adjusted Portfolio:
We have published a few articles on this type of portfolio before. We will present this model briefly here. Our model attempts to capture 6% income, so it is very attractive to income-seeking investors. While the portfolio is income centric, we still want market-comparable gains in terms of total return.
Portfolio Structure:
We will select the six securities that were part of my previous article. Out of these six securities, four of them are CEFs (closed end funds) along with two Treasury funds iShares 20+ Year Treasury Bond ETF (NYSEARCA:TLT) and iShares 1-3 Year Treasury Bond ETF (NYSEARCA:SHY). For crisis situations, portfolio switches fully or partially to CASH. You could also use SHY as a proxy for CASH since it provides a small yield and is almost like CASH. Selection of our 4 CEFs is important as this will determine how much yield we are going to generate and also the capital gains that we can expect in the long term. The criteria for CEF selection are as follows:
The selected CEF has a substantial history and favorable track record in maintaining its NAV.

The fund provides at least 6-8% (or higher) yield.

The dividend (or distribution) is preferably paid monthly.

The yield is largely provided from the generated income, rather than "return of capital."

Most importantly, the four selected CEFs should come from different "asset" classes to provide a wide diversification and least correlation.
The reason we want CEFs with 8% yield is that, for roughly 25-30% of the time, our model will be invested in Treasuries and/or CASH, providing a lower yield. Selecting CEFs with about 8% yield will balance out the low-yield periods and will thus aim to provide an overall 6% income yield. The selected CEFs should preferably pay dividends/distributions on a monthly basis since we will be moving in or out of them on a monthly basis and will want to capture the monthly dividends before we move out of an investment.
With these criteria in mind, we selected the following CEFs. Each CEF belongs to a different asset class to have as much diversification as possible. The following list is not set in stone; one can use any other set of CEFs as long as they meet the broad selection criteria. Also, we will adjust our selection every year as we go along to ensure that they continue meeting our objectives.
Plus Treasuries and/or CASH
iShares 20+ Year Treasury Bond*
iShares 1-3 Year Treasury Bond**
* TLT is a 20+ year Treasury fund and often times provide the inverse correlation with stocks.
** SHY is a 1-3 year short duration Treasury fund, and we will use this as a proxy for CASH.
Note our selection of KYN, an Energy MLP fund, pays the distribution on "quarterly" basis, and not monthly. There are a few other monthly paying MLPs, but we do not like them as much as KYN.
We will provide some back-testing results since the year 2005. The reason we picked up 2005 as the starting period is that this is how far back we can go with some of our investment picks.
Why CEFs Are Important For This Portfolio:
This portfolio is based on four main investments (EVT, FFC, KYN, NMZ) and two Treasury funds (TLT and SHY) to act as a risk hedge. The Treasury funds will balance out the portfolio risk and reduce the overall risk without compromising the total returns. The reason this portfolio is based on CEFs as opposed to, say, ETFs or mutual funds, is that we will be able to capture a constant stream of income in excess of 6%, even if the portfolio is negative. This is an important factor for folks who are retired and in the withdrawal stage. The last thing we want to do is to sell shares to withdraw income during the times of market stress or corrections.
The Method and Back-Testing Results:
We assume that we invested 100,000 on January 1st, 2005 and stayed invested until July 31' 2017. We are using "dual momentum" method, which will consider the performance of six securities in two different time periods, namely 62 days and 21 days. We will assign 60% weight to 62 days momentum and 40% weight to 21 days momentum. Our model will pick the top three investment picks (out of six) to invest for the next rotation period. To keep things simple, investment dollars will be divided equally among the top three picks. We will present the results using a monthly rotation of assets. One could easily use a quarterly rotation method, which will be little easier to implement with less trading costs in commissions. Interestingly, performance results are quite similar for monthly or quarterly rotation for our back-testing period, though it may not be the same for future results.
Performance vis-à-vis S&P500:
Scenario-1 With No Withdrawals: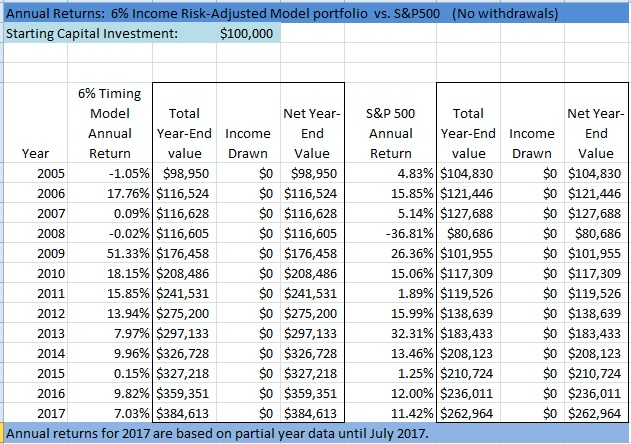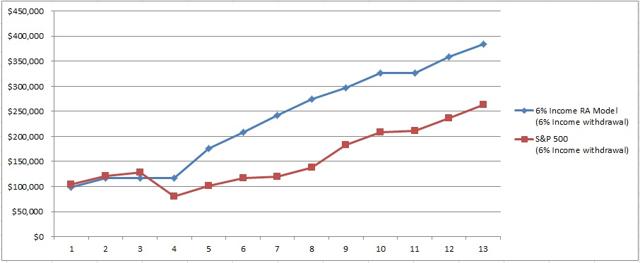 Scenario-2: Withdraw 6% Income Every Year
This scenario is same as scenario-1 except that we will withdraw 6% income at the end of each year, with a 2.5 % increase every year to account for inflation. To keep things simple, we will withdraw 6% income at the end of the year, instead of drawing monthly income. If we were to withdraw the income monthly, the results would not be much different. The performance of the 6% Timing model is dramatically better when compared to S&P500. The main reason being the large drawdown that S&P500 suffered during the 2008 financial crisis, whereas the 6% Timing model was almost even at the end of 2008.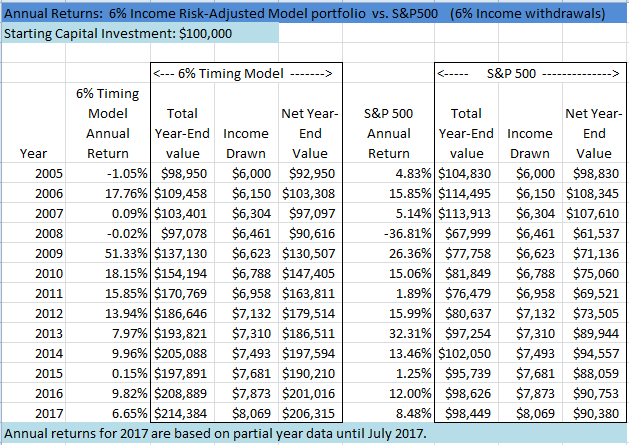 A note of caution: this kind of portfolio will generally underperform the broader market slightly during the booming markets as we have witnessed in the last several years. However, in our opinion that is a small price to pay considering the safety of the capital during the crisis or recessionary times.
In almost every scenario that we tested, our model (6% Income with Rotation), outperforms the broader market represented by S&P500 over the long term. However, that's not the main factor we are looking at. The main advantage comes from the fact that drawdowns will be much lower than the broader market in a crisis situation or a major correction. In our model, the maximum drawdown was only -15% in comparison to -50% of S&P500. With quarterly rotation, the drawdown was even less at only -7.5%. So, if you are a retiree or you are someone who cannot stomach large drawdowns and likely to panic and sell at the worst time, this model definitely offers a unique advantage. It will provide most of the upside of the market, but limit the downside.
Conclusion:
In retirement, we do not need to beat the market; we just need to get market comparable results, while limiting the downside and preserving the capital. This cannot be achieved by timing the market as most people fail in doing that. However, we can achieve the above two goals, how lofty they may seem to be, by carefully choosing and then following a systematic approach and sticking with it.
The 3-parts (or 3-buckets) system that we just described above may not beat the market, but it will likely provide steady income, safety, preservation of the capital and the market-comparable returns.
Disclaimer:
This article is for information and educational purposes only. The intent of this article is not to provide any financial advice or any recommendations to buy or sell any securities and should not be construed as such. Please always do further research and do your own due diligence before making any investments.
Disclosure: I am/we are long TLT. I wrote this article myself, and it expresses my own opinions. I am not receiving compensation for it (other than from Seeking Alpha). I have no business relationship with any company whose stock is mentioned in this article.