Pacific Drilling (NYSE:PACD) has recently reported its Q2 results, which are especially interesting given the CEO departure that was announced on Aug. 1. Pacific Drilling is facing restructuring, so I'll skip the earnings numbers -- which don't matter much in this case -- and go straight to the most important news.
Previously, Pacific Drilling announced a 2017 senior secured notes consent solicitation seeking to extend the maturity of these notes to June 1, 2018. Now, the company has announced that the solicitation expired on Aug. 2 without receiving sufficient consents to approve the maturity extension. Pacific Drilling stated that it was considering various means to increase its available liquidity, including potentially seeking to raise additional debt financing. Should Pacific Drilling be unable to repay 2017 bonds at maturity, cross-default provisions will be triggered in the company's other debt.
Another problem is that Pacific Drilling will be in violation of the maximum leverage ratio covenant in its 2013 revolving credit facility and its senior secured credit facility in the third quarter of this year. The company will have to obtain waivers of covenants from creditors or face default, which will trigger cross-default provisions. In this light, Pacific Drilling stated that it was evaluating alternatives to address its liquidity and capital structure, which might include a private restructuring or a negotiated restructuring of its debt under Chapter 11.
Previously, the company's creditors offered for Pacific Drilling to leave 2% of the post-reorganization equity to shareholders. I have no idea why the company did not agree to this proposal, but now the situation has gotten worse. There's no surprise that holders of 2017 notes did not agree to extend their maturity -- there's nothing they can gain from this move. The secured nature of their notes puts them in a good position should the company choose to file for Chapter 11. While Pacific Drilling mentioned that it could seek to raise additional debt, I don't believe it is possible. With $1.69 billion classified as current debt Pacific Drilling has no chance to refinance, no matter what the interest rate will be (not to mention that the company would not be able to service such debt).
The only way out for Pacific Drilling is to exchange debt to equity as was initially proposed by creditors. I now expect that creditors won't be so merciful to the company's current shareholders, and will press for a deal that completely eliminates the stake of common shareholders. There's nothing common shareholders can do about this. Perhaps the CEO departure is a sign that he gave up on his efforts to save some value for common equity.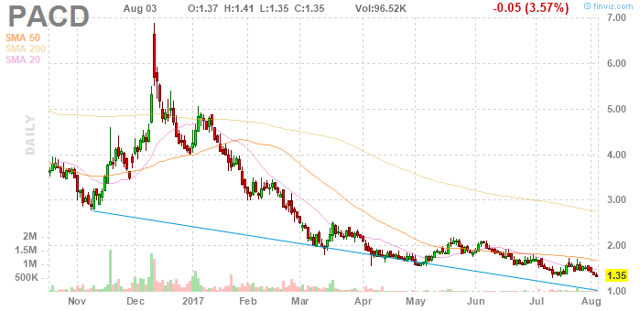 The stock market recognizes the risk and Pacific Drilling shares head to new lows. Given the company's fundamental situation and the low float of Pacific Drilling stock, the company's shares are an avoid for all kinds of investors and traders. Following restructuring, Pacific Drilling will be an interesting acquisition candidate for floater-oriented peers like Transocean (RIG) and Diamond Offshore Drilling (DO).
However, the way out for Pacific Drilling creditors won't be easy. Transocean has a whole fleet of stacked rigs and adding more stacked rigs to the fleet does not look like a safe strategy at this point. Diamond Offshore Drilling management team is notoriously conservative and will insist on a very low price. Anyway, the game is almost over for Pacific Drilling's common shareholders, who will now need a miracle to retain any stake in the company.
Editor's Note: This article covers one or more microcap stocks. Please be aware of the risks associated with these stocks.