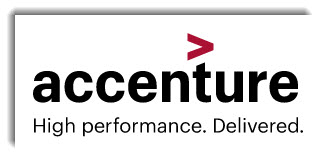 Quick Take
IT consulting company Accenture (NYSE:ACN) has announced the acquisition of independent enterprise search software firm Search Technologies.
Search Technologies provides technology consulting, integration management to enhance enterprise search and big data analytics throughout medium and large enterprises.
Accenture has been extremely active in acquiring consulting and technology capabilities in recent years, and I expect further acquisitions as management identifies areas that it needs to bolster its offerings for demanding middle-market and enterprise clients challenged by increasing technological change.
Target Company
Herndon, Virginia-based Search was founded in 2005 to consult with companies to maximize their investment return in information storage and retrieval technologies.
Management is headed by co-founder and CEO Kamran Khan, who was previously SVP of Worldwide Sales at Convera Corporation.
Below is a brief overview video about Search Technologies':
(Source: Search Technologies)
Search' customer base includes medium and large firms across all major industries including a large number of public sector clients.
The company has 200 employees between offices in the U.S., UK, Germany and Costa Rica, so has significant operations in Western Europe and Central America.
Acquisition Terms and Rationale
Neither company disclosed the acquisition price or terms of the deal. Accenture did not file an 8-K and did not provide any change in financial guidance, so I presume the deal was not material to its financial condition.
The company will be integrated into the Accenture Analytics group and will bring its technologies to focus on further development and commercialization of artificial intelligence solutions to making unstructured content more easily searchable for data discovery purposes, analytics and reporting.
As Narendra Mulani, chief analytics officer, Accenture Analytics, stated in the deal announcement,
With the addition of Search Technologies' capabilities, we are in an even stronger position to help organizations take advantage of their data, regardless of format, to generate more precise and actionable insights. By better understanding the context and sentiment behind transactions, organizations can deliver better customer experiences and business outcomes. Combining Search Technologies' data engineering expertise with Accenture's data science, analytics and AI capabilities enhances our ability to help clients become data-native, intelligent enterprises, transforming the way they innovate, compete and grow.
More specifically, Accenture will integrate Search Technologies Content Processing Framework and related group of API-level data connectors into its Accenture Insights Platform, to 'help clients embed analytics and AI into their business to generate new intelligence in speed and scale.'
So, Accenture is combining Search Technologies' ability to normalize unstructured content so that it can be processed more efficiently and effectively by Accenture's data analytics and AI-driven system.
Additionally, Search Technologies' team of 70 data engineers based in Costa Rica will work with the Accenture Interactive digital content marketing and production team to offer additional services to clients as they seek to maximize the benefit of understanding and leveraging content across numerous channels.
Accenture has been a very busy acquirer of consulting firm capabilities in recent years.
As the chart below shows, Accenture has acquired 20 firms through the first 7+ months in 2017 alone, so is extremely active in acquiring the technologies and capabilities to help middle market and large enterprise clients cope with the rapid change in digital technologies.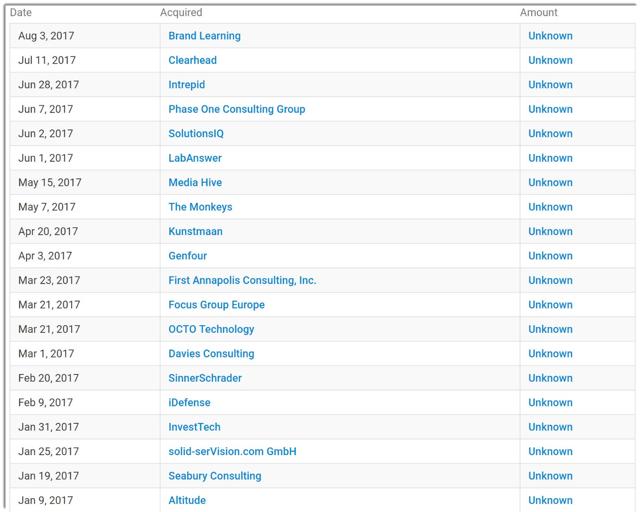 (Source: Crunchbase)
I view this as a positive sign, as it is imperative that IT consultancies such as Accenture either develop in-house or acquire the technologies necessary to provide the latest capabilities to their clients, which are ever more demanding in a rapidly changing technology environment.
I write about M&A deals, public company investments in technology startups, insider activity, and IPOs. Click the Follow button next to my name at the top or bottom of this article if you want to receive future articles automatically.