After reporting a July same store sales decrease of 7%, shares of L Brands declined around 6%. It was an ugly day for the company, but there are many reasons to stay in the stock. In my previous article on L Brands, I outline several reasons why L Brands is undervalued. However, in this article I specifically focus my analysis on the safety of their dividend.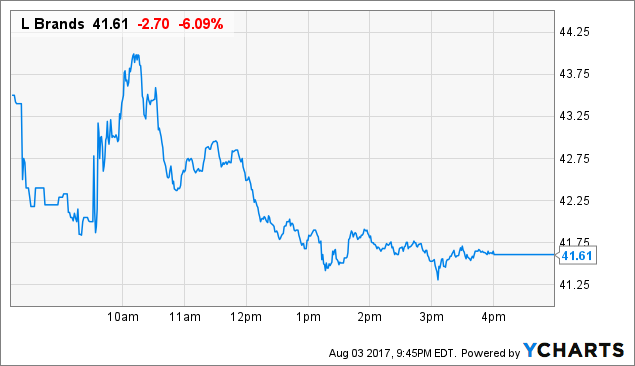 LB Price data by YCharts
L Brands' Liquidity
According to its most recent quarterly financial statements, the company has cash of $1.56 billion. L Brands also has a comfortable current ratio of around 1.7 which means the company has plenty of current assets to cover their current liabilities. L Brands is clearly in a position to meet its obligations, which is an indicator of a healthy company and one that can continue to divert cash flow to shareholders rather than to paying off near term liabilities.
L Brands' Future Cash Generation
Although L Brands' sales numbers have declined, the company has still been able to generate massive amounts of cash from operations. This can be found on their statement of cash flows and provides cash for investing and financing activities. As you can see over the last 10 years, L Brands' cash flow from operations has increased and currently sits at around $1.94 billion for the last 12 months. This shows that even though sales may decline, the company has retained its economic ability to generate lots of cash. Of course this cash flow from operations must be used for capital expenditures and also to pay down debt, repurchase shares, or pay dividends.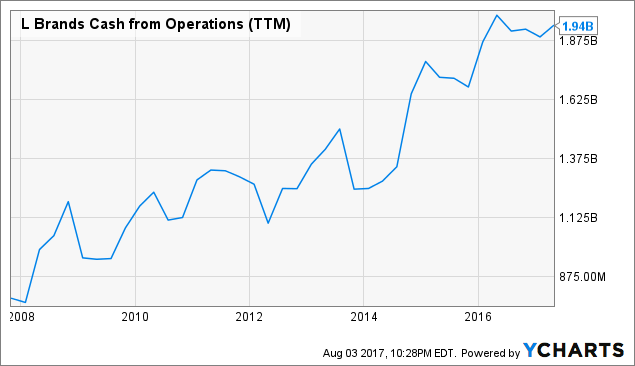 LB Cash from Operations (NYSE:TTM) data by YCharts
The Dividend Can Easily Be Paid
Currently, L Brands pays a $0.60 per share per quarter dividend, which amounts to total payments to shareholders of about $686 million a year. As stated earlier in the article, the company has $1.56 billion in cash currently and has generated $1.94 billion over the last year in operating cash flow. If the cash flow from operations stays constant over the last 5 years, the company will clearly have enough cash to continue paying the hefty dividend and most likely increase it. See the table below. The table is in billions of dollars.

Source: Jones, Brock. "L Brands Cash Flow Analysis."
Important assumptions in the table above include the constant cash flow from operations, constant capital expenditures, and only dividends rather than share repurchases. Constant cash from operations is a reasonable because the company has an excellent history of increasing cash from operations. The main reasons for the slowdown in sales currently is the exit of swimwear and the exit of the catalog they produce. After this year, I believe the company will be able to use their brand power to produce a better assortment of products to produce the same or even growing cash flow from operations like they have throughout history. In any case, the drop in sales numbers do not provide enough evidence to suggest that their cash generation abilities have decreased or their brand has weakened.
As for drains on cash, I believe my assumptions are also conservative. The company spent around $1 billion on capital expenditures last year, so an increase to $1.1 billion would be a safe assumption. If cash flow from operations are predicted to stay constant it is likely capital expenditures would remain constant also. The company has repurchased shares in the past, so it may seem odd that I did not include them in my cash flow analysis, but if there were any danger of the dividend being cut, it is most likely the company would protect the dividend first. Finally, the issue of debt repayment could be a drain on cash, but the company can safely repay their upcoming debt due in the next 5 years while paying the dividend or even decide to refinance the debt at a lower interest rate when it comes due.
Conclusion
As shown in my cash flow analysis, it appears that L Brands' dividend is very safe based on their liquidity position and their ability to produce lots of cash from operations. I believe it is much more likely for the dividend to grow than to get cut at any point over the next 5 years.
Disclosure: I am/we are long LB, CF, IBM, HAIN, PYPL.
I wrote this article myself, and it expresses my own opinions. I am not receiving compensation for it (other than from Seeking Alpha). I have no business relationship with any company whose stock is mentioned in this article.
Additional disclosure: I am long LB call options.