By Parke Shall
The most newsworthy headline of Friday afternoon was undoubtedly "pharma bro" Martin Shkreli being convicted on three of eight charges lodged against him by the U.S. government. The news broke at about 3 p.m. ET on Friday afternoon. CNBC reported:
A federal jury found notorious 'Pharma bro' Martin Shkreli guilty of multiple criminal charges Friday.

Shkreli, 34, was convicted of some of the eight criminal counts that he had faced, which had included securities fraud and conspiracy to commit both securities fraud and wire fraud, after a more-than-month-long trial in Brooklyn, New York, federal court.

Of the eight counts, Shkreli was found guilty of three. Those included conspiracy to commit securities fraud, and two counts of securities fraud. He was found not guilty of five counts, including those related to wire fraud.
As his attorney stated in the post-trial remarks, many people have wrongfully juxtaposed this case, which was mainly about defrauding investors in a hedge fund, with the price gouging allegations from the past. As a reminder, raising the price of a drug that you own might be amoral, but it is certainly not illegal. Also, unfortunately, we believe that the results of this trial will lead many to believe that the problem with healthcare has been fixed, or has at least held somebody accountable.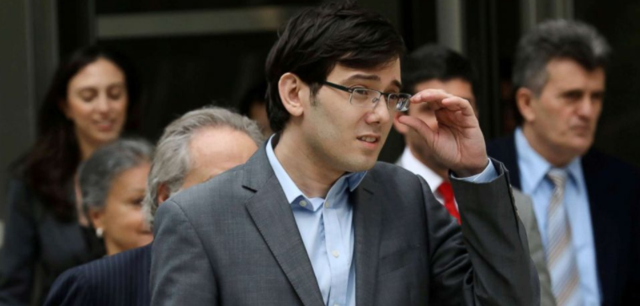 Source: Mike Segar/Reuters
But the reality of the situation is that the most egregious offenders of raising prices are pharmaceutical companies like Valeant (VRX) and Mallinckrodt (MNK), which were running the play book of buying drugs and raising the prices while Shkreli was just a neophyte in the industry. One could argue that Shkreli simply took the model of what companies were doing and applied that model to Retrophin (RTRX) and Turing. He had to learn somewhere, and where better to learn then by those already abusing the system in the pharmaceutical industry?
Though Shkreli has been convicted on three counts and is now a felon, his attorney made some meaningful statements when he alerted the media that coverage of this trial was chock-full of references to Daraprim. He is also right when he says that one (Daraprim) has nothing to do with the other (his trial for defrauding investors).
While many will likely write off this conviction as penance for years of abuse in the healthcare system, we wanted to remind investors that the real abuse continues to take place, as companies like MNK and Mylan (MYL) continue raise the prices of once-cheap drugs so aggressively that they have turned six-figure drugs into 10-figure enterprises.
From an investment standpoint, we believe that investors need to understand that the healthcare problem truly has not been fixed as a result of this trial. While we're glad the government "got their man" on several counts, it's a Pyrrhic victory -- or really no victory at all for those seeking justice from the price-gouging tactics of the pharmaceutical industry.
As investors, we realize -- and want our readers to realize -- that there is still a significant problem that needs to be fixed in the drug industry. Given the government's semi-aggressive recent stance on the opioid crisis, we believe that it will still move to significantly regulate pricing in the industry. However, just like everything else the government does, it will get to it slowly. Investors should not look at the Shkreli verdict as an "all clear" for the industry. We believe it is anything but, and that investors should continue to keep price regulations in the risk profile of controversial names they own.
Disclosure: I/we have no positions in any stocks mentioned, and no plans to initiate any positions within the next 72 hours.
I wrote this article myself, and it expresses my own opinions. I am not receiving compensation for it (other than from Seeking Alpha). I have no business relationship with any company whose stock is mentioned in this article.