Background
This month's article marks the 29th installment in my ongoing series outlining my efforts to achieve dividend growth success. The portfolio is nicknamed the MnM portfolio, which is a moniker for "Minne(sota) 'n Monthly."
Note: The portfolio currently holds 36 stocks, down one from the prior month as a result of the sale of Unum (NYSE:UNM) stock. I am still working towards a target portfolio size of ~40. I feel that at this level, the portfolio holds a sufficient number of stocks such that I can effectively follow them all. I will work towards achieving more equal weightings, as this will provide strong diversification with each stock representing approximately 2-3% of the portfolio total.
I receive 100 free trades each year from my brokerage, so I can trade in small quantities without worry about brokerage trading costs.
That being said, here's what happened in July.
July 2017
I always do a quick highlight on valuation even though it's not the main objective of the portfolio. The portfolio ticked up just over 1% for the month. Year-to-date, the portfolio return continues to trail the S&P 500's ~11.59% return, with a gap of about 5.5%. While this may cause concern to some, I remain focused on growing dividend income.
I have captured the activity for July and for the year-to-date in the standard roll-forward summary below: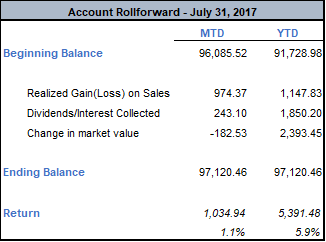 The portfolio collected $243.10 in dividends during the month, all of which was recurring on positions held. The portfolio was comprised of the following securities as of July 31, 2017: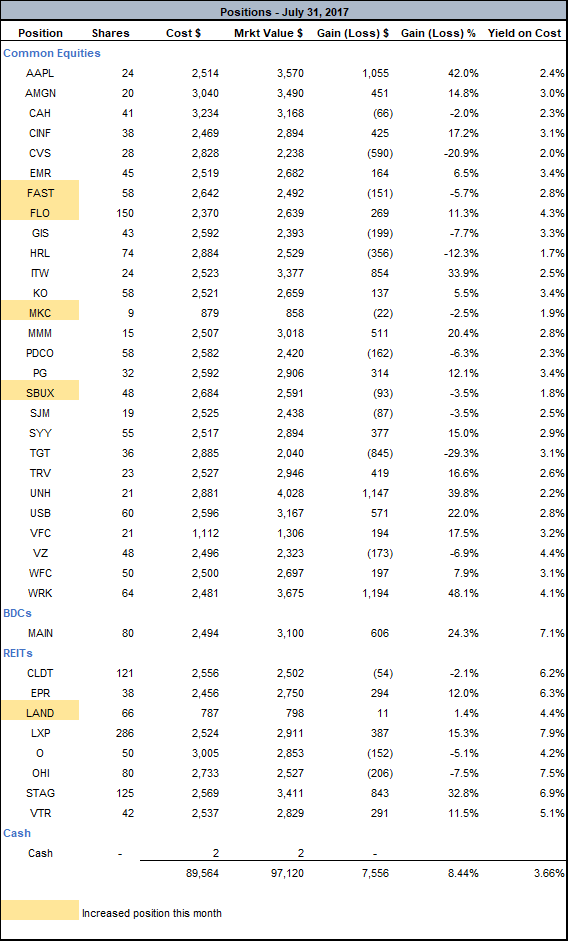 The following sections go into greater detail of the events that have occurred since the end of June:
Sales
As I have stated in the past, my objective is to limit my sells within the portfolio as too much churn can be detrimental to growth. I am inclined to sell on a dividend cut, but also will be opportunistic and may replace positions if I feel that either there are better opportunities out there or if I feel that a holding's valuation has run up excessively to a point where I view it to be unjustified.
Thus far in 2017, I have sold part of my holdings in Unum Group as I viewed the insurer's run-up in stock price to be outsized, and last month, I sold my holding of Bemis (NYSE:BMS) to replace it with J. M. Smucker (NYSE:SJM). I argued that I liked Smucker's management and recent results much more than Bemis' and feel it has a better dividend growth prospects going forward.
This month Unum saw a resurgence in share price, and I elected to take the opportunity to sell the remainder of my shares. I wrote about my reasoning for the sale of Unum in an article published here.

The proceeds of the Unum sale were used to fill in some of my latest portfolio additions, going into shares of Starbucks (NASDAQ:SBUX), Flowers Foods (NYSE:FLO), Gladstone Land (NASDAQ:LAND) and McCormick (NYSE:MKC) as outlined in the following section.
Additions
Prior to the sale of the Unum stock, I used dividend income to buy shares or Starbucks, Fastenal (NASDAQ:FAST) and Gladstone land, all of which are positions I have been building upon in recent months.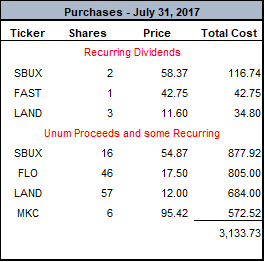 With the sale of the Unum stock, I continued this trend and reinvested the proceeds into the stocks I have been building over the last year. I was able to fully fund the positions in Starbucks and Flowers Foods and bring the McCormick and Gladstone Land holdings up to be about 1/3 of the ~$2,500 full portfolio position size. In particular, I liked seeing the pullback in Starbucks following its earnings report and capitalized on the steep sell-off.
Dividends Collected
As noted above, I collected $243.10 in recurring dividends during the month. I have updated and included the forward-looking dividend summary as follows: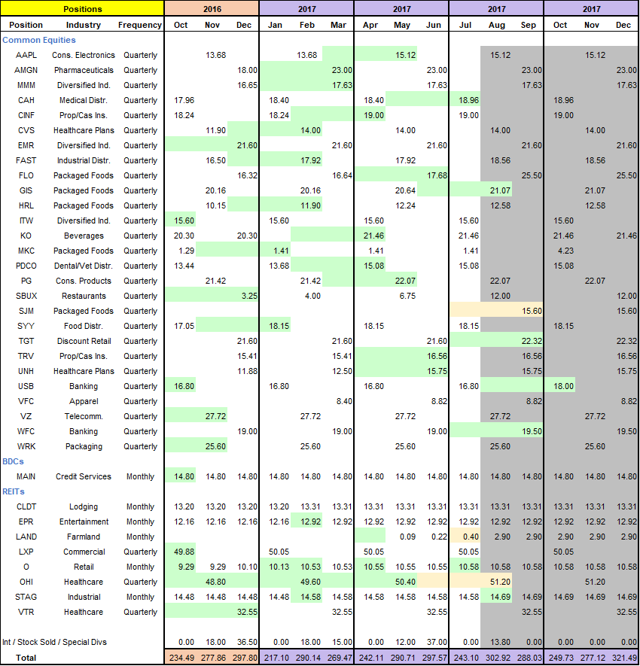 Note: I have highlighted the current month raises in a shade of yellow to distinguish from previously reported increases in green.
As I highlighted in the article's title, I am actively tracking the income growth in the portfolio, comparing Q4 2016 to Q4 2017's projected income. I'm happy to report that, when I remove the special dividend received from Main Street Capital (NYSE:MAIN) in December 2016, income has now increased by more than 7.6% from dividend raises and reinvestment. I continue to be well on my way towards my annual goal.

Dividend Increases
July is historically a slow month for dividend increases in the portfolio and fortunately I added Smucker to the portfolio just in time to salvage the month. The four percent bump from Smucker was accompanied by the standard quarterly bump from Omega Healthcare (NYSE:OHI) and a bump from Gladstone Land, which is also quickly becoming routine each quarter.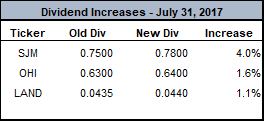 The MnM 401(K)
The 401(k) keeps chugging along and the amount for future rollover continues to grow, now topping $8.5k. This month was a dividend month for the 401(k) which collected a nice $689.20 dividend for the preceding quarter.

Closing Thoughts
As I highlighted in the title of the article, income growth continues to ratchet towards my goal of a 10% increase by the end of the year. I am closing in and see the target in sight.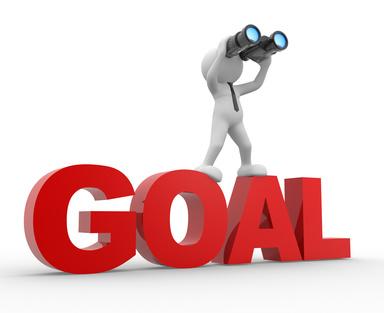 I don't tend to like selling stocks in the portfolio, but I feel that the decisions I have made these past two months have made the portfolio better and allowed me to take outsized gains on what I believe to be an overinflated stock.
Who knows, I may be totally wrong and Unum may surge another 50%, but I simply cannot justify passing on the chance to take profits when the company's stock seems to have disconnected from what is going on with the company. Unum's revenue is relatively stagnant and most of its increases in earnings per share have come from share buybacks. I do see value in the company as a dividend growth holding, but I want to see it fall below $40 per share before I would consider reintroducing it to the portfolio.
Looking into August, I like the pullback in EPR Properties (NYSE:EPR) which, despite strong results, was hit this week when AMC Entertainment (NYSE:AMC) slashed its guidance and reported weak theater numbers. I hope to write on this.
I also want to dig deeper into Wells Fargo (NYSE:WFC) to see if the recent issues have created opportunity. As far as potential new entrants, I have an eye on International Flavors & Fragrances (NYSE:IFF) to do some research on and want to see if the sell-off in Kimberly-Clark (NYSE:KMB) continues. Lastly AT&T (NYSE:T) has piqued my interest recently showing stronger results than had been expected. It has struggled this year alongside Verizon (NYSE:V) but has an outsized 5+% yield and interesting prospects with the upcoming merger with Time Warner (NYSE:TWX). I would not be opposed to holding both of these in the portfolio.
Disclosure: I am/we are long THE STOCKS LISTED IN THE PORTFOLIO.
I wrote this article myself, and it expresses my own opinions. I am not receiving compensation for it (other than from Seeking Alpha). I have no business relationship with any company whose stock is mentioned in this article.