We were bearish on Shake Shack (SHAK) ahead of its second-quarter earnings report. We believed SHAK found itself on the wrong side of an emerging food trend which favored price over quality.
Sure enough, SHAK's Q2 results weren't that great, while the full-year revenue guide implied that recent struggles will persist. The stock dropped 5.5%. The drop, however, wasn't big enough to break below $31, a level which has acted as a floor for this stock over the past year. Although traders are likely looking for SHAK's stock to bounce off this $31 level in the near term (and they might be right), our bet is that SHAK's stock grinds lower in the long term.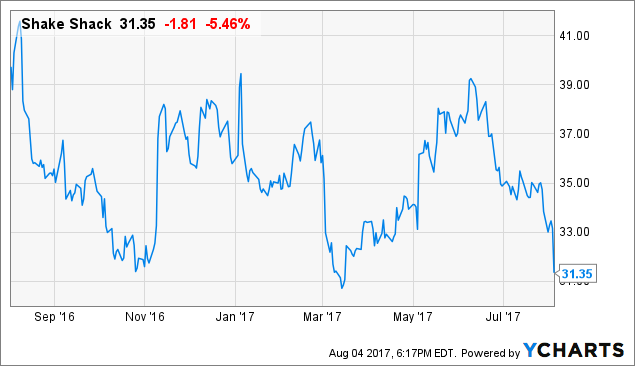 SHAK data by YCharts
There are three major problems with SHAK's stock.
Geographic expansion has been and will continue to be an uphill battle.
Consumers are starting to value price and convenience over quality, and that's hurting premium burger chains.
The valuation remains far too rich considering fundamental risks.
On the first problem, management wants to spin its small comparable shack base as a positive. They said that the 37 shacks in the comp base represent less than half of the company's US stores, meaning adverse factors (like weather) have an exaggerated impact. According to management, that is exactly what happened last quarter. Lots of rain in the Northeast disproportionately dragged comps lower.
But there is also another story to tell with the size of the comp base. As it gets bigger, comp growth has slowed. We have noted this trend for some time, and take it to mean that geographic expansion is an uphill battle for SHAK. While the upscale burger chain may resonate really well in its select heritage markets in the Northeast, that isn't necessarily the case in new markets.
Just look at the numbers:
1Q16: 20 stores in comp base. Comps +9.9%.
2Q16: 23 stores in comp base. Comps +4.5%.
3Q16: 26 stores in comp base. Comps +2.9%.
4Q16: 30 stores in comp base. Comps +1.6%.
1Q17: 32 stores in comp base. Comps -2.5%.
2Q17: 37 stores in comp base. Comps -1.8%.
The trend has persisted since the middle of 2015, and the following chart is very telling.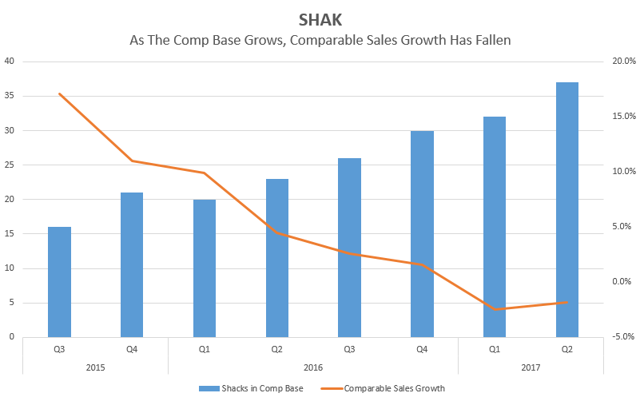 On to the second problem, SHAK finds itself on the wrong side of a secular shift in consumer food preferences. Whereas consumers once valued food quality over price and convenience (when the organic food trend first started), consumers are now starting to put price and convenience first. This is partly due to stagnant wage growth and partly due to consumer backfire from how expensive healthy foods can be these days.
That is why McDonald's (MCD) is roaring higher. It's also why Wal-Mart (WMT) and Target (TGT) have rapidly growing grocery businesses, while Whole Foods Market (WFM) is in the middle of an 8-quarter long streak of negative comps.
This trend doesn't bode well for SHAK, a QSR chain which sells $8 burgers and vows to stick to its premium burger model.
Moving on to the third problem, SHAK still trades north of 50x FY18 EPS estimates. That sort of multiple implies too much bullishness regarding SHAK's unit growth potential and not enough bearishness regarding SHAK's deteriorating comps. It also doesn't seem to take into account that those deteriorating comps could get worse due to adverse secular trends working against premium burger chains.
All in all, SHAK's stock could bounce off this $31 level in the near term, but in the long term, the stock will only grind lower. Operational headwinds remain while the valuation is still rich. That is a perfect storm for a lower stock price.
Disclosure: I am/we are long MCD, WMT, TGT.
I wrote this article myself, and it expresses my own opinions. I am not receiving compensation for it (other than from Seeking Alpha). I have no business relationship with any company whose stock is mentioned in this article.