Youku (NYSE:YOKU) will report 4Q11 on March 14th. The Street expects the company to report a loss of $0.31 per share on $302 million in revenue, and guide $257 million in revenue for 1Q12.
In Q3 Youku reported:
Net revenue: $41.2 million, +129% y/y and 35% q/q
Bandwidth cost was $14.5 million, +41% q/q, representing 35% of net revenue compared with 44% last year, while content cost was $10.5 million, +36% q/q and remained flat at 26% of the revenue compared with a year ago.
Gross margin: 26%
Operating expense: $18.8 million, +120% y/y
Net loss: $7.4 million
Non-GAAP net loss: $4.4 million
Heading into the quarter investors can expect Youku to continue investing in content and ramping up its on-demand service, Youku Premium, as competition intensifies in the online video ad space.
Youku Premium, which was launched in beta a year and half ago, already processed more than 1 million orders. Between 2Q11 and 3Q11 the number of paid content viewings more than tripled, and 13.5% of Youku Premium users purchased at least one movie per mouth as recent as last November. Earlier this year, Youku licensed 250 titles from Twentieth Century Fox that will be available to Youku Premium, bringing the total number of foreign titles to over 700.
In my view, Youku Premium will likely become the leading on-demand online video platform, because of:
The RMB 5 per view price point is 50% cheaper than pirated DVDs and at least 75% cheaper than copyrighted DVDs
The comparable viewing quality to copyrighted DVDs
The continued effort by the Chinese government to improve intellectual property right regulations. I note that on a recent trip to Beijing, many pirated DVD vendors were shut down amid the government's effort to improve IPR
While I view Youku's focus on its premium on-demand service as a long term positive, near-term increase in competition is a major concern. I note that Tudou (NASDAQ:TUDO)'s online and mobile ad has been ramping up for the past two quarters.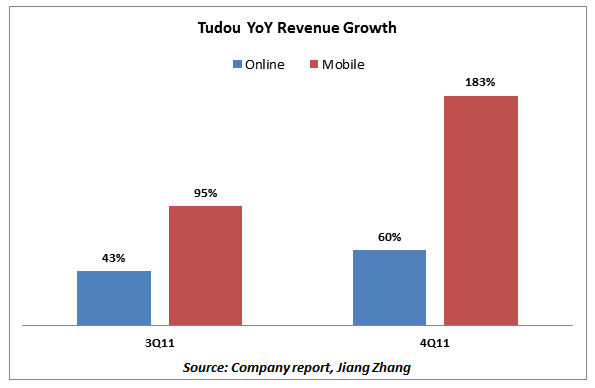 Tudou's partnership with Sina Weibo (NASDAQ:SINA) will likely allow Tudou to maintain its momentum and compliments Sina's own video sharing platform, Kandian. According to comScore, 41% of video views on Sina Weibo were sourced from Tudou at the end of 2011.
Disclosure: I have no positions in any stocks mentioned, and no plans to initiate any positions within the next 72 hours.