2017 is flying by. I barely knew what hit me for work here in July. Between travelling for work and gaining possession of our house, I have barely had time to sit down, relax, and focus on things. But I must say, I couldn't be happier doing some of the house work and I am finding it fun and therapeutic (especially when I am listening to music while painting). Before I knew it, July was over and it was time for me to recap my performance and write my July dividend income summary. Let's see how I performed during the month.
July Dividend Income Summary
In July, my wife and I received $133.27, a 28.37% increase from our July 2016 totals! I've also been showing the increase in my income individually since I did not report my wife's income in 2016. Compared to July 2016, my income increased 14.16%! We received our annual compensation increases from our respective employers this month, and let me tell you, the increases did not show this kind of growth rate. The chart below provides a detailed breakdown: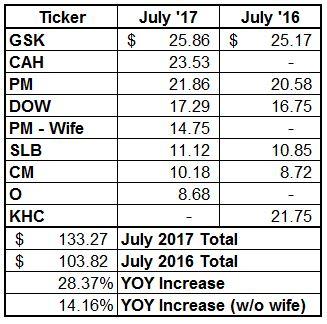 Here are a few of the highlights:
I received dividends from two new companies in 2017 compared to the prior year. Cardinal Health (NYSE:CAH) and Realty Income (NYSE:O) have been great additions to my portfolio in the last twelve months. I enjoyed owning CAH so much after my initial purchase that I decided to add to them a second time during the first half of 2017. One day I am hoping to do the same for Realty Income as well. It is a company that is on my short list to buy once I decide to stop hoarding cash and I am fully settled into my new house.
Once again, I was bit by the fact that Kraft Heinz (NASDAQ:KHC) changed the month that they paid their dividend as it caused my dividend income to decrease during the year. The funny thing is that if I were to remove the impact of KHC from this table, my dividend growth rate would have been insane for July. In the end, all that really matters to me is that I am receiving KHC's dividend and I could ultimately care less what month they pay me in.
Summary
In all honesty, this was a relatively boring month for me in terms of investing. I didn't purchase any stocks and I didn't receive any dividend increases. Kinder Morgan (NYSE:KMI) did announce their intention to increase their dividend in 2018 and beyond, as I summarized in my latest dividend increases article for the coming month, but I refuse to change the impact on my forward income until the company formally declares the increased dividend. Talk is great, but I am waiting for the cold, hard results. To me, for dividend investing, boring is a great thing. Seeing increases in your dividend income due to DRIP and announced dividend increases shows that the power of dividend investing is real and that what we are doing is starting to make an impact.
It has been reassuring and fun to see my dividend income continuously doing work for me behind the scenes, especially since I have been so busy lately. Each month has been a new chapter in this journey towards early retirement. Now that July is in the books, it is time to look forward to August and start focusing on finding new ways to add additional income via side hustles or whatever means are necessary. We always say it, but on this journey, every dollar counts and will help you get that much closer to financial freedom.
How did you perform this July? What was your YOY increase? Did you receive any dividend increases from your holdings or did you purchase any new companies? What stocks are on your watch list?