Welcome to another edition of "Elroy's Elliott Wave Weekly". The aim of this series of articles is to review possible scenarios in various markets using Elliott Wave, fractals, and other technical analysis.
The update this week will not include equities as I wrote two articles recently in order to cover them in detail. These can be seen here and here. Basically, I am looking for a blow off above 2,500 starting next week.
Precious Metals
Gold (GLD) had a pretty good go at breaking out this week, but the NFP reversal put the move in doubt.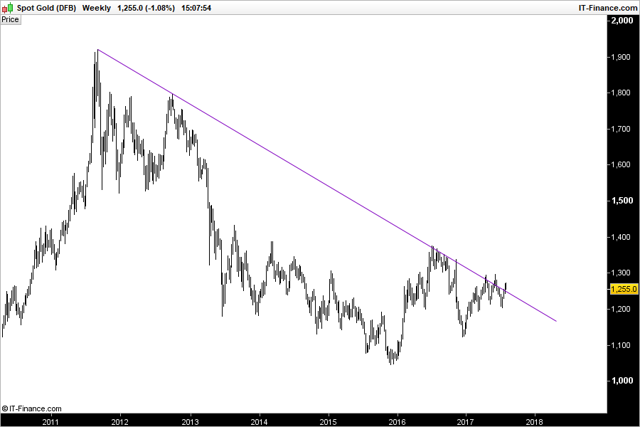 Breaking out after 3 weekly up closes is a tough ask and the down week this week is actually healthy. The next break should be for real and take price through $1,296 for the buy stops and the $1,330s first target.
Silver (SLV) is still very messy and hard to count with any confidence. Sometimes it's best to just rely on solid set-ups, and there may be one when the trend-line below breaks on the next wave up.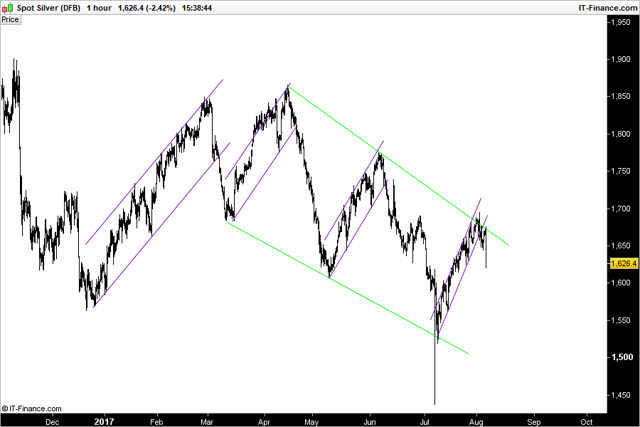 I rarely buy break-outs, but if the structure is right I will buy this one. Basically, I want to see the short-term move look like this -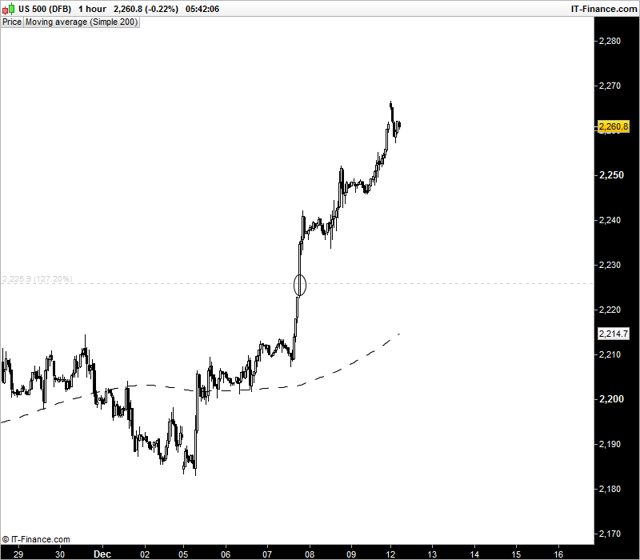 If the break comes in the wave iii of 3 position (circled), I know there are very high odds price will keep going.
There are two main scenarios in the short term.
Bullish: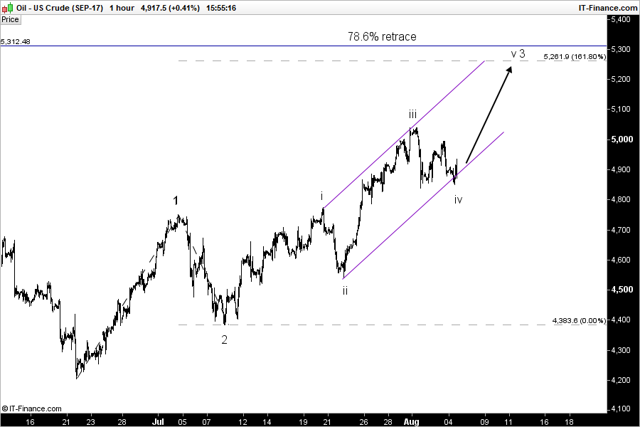 This targets $52.6-53.1 as long as the $47.6 break-out holds.
Bearish: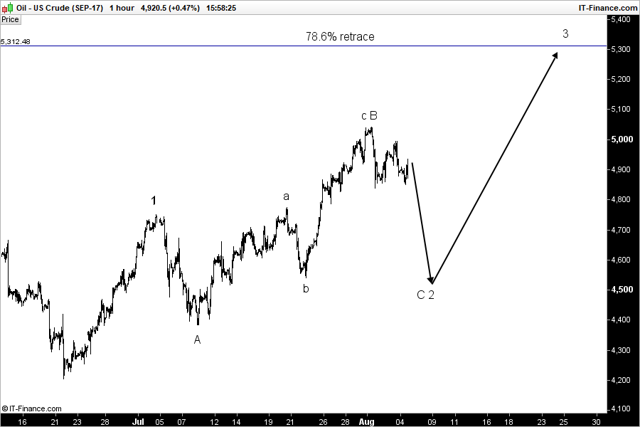 This will flush out late bulls (I have noticed a few) and target $45 before the next leg of the rally.
When there is this kind of indecision I stand back and wait. I am trading the time-frame above and have longer term longs targeting the $60s.
If the second option plays out, I will add to my position around $45. I will of course update if/when that happens.
Natural Gas (UNG)
I went back to the drawing board on nat gas as the length of time it went sideways in July was too long to be a wave 4. I have therefore labelled the decline as an ABC correction, currently finishing off wave C.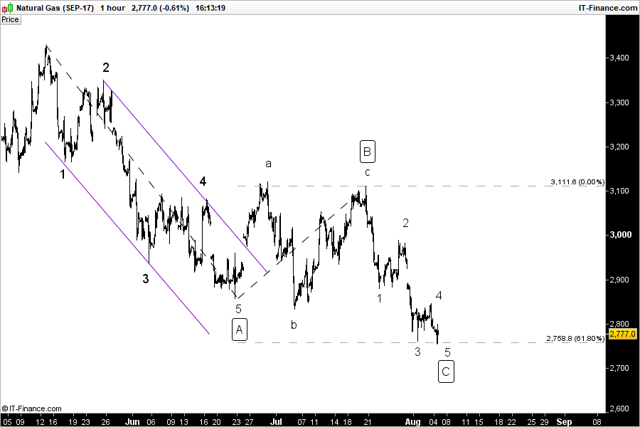 This doesn't change much in the longer term, or indeed, the short term, as I am looking for a reversal when wave C finishes. It's worth noting how the first 5 waves down (for wave A) are contained in a channel and this channel broke; this is why I thought NG had bottomed in June, but unfortunately, I was wrong about the formation and it needed another wave down for wave C.
Again, I am looking for some sort of impulsive 5 wave move higher to confirm the low is in. At the moment, the last wave 5 looks a bit small so it may still extend lower, but shouldn't get much further than $2.7. I'm still looking for a break of $4 and still long, but the best way to play the reversal is probably long dated calls (I have these too).
Bonds (TLT)
I haven't updated on TLT since June 21st when I proposed a pair trade of short TLT, long gold, based on extreme short-term divergence. This has now narrowed and the trade is no longer valid.
Over the next few months, I would expect a short-term pop up followed by a resumption of the new downtrend.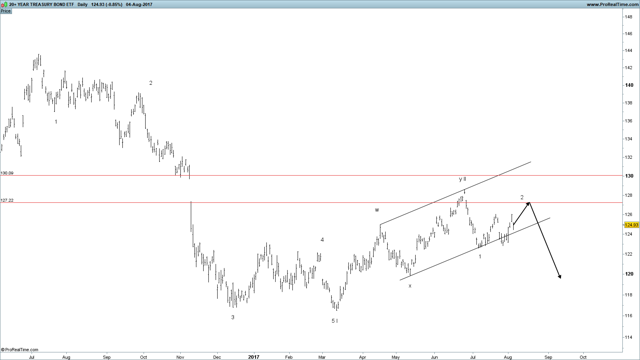 There is one option for a new high to $130ish, but this would be in a rare 'Z' wave and wouldn't go too far anyway.
The main takeaway is rates are going higher.
The Dollar (UUP)
Well, I was bound to call the dollar correctly sooner or later...
This count from my Thursday tweet caught the lows nicely.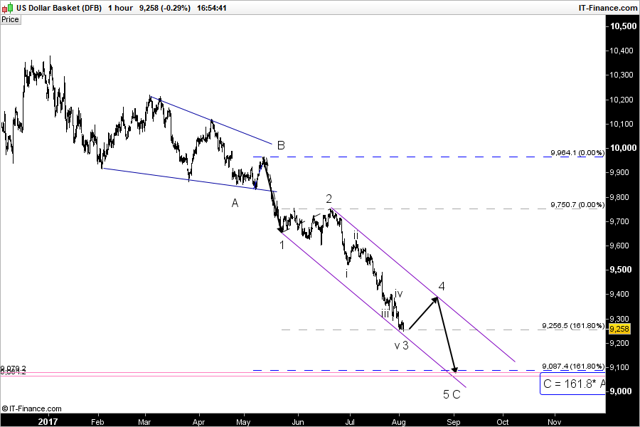 Actually, the move to 93.53 after NFP hit the first target at the 23.6% Fib, and I would expect some sideways consolidation to now fill the channel.
The gap at $90.9 is the target for the entire decline.
Conclusions
Last week gold made an unconvincing attempt at a break-out and silver dropped from its trend-line. However, the weekly down close indicates some balancing of positions and the next attempt has a very high chance of breaking for good. Gold's first target remains the $1,330s.
Oil is short-term inconclusive and I highlighted two options. If the second bearish option were to play out, I would look to add to longs around $45. Otherwise I will just hold for the $60s.
Natural gas continues to drop and I had to change my count. I'm still looking for a reversal, but obviously I was wrong and the fall is extending further than I first expected. Ideally, next week brings a lower low which reverses strongly higher in a 5 wave rally.
TLT probably topped at $128.5 and is in the first stages of the next large wave down.
The dollar finally found a bid and should stabilize above $92.3 for a few weeks before breaking lower in the last wave of the decline.
Good luck next week!
Disclosure: I am/we are long GLD.
I wrote this article myself, and it expresses my own opinions. I am not receiving compensation for it (other than from Seeking Alpha). I have no business relationship with any company whose stock is mentioned in this article.
Additional disclosure: I am long gold, NG and UNG calls, and oil.