The poor Greenback has been battered by a mixture of negativity surrounding Trump's election promises, as well as uncertainty surrounding the ongoing probe on links between Trump and Russia. However, after an impressive US jobs report released on Friday, the USD enjoyed some reprieve.
Non-farm Payrolls released Friday was robust - 209,000 jobs were created in July versus a consensus of 183,000, and Average Hourly Earnings saw a 2.5% increase on a YoY basis versus 2.4% consensus. That was enough to send the USD Index higher by about 1% on the day, and possibly many USD-shorts scattering.
Looking at the weekly chart for the USD Index, the USD is trading at a very key support level, one that has been supported numerous times since 2015. A break in this support level would be very significant, and would likely indicate much further downside for the Greenback. If the support level of around 92-93 breaks, go short on the USD. Do not go short on the USD now when it is currently trading right on support.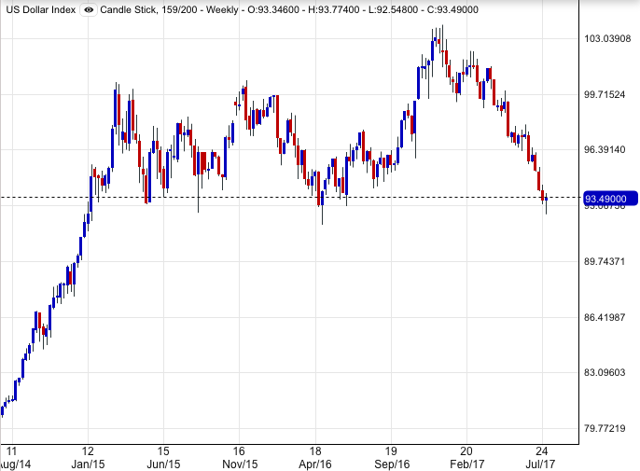 For me, the momentary reversal in fortunes in the USD looks to be a dead cat bounce, one that looks more technical in nature given the USD Index was trading right where a key support level was. I would not read too much into the robust US jobs report too, as one of the primary reasons the USD had been deteriorating was due to soft inflation numbers, as seen from the chart below.
From April to June, US inflation numbers have come in lower than expectations, which leads to uncertainty surrounding the Fed's hiking trajectory. If inflation numbers continue to be soft, it is difficult to imagine the Fed being more hawkish in its monetary policy. There is talk the Fed will discuss balance sheet normalisation plans by the end of this year too, but that could take a backseat as well if inflation numbers remain flaccid.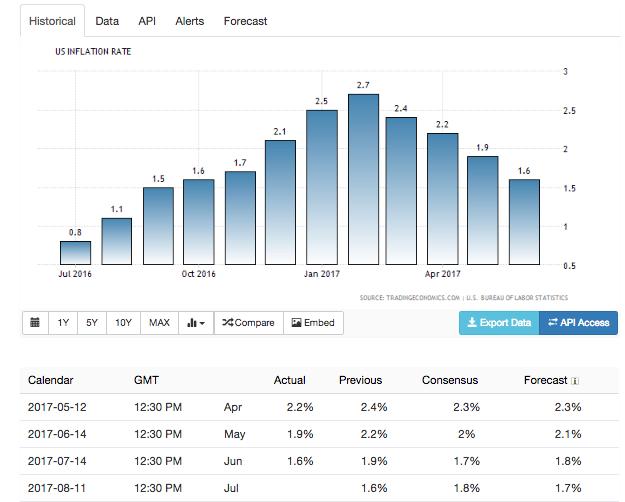 How then to take advantage of this weak USD / low inflationary environment? One idea would be to diversify a portion of one's portfolio to buy into commodity currencies such as the AUD, NZD, and CAD. Inflation, GDP and employment numbers in those 3 economies have been relatively robust, while commodity prices such as oil, iron ore, and copper are stabilising at current levels.
A second idea would be to allocate a portion of one's portfolio into XAUUSD, a instrument that has a negative correlation with USD strength. XAUUSD has been in a trading range between 1,200 and 1,300, and with no central bank embarking on an aggressive rate hike trajectory, the low interest rate environment is supportive for XAUUSD which does not generate interest / carry for investors. XAUUSD would also serve as insurance for any equity-heavy portfolio.
The final idea would be to go outright short on the USD. As mentioned earlier, the USD Index is trading on a key support level, so patience is required. If the key support level of 92-93 breaks, it would indicate higher probability of another huge leg lower for the USD.
Disclosure: I/we have no positions in any stocks mentioned, and no plans to initiate any positions within the next 72 hours. I wrote this article myself, and it expresses my own opinions. I am not receiving compensation for it (other than from Seeking Alpha). I have no business relationship with any company whose stock is mentioned in this article.