Every month I discuss my Early Retirement Fund (ERF) portfolio income. You can view last month's income here. I mainly share this data to keep me focused on my goals and to be transparent for accountability reasons. I also want to exemplify the power of dividend growth investing over time and show how anyone can build a passive dividend stream regardless of age, income, educational background, and profession.
My overall goal is to receive $3,000 worth of dividends in 2017 and grow this amount to $40,000 a year by the time I turn 40 (10 years from now). I accumulate dividends by purchasing shares of quality dividend growth stocks that are trading at a price below their intrinsic value. To help me determine if a stock is on sale I use the "10 Minute System", which rates a stock's financials, balance sheet, dividend, risk, and value. A detailed description of the "10 Minute System" can be viewed here.
I am also a buy and hold investor focused on the long term. I buy stock with the intention of keeping ownership of the stock for the rest of my life. Now things can happen which can cause me to sell shares from time to time, but I am never looking forward to a sale. The announcement of a dividend cut would be the primary reason I sell my shares because I am looking for consistent and growing income from my holdings.
July came to a close and I am one step closer to reaching my short and long term goals.
July 2017 Portfolio Income
The table below shows the income I have received from my ERF portfolio for the month of July:
Stock Owned

Type of Income

Amount

Bank of Nova Scotia (BNS)

Dividend

20.12

Domtar (UFS)

Dividend

28.64

National Oilwell Varco (NOV)

Dividend

5.00

Maiden Holdings (MHLD)

Dividend

22.65

Douglas Dynamics (PLOW)

Dividend

24.00

Macy's (M)

Dividend

15.10

New Residential (NRZ)

Dividend

50.00

GNC Holdings (GNC)

Premium

61.29

Total Income:

$226.80
Source: Author Calculations
The total income I received in July was $226.80, which is a 2.3% year over year gain for the month of July. July 2016 income was $221.79. For 2017 I am averaging $242.07 a month in dividends and $64.28 a month in premiums. In 2016 I averaged $191.94 a month in dividends so I have grown this dividend income stream by 26.1% this year. I averaged $116.89 a month in premiums in 2016 so my 2017 premium income is down for the year. I am less concerned about premium income though because I only use options to move in or out of a position. It is not a consistent source of income.
I received a premium this month for writing a covered call as I am attempting to completely sell out of my GNC position at an attractive price due to both companies cutting their dividend. If covered calls are unfamiliar to you and you want to learn how you can benefit from them, please read my article here that explains them in detail.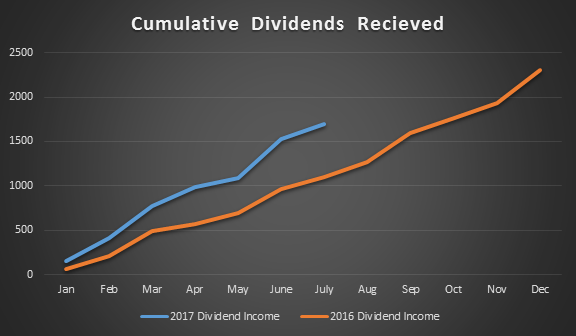 Author Calculations
The money I received in income this month is good enough to pay my electric, water, cable & internet, and Netflix (NFLX) bills this month. Right now I reinvest all my dividends to keep the ERF growing as fast as possible, but I do like to see what percentage of my monthly bills I could cover with income received from my portfolio. It feels nice to know that I never have to worry about paying my utility bills for the rest of my life.
During the last year, a few of my holdings raised their quarterly dividend payments. I had to do nothing to earn these raises. The table below shows the changes in my quarterly dividend payments over the last year for these specific holdings:
| | | | |
| --- | --- | --- | --- |
| Holding | 2016 June Payment | 2017 June Payment | Change |
| BNS | 18.05 | 20.12 | 11.5% |
| MHLD | 21.14 | 22.65 | 7.1% |
| PLOW | 23.50 | 24.00 | 2.1% |
Source: Author Calculations
NRZ also raised their quarterly dividend by 4.2% but I did not own any of their stock in June 2016, so it is not included in the above table.
It is evident that all raises were greater than current inflation rate of 1.6%. This table shows that when I reach early retirement, I won't have to worry about my income being eaten by inflation. In fact it looks like I will be able to beat inflation by a wide margin. Dividend raises are one of the biggest benefits of dividend growth investing.
Goals
I have received a total of $1,694.48 in dividend income and $449.93 of option premium income for 2017. Going forward my portfolio is expected to bring in $2,998.01 worth of dividends in the next year which is 7.50% of my 10 year goal of $40,000/year. I am happy with this number because my total dividends received in 2016 from my portfolio was $2,303.24. Please take note that I do not predict premium income for the year because they are not part of a program or schedule like dividends are and are very hard to predict.
I made one transaction this month. I purchased 48 shares of Air Castle (AYR), which adds $49.92 a year to my expected dividend total. I chose to add to my AYR position because it rated an 80% on the "10 Minute System". I recommended purchasing AYR back in June in my piece about using secured puts to your advantage. This was the only change I made to my portfolio in July.
Conclusion
Another month of ERF income is in the books. Once again my monthly income grew year over year due to natural dividend raises, reinvestment of all portfolio income, and portfolio contributions. Every month I contribute a percentage of my savings into the ERF, which is then used to purchase more shares of undervalued dividend growth stocks. The more shares I buy, the more dividends I receive, and that's the way I like it. I expect to receive 4 dividend payments in the month of August. I also am predicting that my GNC call option will be assigned at $10.00 a share. If my GNC call option gets assigned, I will have another $1,000 of free capital to purchase more shares of quality dividend growth stocks. Stay tuned to see where I put that new money to work.
Disclosure: I am/we are long GNC, BNS, UFS, NOV, MHLD, PLOW, M, NRZ, AYR. I wrote this article myself, and it expresses my own opinions. I am not receiving compensation for it (other than from Seeking Alpha). I have no business relationship with any company whose stock is mentioned in this article.