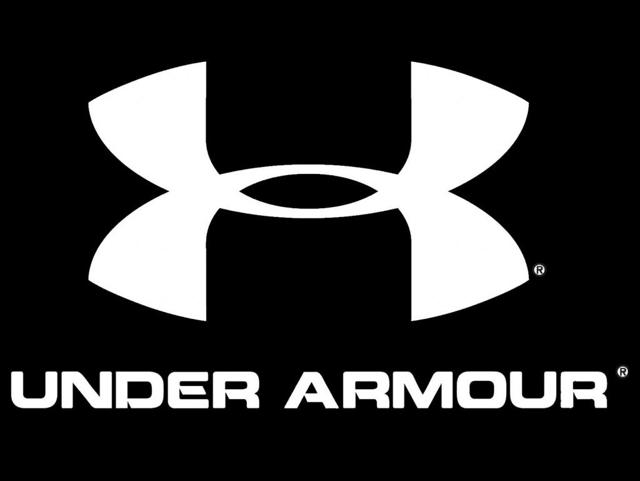 Image Source: Wikipedia
Context, Bearish Thesis
There have been many reasons to short Under Armour (UAA) (UA) in the last quarters. While the stock was trading at a significant premium to peers such as Nike (NKE) and adidas (OTCQX:ADDYY) (OTCQX:ADDDF), the brand's momentum was falling fast, and revenue growth in North America, by far the main market, was in a sharp downtrend and entered into negative territory. This is evident in the chart below, where I plotted the YoY growth rate for sales in North America as it appeared before last quarter's earnings release.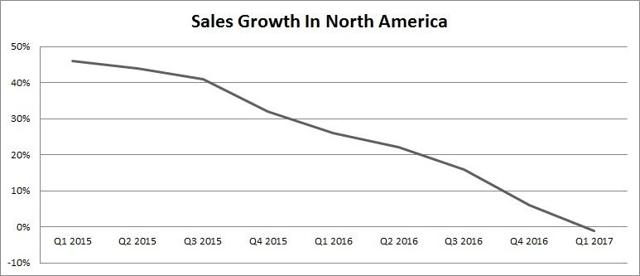 Source: Author's Elaboration
My bearish thesis was based on a clear overvaluation compared to peers in a moment when the company's growth rate was converging fast with the peers' growth rate. For example, in one of my previous articles I wrote:
Although adidas is growing faster than Under Armour, the two stocks are trading at basically the same Price-to-sales. If we use consensus estimates for Q1, adidas' revenue is supposed to grow 12.7%, against a 7% growth rate for Under Armour. Using the consensus numbers, both stocks trade at a P/S that is very close to 1.7.
I forecasted the valuation gap to reverse and that's what actually happened during the last quarter, although it was a result of an expansion in adidas' multiples and not a contraction UAA's multiples. Adidas is trading at a price-to-sales above 2, but UAA is still trading close to a price/sales of 1.7. Based on relative valuation, there are no significant mispricings to spot in the current situation. On the other side, some investors may argue that a P/E above 37 is still a rich multiple if the company is not able to deliver a solid margin expansion. In this context, let's give a look at what happened last quarter.
Recent Results – Financial Highlights
Starting from the top line, YoY variation has shown a slight improvement from +6.7% in Q1 to +8.0% in Q2. Although the comparison with Q2 2016 (27% growth over Q2 2015) was a bit easier than with Q1 2016 (30% growth over Q1 2015), I think the slight improvement in the growth rate is still a good sign. The sharp and constant decline in the growth rate quarter after quarter was a good reason to stay away from the stock – it was obvious that a temporary boom in popularity had helped the company's growth, but we didn't know if and how much that strength was a result of a temporary phenomenon. With signs that the growth rate started to improve, that matter became less important for the short thesis. Results are stabilizing right in a moment when there are several good signs in the industry. In the past few weeks, athletic footwear/sportswear companies such as Puma (OTCPK:PMMAF) and adidas have raised their guidance for the full-year, probably benefiting from a positive momentum in sports apparel that more than offset the slowing momentum in athletic footwear.
On one side, it's true that brands such as adidas and Puma have more a "lifestyle" positioning compared to Under Armour, but if these signs indicate rising momentum in the whole industry, it's reasonable to assume that also Under Armour will benefit.
Another good sign is that, unlike in Q1, sales in North America grew slightly (+0.3%). Nothing to be excited about, but still better than negative growth rates. Anyway, basically all the growth in sales is coming from Asia Pacific, where revenue grew from $49,553 million in Q2 2016 to $93,574 million in Q2 2017 (+88% YoY), and from EMEA, where sales grew 57% YoY.
While revenue growth showed signs of stabilization, there were some negative signs too. Gross margin declined 190 basis points to 45.8% as "benefits from channel and product mix were offset by inventory management initiatives, changes in foreign currency rates, and higher air freight in connection with our enterprise resource planning (ERP) system implementation, which impacted the timing of shipments to certain key customers." Nonetheless, the company mentioned a promotional environment in North America, so I guess that factor may have played a role as well, even if the management is pointing to other reasons to justify the 190 bps decline. Nonetheless, the company expects further weakness in gross margin this year, as it's guiding for a 120 bps contraction even excluding the effects of the restructuring plan.
Margin pressures came also from rising selling, general and administrative expenses, which increased 10 percent to $503 million, or 46.2 percent of revenue (up 40 bps), as a result of continued investments in the direct-to-consumer, footwear and international businesses. Although the management didn't give us a clear guidance for SG&A, it now expects operating income of $160-$180 million and adjusted operating income of $280 million to $300 million, down from the previous forecast of $320 million. In both cases, that amount indicates a significant contraction from the recent levels (TTM operating profit of $366 million).
Last but not least, UA expects EPS of $0.18-$0.21 and adjusted EPS of $0.37-$0.40.
Future Prospects and Valuation
On one side, the top line is showing signs of stabilization, which is good news for sure. On the other side, the weak margins and the weak guidance show the company is still having problems with profit generation. It is difficult to say if the company will likely see a strong improvement on the side of profitability in the medium term. After all, there is always a lot of uncertainty around expansion plans like the one implemented by Under Armour. North America remains by far the main market, accounting for more than 80% of sales. The company has a following there and has generated profits for years. With signs that sales growth is stabilizing, North America may be back to decent levels of profitability once investments for the development of the DTC channel start to deleverage. EMEA and Latin America still give signs of weak profitability. I don't think this will change anytime soon. UA can't easily exploit its brand power in those regions, as the company's investments in sponsorships/endorsements have a very limited reach (if any) in those regions. For example, European or Brazilian customers couldn't care less about what Tom Brady or Stephen Curry wear, assuming they know who these athletes are. The road to decent growth/profitability in those regions is still long and will require high marketing investments with an uncertain outcome. Asia/Pacific is a different story. The growth rate is very high there and margins are healthy, and in any case, it's likely that most of the growth in the next years will come from that region in any case.
To summarize, we have regions such as Europe and Latin America where we should not expect great things in the next years, while Asia/Pacific and, in part, Middle East and Africa are likely to perform well, due to the strong secular growth in athletic footwear/sportswear and the company's low penetration in those regions. North America will determine whether margins will return to healthy levels or continue to suffer as they have done recently. I think this is the factor that will determine the stock's performance in the next few years. The reason is simple. So far, revenue growth has been in a sharp downtrend following the boom in sales between 2013 and 2015. For the first time in more than 2 years, YoY sales growth has been better than in the previous quarter, and North America has seen sales growth in positive territory again, although the growth rate was just 0.3%. If this is actually a sign of stabilization and not just short-term "noise", the whole bearish thesis would rely on the assumption that the company won't be able to recover the lost marginality, and that such margins will actually continue to fall. Regarding that point, there are several factors that can determine the increase/decrease in margins. On one side, the company's investments in the DTC channel will continue to weigh on profits, just like the promotional environment (as long as it lasts) mentioned by the company. On the other side, there are other factors that can offset the pressure on margins:
Asia/Pacific is the fastest-growing region and also the one where the company reports the highest margins - 88% YoY sales growth in Q2, with a 16.3% operating margin. Not only is it the fastest- growing market, it's also the one that has the best growth prospects thanks to the macroeconomic and demographic environment, that's well known. As sales grow, it's reasonable to assume a margin expansion as a result of the growing importance of the segment.

The apparel segment of the sportswear industry is showing signs of acceleration. This is evident when we look at recent results from some sportswear companies. UA reported an 11% growth in the segment last quarter, against a 2.4% contraction in footwear. This is a significant acceleration from the 7.3% growth rate in the previous quarter. This is likely also one of the reasons why Nike and Puma (but will also help adidas and the others) have recently raised their guidance. It's a rising tide that will lift all the boats, and given the higher marginality of the segment in comparison to footwear, it's reasonable to expect a margin expansion if the momentum doesn't fade away.




The weakening dollar can obviously help Under Armour's sales, just as the strong dollar in the past 3 years acted as a headwind for the majority of fashion companies.
Why I Am Closing My Short
The valuation gap with adidas based on P/S closed, and the stock is also trading at an EV/EBITDA of 16.7, below NKE's 17.6x EV/EBITDA and adidas' 20.4x EV/EBITDA. I can't find any valuation gap based on the comparison with peers, and it's difficult to quantify the downside from these levels. In any case, a further decline in the stock price should follow a further deterioration in the company's fundamentals. I think this is a very risky bet at the current levels, especially if the stabilization in sales is not just short-term noise. On the other side, betting on a further margin contraction may work in the short term, but it's difficult to predict the outcome of the action of all the aforementioned factors – especially considering the positive effect of the strong growth in higher-margin regions and segments (Asia and apparel) and the weakening dollar.
Considering the signs of stabilization on the top-line, the positive factors that may help margins in the medium term, and the lack of an exploitable valuation gap with peers, I decided to take profit and close my short on UAA.
Thanks for taking the time to read the article. If you liked it, click on the follow button at the top of the page. You will get my articles as soon as they are published. I am available to further discuss the topics of this article in the comments section. If you are interested in having access to my best long and short ideas in the consumer industry, please consider joining Consumer Alpha. You can have a 2-week free trial and only for this month, I am offering a 25% discount on both monthly and annual subscriptions.
Disclosure: I am/we are long NKE. I wrote this article myself, and it expresses my own opinions. I am not receiving compensation for it (other than from Seeking Alpha). I have no business relationship with any company whose stock is mentioned in this article.
Editor's Note: This article discusses one or more securities that do not trade on a major U.S. exchange. Please be aware of the risks associated with these stocks.