On July 27, M&T Bank Corporation (MTB) released their Q2 results, reporting EPS of $2.35 which beat estimates by $0.07, and revenues of $1.4 billion which were in line with estimates.
Banking has an understandably bad rep now after the Great Recession erupted in 2008, but not all banks were blameworthy, and M&T Bank certainly was not. Given its solid Q2 results, the question of M&T Bank as a viable investment is inevitably raised.
Company Overview
Founded in 1856, M&T Bank Corporation today is a bank holding company with two subsidiaries: Manufacturers and Traders Trust Company (M&T Bank) and Wilmington Trust, National Association (N.A.). They operate approximately 800 branches across Connecticut, Delaware, Maryland, New Jersey, New York, Pennsylvania, Virginia, West Virginia and Washington, D.C.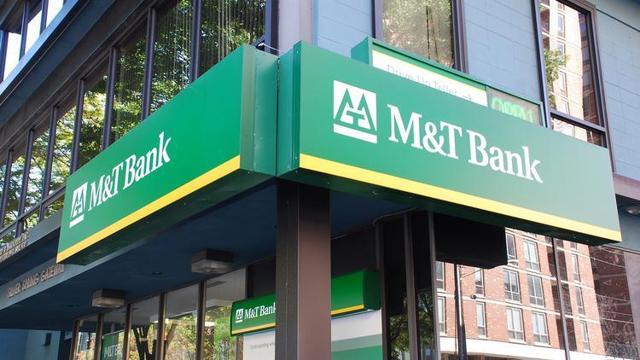 The company divides its operations into six segments: Business Banking, which offers small businesses and professionals a wide variety of services; Commercial Banking, which offers banking products and credit services; Commercial Real Estate, which offers credit and deposit services; Discretionary Portfolio, which covers investment and trading account securities, residential real estate loans and other assets, and short-term and long-term borrowed funds; Residential Mortgage Banking, which originates and services residential mortgage loans; and Retail Banking, which offers services to customers via a number of delivery channels.
M&T Bank Corporation is headquartered in Buffalo, New York. It has a market capitalization of $24.92 billion and a workforce of nearly 17,000 employees.
Competitive Advantage
Regional banks are much more risk-averse than national banks are, and thus much less likely to engage in the sort of reckless behavior that led so many banks to cut their dividends during the Great Recession. M&T Bank was able to come through that period without having made any cut to its dividend, and has been making steady and/or rising dividend payments since 1983 at least.
M&T Bank's regional focus on the U.S. Northeast also makes it sensitive to the needs of its local customers and businesses, enabling them to build solid relationships with these customers and businesses and thus maintain profitability. The proof of this can be found in their net income figures over the past five years.
| | |
| --- | --- |
| Year | Net Income ($) |
| 2012 | 1.01 billion |
| 2013 | 1.12 billion |
| 2014 | 1.05 billion |
| 2015 | 1.07 billion |
| 2016 | 1.3 billion |
Valuation
Currently, M&T Bank trades in the low-$160 range at a price-to-earnings ratio of 20.02, a forward P/E ratio of 16.37, and offers a dividend yield of 1.83% with a payout ratio of 33.80%. The payout ratio is low enough to ensure that M&T Bank are in a secure position to continue rewarding shareholders with steady and rising dividend payments going forward.
However, the stock is trading just 5.84% below its 52-week high of $173.72, and 45.73% above its 52-week low of $112.25. Furthermore, both the P/E ratio and forward P/E ratio are above M&T Bank's five-year average P/E ratio of 15.3, and its current dividend yield is lower than its five-year average yield of 2.32%. It is clear, then, that the stock is overvalued at this time.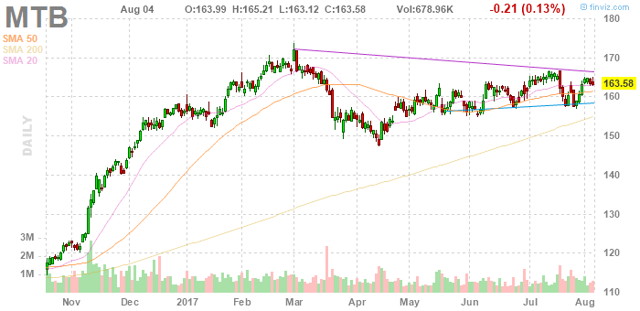 Paying more for a stock than it is worth locks in a lower dividend yield, lower total return, and lower income over the lifetime of the investment. It is therefore unwarranted to buy a stock that is overvalued, even if it is the stock of an excellent, conservatively-run firm such as M&T Bank.
Final Thoughts
M&T Bank's regional operation and risk-averse management have ensured that this bank has delivered excellent results to shareholders, and maintained a reliable dividend for over three decades. However, the current stock price does not justify starting a new position here or adding to an existing one. At present, M&T Bank is a hold, not a buy.
DISCLAIMER: The author is not a financial professional and accepts no responsibility for any investment decisions a reader makes. This article is presented for information purposes only. Furthermore, the figures cited are the product of the author's own research and may differ from those of other analysts. Always do your own due diligence when researching prospective investments.
Disclosure: I/we have no positions in any stocks mentioned, and no plans to initiate any positions within the next 72 hours. I wrote this article myself, and it expresses my own opinions. I am not receiving compensation for it (other than from Seeking Alpha). I have no business relationship with any company whose stock is mentioned in this article.