My Ian's Million Fund, IMF, is a quasi-index fund where I have two main goals. One, beat the S&P 500 over time with my own diversified basket of stocks, while avoiding any ongoing management fees. Two, build a model that my non-investment professional friends can copy. If I didn't have other investments and had $1,000/month to invest, what retirement portfolio would I build to ensure I ended up with a strong solid nest egg? The IMF answers that question.
We're back today with an overdue performance update. Your author was on the road in July, and thus there was no update on the IMF for last month. So this article will cover both June and July's performance. And, to summarize, performance has been great, my IMF handily beat the S&P 500 both months: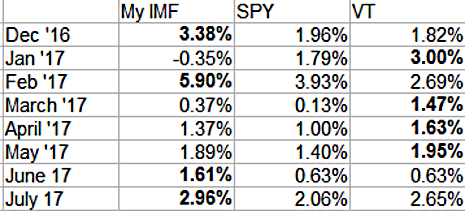 For June, the IMF scored a 1.6% gain, beating both the S&P and the global stock ETF (VT) by 1%. For July, the IMF beat the market by 0.9%, and global stocks by 0.3%.
I saw one article on Seeking Alpha asking if their returns were "too good", and it certainly does feel that way out there to some extent. The market goes up every month, and My IMF has topped the S&P 500 every month from February onward.
Of course, while it's fun to celebrate gains, we must not grow complacent with success. Another correction will come sooner or later, and our portfolios will be tested accordingly. Many of the stocks within my IMF are becoming quite expensive, and I expect to see some sharp selling in various names the next time bears get the upper hand.
What's Working For The IMF
Mexican stocks (EWW) have been responsible for a large portion of the portfolio's success this year. And that's with good reason; I named PAC - my #1 position by size - as my top pick for the year, and it's up from $73 to $115 since then. PAC currently accounts for 5.5% of the IMF's assets, and is up more than 30% on cost basis including dividends. That sort of outperformance can carry a whole portfolio.
Mexico, as a country, makes up more than 10% of the IMF's assets, and its stock market has roared back from the Trump panic, hitting new all-time highs recently. The Peso, initially weakened after the election, has now rallied back more than 20% as well. A good portion of my portfolio's success thus far is thanks to this investment opportunity.
Overall, nine stocks have produced unrealized gains of $100 or more dollars (only one position has lost this much as of July 31st). Three of these winners are Mexican stocks, one is a Colombian bank, three are US regional or community banks, and China Life Insurance (LFC) and Diageo (DEO) - see my latest update on that firm - round out the list.
A year and a half into running the IMF, having a global basket of stocks has paid handsome rewards. Given the lofty starting valuations for US stocks, it isn't surprising that the US market is underperforming the rest of the world lately - to get the best returns, you need exposure to foreign stocks at the moment. As you can see, the US is within the bottom quarter of world stock markets this year (data source):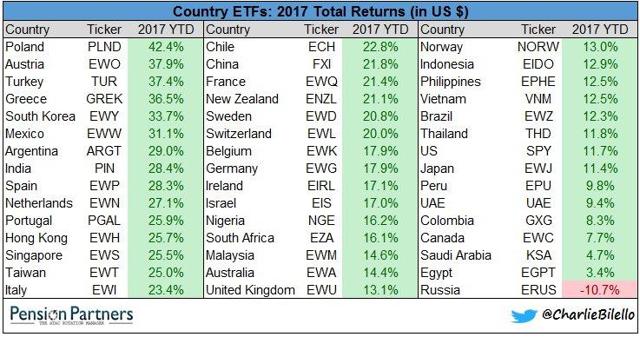 My faith in community and regional banks also continues to pay rewards. While the too-big-too-fail banks collect all the headlines and CNBC attention, many under-the-radar smaller financial firms have rallied 30-50% since the election while paying well above average dividends. I have large - and highly profitable positions - in this sector, and I'm adding to them now, as some shares have pulled back as the Trump reflation trade pauses.
What's Not Working
There are no huge losers in the portfolio. 14 stocks are up 50% or more on cost basis, while the worst loser is only down 32%. That's quite acceptable, though of course these figures will change once the bull market lets up. That said, we learn more from mistakes than victories. What's gone wrong?
I've discussed Computer Programs And Systems (CPSI) previously in my worst picks of 2016 article. Though shares have rallied nicely in 2017, this is still my biggest loser - it's a classic example of buying a high-yielding business without fully understanding how the firm made its profits. Predictably, the dividend got cut and shares tanked.
My investment in Frank's International (FI) is also struggling, down more than 20%. I bought this as a way of playing the energy recovery - and I'll probably eventually be right. My thesis was that the company's large cash balance and dividend would support the stock; however, there is no catalyst for earnings to improve in the near term, so the stock keeps sliding.
And while it's not as large a percentage loser, Tecnoglass (TGLS) is my largest dollar decliner, given its position as my 8th-largest holding in this portfolio. The latest shoe to drop there is the diplomatic standoff in Qatar. Tecnoglass won a large contract associated with the 2022 Qatari World Cup, however this is now in doubt due to the political issues currently unfolding. More generally, Tecnoglass has a lot to prove as a small Colombian firm listed in New York, and so far they haven't won shareholders over yet. I'm still optimistic on this position, but shareholders are losing patience - the company had better hit guidance next quarter.
Overall, here are the biggest 10 gainers and losers by dollar size (as a note, Teva is now among the top losers, but that happened subsequently to the end of July when I pulled this data):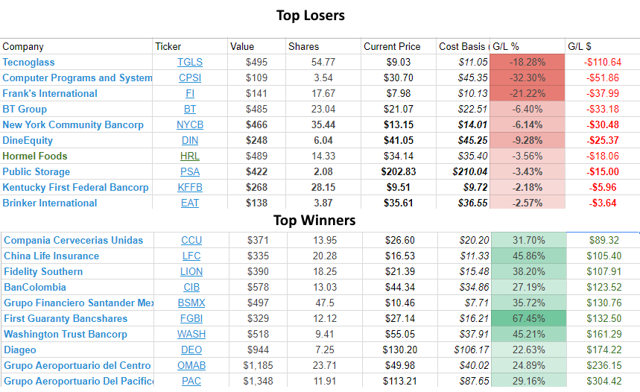 On a percentage basis, Peruvian bank Credicorp (NYSE:BAP) is the biggest winner, up 114%, but the position size isn't large enough for it to make the top 10 dollar winners. CPSI, discussed above, is the largest percentage loser.
Outlook
My portfolio has outperformed the S&P 500 by almost 4 percentage points so far, year to date. That's obviously huge, it greatly exceeds my 1-2% annual outperformance goal. Much of the gains have come from foreign stocks beating the US market by a wide margin this year. US stocks are still way overvalued compared to the rest of the world, so there's more room for this to play out, however, I am not counting on such a tailwind for my portfolio over the rest of the year - in particular, Mexico has already delivered windfall gains, and shouldn't be counted on to keep providing so much alpha going forward.
On the plus side, much of the US market is lagging the indexes. We're seeing large pockets of stocks that are getting absolutely hammered this year, creating great value, in particular in comparison with the increasingly irrationally-priced tech sector.
Amazon retail apocalypse appears to be the next big source of alpha for the portfolio, allowing us to pick up bargains in numerous places, including retail REITs, packaged foods plays, and specialty retailers, such as Autozone (NYSE:AZO). My portfolio buys have increasingly gravitated toward US stocks in recent months, as the Amazon effect has steadily impacted more and more American companies.
Yield Watch
After two months of large dividend flows, July was a much more normal month, only up modestly from April in the January/April/July/October cycle of payers. May benefited from huge payments from foreign companies, including more than $50 from the two Mexican airport companies alone. June also topped expectations due to the highly unusual asset sale sell-off special dividend/reverse split from National Grid (NYSE:NGG), which accounted for almost half of June's dividends.
Given the lack of any special distributions this month, July was much more normal: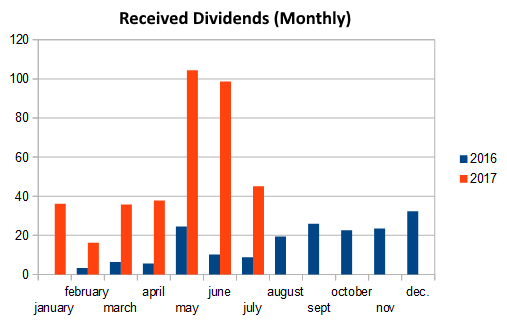 French telecom provider Orange (ORAN), along with Tecnoglass were the top dividend payers for the month. Relatively new holding CBL & Associates (CBL) also chipped in a large sum, ensuring that July topped April sequentially.
The portfolio is projected to yield $820 annually - so the average monthly check should be around $70 at this point. However, the actual monthly totals vary greatly due to the foreign companies with lumpy dividend payment schedules. As a reminder, I reinvest dividends every time the accumulated total hits $100 - so there will be no dividend purchase this month.
The IMF now yields 3.4% overall, and yields 3.9% on cost. Given the generally low dividend yields on offer in the S&P 500, I'm pleased with how this portfolio is performing in terms of delivering both market-beating growth and a strong and rapidly increasing dividend stream. By the end of 2017 - just two years after this portfolio's creation - it will already be generating more than $1,000/year in dividends.
So far, all dividends have been reinvested in Hormel Foods (HRL) - this entirely dividend-funded position has already emerged as one of the portfolio's top 10 largest holdings and is throwing off a decent dividend stream in its own right.
I've already made my August IMF purchases, you'll see those in a week or two. Additionally, we'll see if the portfolio can notch another winning month against the S&P 500, despite a rough start with the large declines in Teva and several other portfolio holdings.
Disclosure: I am/we are long ALL MENTIONED STOCKS. I wrote this article myself, and it expresses my own opinions. I am not receiving compensation for it (other than from Seeking Alpha). I have no business relationship with any company whose stock is mentioned in this article.