There is no realistic case for a long-term bull market in gold, and the metal's recent rally probably won't last for much longer. Gold-based ETFs like the SPDR Gold Investment Trust (GLD) and iShares Gold Trust (IAU) should be avoided in favor of industrial metal funds like the ETFS Physical Palladium Shares ETF (PALL) and The U.S Copper Index ETF (CPER) because these metals enjoy greater industrial demand and can be expected to hold up better in a strengthening global economy.
Thesis
Gold doesn't have much industrial demand, and so prices for the metal are dominated by speculative forces. Industrial metals like copper and palladium will outperform gold because their usefulness in industry makes them less correlated to bond yields. Industrial metals are better bets in a situation where the global economy is growing and central banks around the world can be expected to reduce their balance sheets and raise interest rates in the near future.
Background
Many observers were disappointed by the U.S inflation data for May and June of 2017. The numbers were 1.9 and 1.6, respectively, and this seems to be part of a year-long downward trend. The Fed relies on strong inflation numbers to guide its rate hike decisions, and when inflation is weak rate hikes are less likely.
Gold's Inverse Correlation to Real Yields: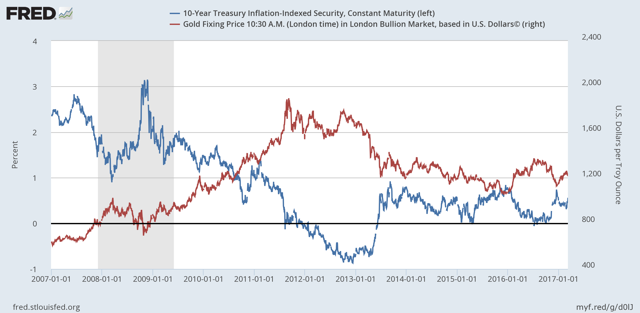 Gold's impossible challenge is simple: it directly benefits from inflation because inflation reduces real yields. But gold is indirectly hurt by inflation because the Fed raises rates in response to inflation. which increases real yields. This situation leaves limited room for long-term upside in gold prices.
The Opportunity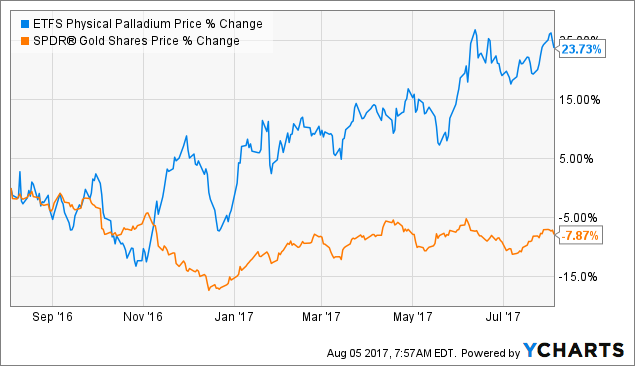 PALL data by YCharts
Industrial metals like palladium and copper enjoy many of the same benefits of gold. As commodities, they benefit from a weakening dollar, but because they are not as negatively correlated to real yields, they do not face as much risk from interest rate hikes. Instead, they provide exposure to global economic growth.
In the case of palladium, this exposure comes from the automotive industry where the metal is used to create automotive catalysts. Copper provides exposure to the housing industry, especially in China where robust manufacturing data has sent prices to a 2-year-high. There are several key events that can continue to push industrial metals higher over the next 12 months.
Possible Chinese ban on scrap metal - The China NonFerrous Metals Industry Association claims that by the end of 2018, China will move to bar the importation of scrap metal into the country in an effort to reduce pollution. Copper wire recycling is a major source of industrial copper, and if this metal is restricted, it could boost demand for freshly mined copper and boost prices.
Substitution of palladium for platinum in automotive catalysts - Palladium is likely to continue to enjoy strong demand as technological improvements allow it to be substituted for platinum in diesel engines. As China and other developing nations continue to improve vehicle emissions standards, demand for automotive catalysts will remain robust.
Conclusion
Gold prices are unlikely to continue going up because of the metal's inverse correlation with real yields on U.S debt. Because gold depends on lower real yields, it depends on inflation. But because high inflation will induce the Fed to raise rates, the metal is trapped between a rock and a hard place.
Industrial metal's like palladium and copper do not suffer from the same speculative risks as gold. Both metals have strong cases for upside due to their robust industrial demand, a possible scrap metal ban in China and improving automotive catalyst design.
Disclosure: I/we have no positions in any stocks mentioned, and no plans to initiate any positions within the next 72 hours.
I wrote this article myself, and it expresses my own opinions. I am not receiving compensation for it (other than from Seeking Alpha). I have no business relationship with any company whose stock is mentioned in this article.