Some Sailboats That Missed Their Tide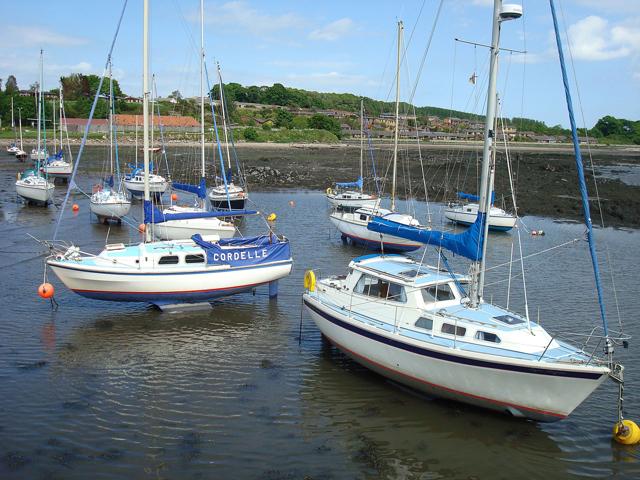 (Source)
In traditional seafaring, you could more easily leave port if the tide was with you (on the ebb); and often enough, no departure was even possible if the ebb tide was missed, either because the currents were directly against you once the ebb flow reversed to the flood tide, or you were actually left high and dry at low tide, as shown above. I am afraid this is what the Federal Reserve and other central banks have done by delaying so-called monetary "normalization" for so long. The excessive caution (dovishness) of the Fed and other central banks over the years since the Great Financial Crisis ("GFC") has both mollycoddled the markets and artificially held rates down so low that vast financial resources have been grossly misallocated. This misallocation took place via two main channels: first, in the mad global search for yield by almost all investors; and second, in the knee-jerk reaction of global business to such easy money (credit), which was borrowed in huge quantities as an alternative to riskier projects that would have been classified as capex spending or real fixed investment (Chart 1). Business investment was far stronger a few years ago.
Chart 1: Weak US Real Fixed Investment in Recent Years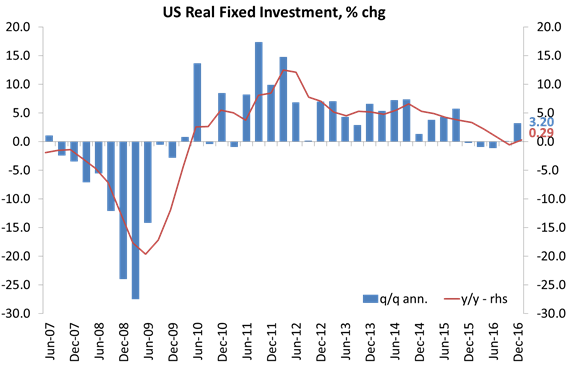 (Source)
The result is that after 10 years of essentially below-normal interest rates, the world is more dependent than ever on central bank interventions, and economic growth is still persistently weak. Instead of the vigorous recovery from the "GFC" that many once expected, we have experienced a long, slow, and weak recovery similar in some ways to the one following the Great Depression. Even in 2016, economic growth in the US was tepid and most of the components of GDP growth saw reduced contributions (Chart 2).
From a business point of view, it is especially telling that business investment actually made a slightly negative contribution to GDP growth in 2016, in spite of our position near the peak in the business cycle, the still-elevated profit margins enjoyed by many businesses, persistently low inflation, and muted labor cost increases. Indeed, the 10-year rolling average of real per capita GDP growth has fallen sharply over the 30 years since Fed policy first moved into super-easy mode under Chairman Greenspan in 1987 (Chart 3) and has not really improved even in the recovery since 2007.
Chart 2: 2016 Saw Declining Contributions of Most Components of US GDP Growth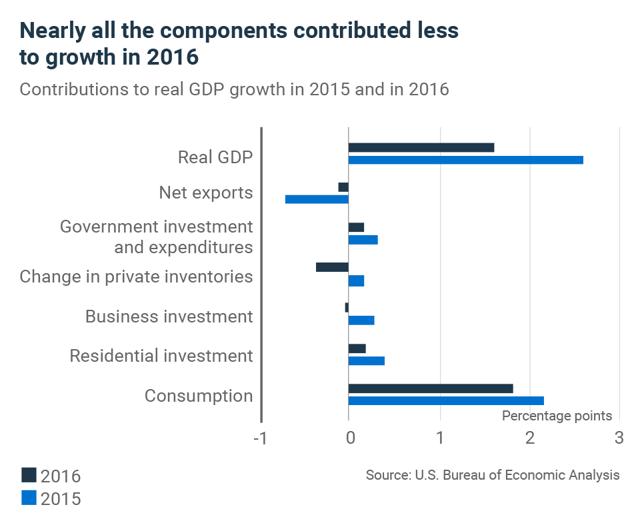 (Source)
Chart 3: Rolling 10-Yr. Per Capita GDP Has Fallen Sharply Over 30 Years, and It Is Still Falling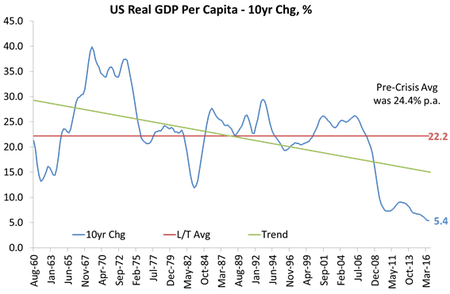 (Source)
The combination of cheap money, risk avoidance after the "GFC," and declining capacity utilization due to secular over-capacity (e.g., Chart 4), has led to the widespread misallocation of capital, which in turn has exacerbated the trend toward economic weakness. Essentially then, three things happened because of the Fed's cheap money: 1) the normal creative destruction process of capitalism was put off or even forestalled completely for years, mainly by cheap credit that let failing businesses survive (as zombies) via higher debt issuance (Chart 5), which in turn left us stuck with both our over-capacity and our declining levels of investment; 2) necessary re-investment in capital equipment and fixed assets even amongst healthy companies did not occur at appropriate levels, so the capital stock has become extremely dated (Chart 6), and labor productivity (a key component of growth) has declined as well (Chart 7); and 3) despite these issues, business has greatly expanded its debt burden (Chart 8), mainly for the purpose of expanding counterproductive share buybacks and dividend payouts (Chart 9).
Chart 4: Example of Secular Trend in Over-Capacity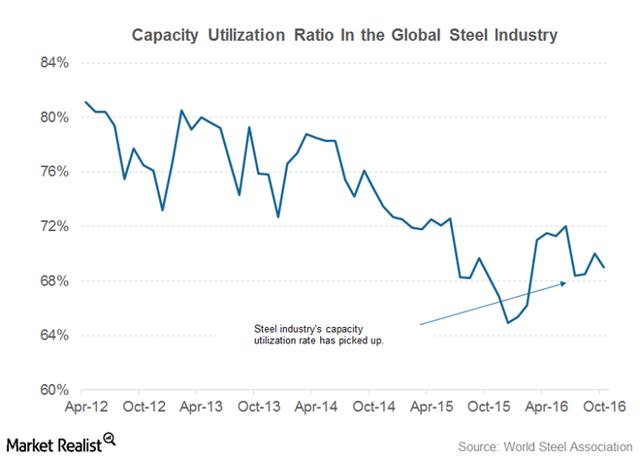 (Source)
Chart 5: Ever-Increasing Debt Has Likely Held Down Business Investment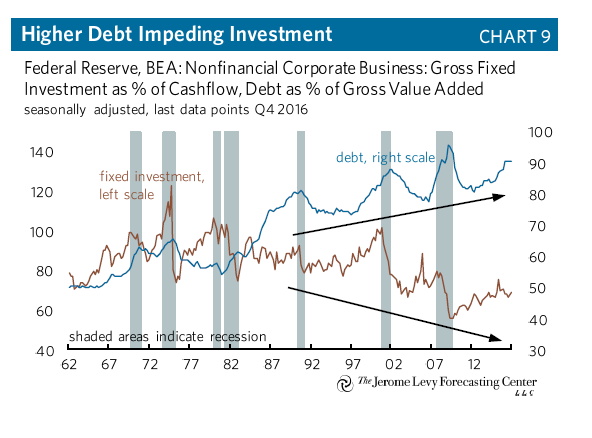 (Source)
Chart 6: Aging Capital Stock in the US Due to Misallocation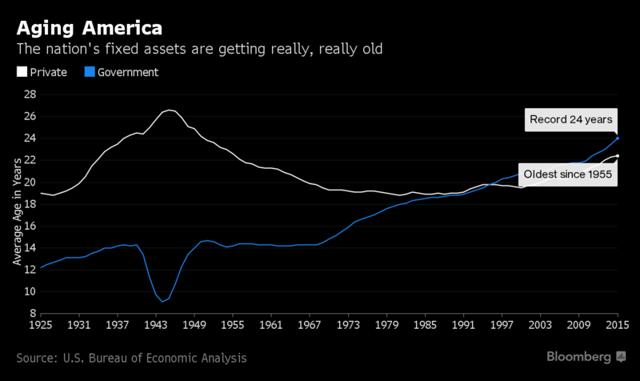 (Source)
Chart 7: Secular Decline in Labor Productivity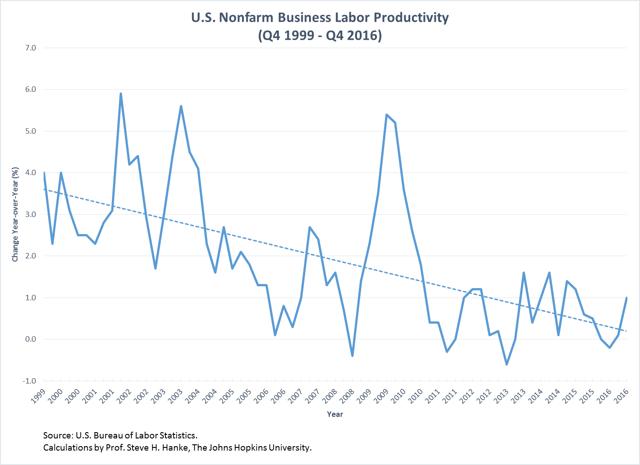 (Source)
Chart 8: US Corporate Debt/Cash Flow At All-Time High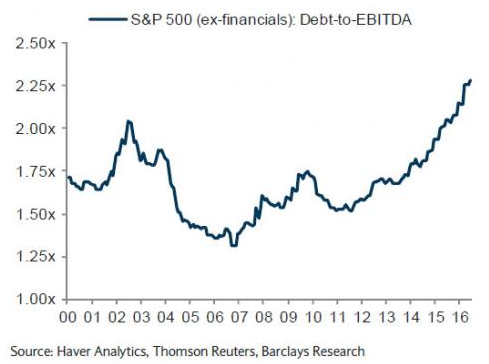 (Source)
Chart 9: More and More Corporate Cash Goes to Buybacks and Dividends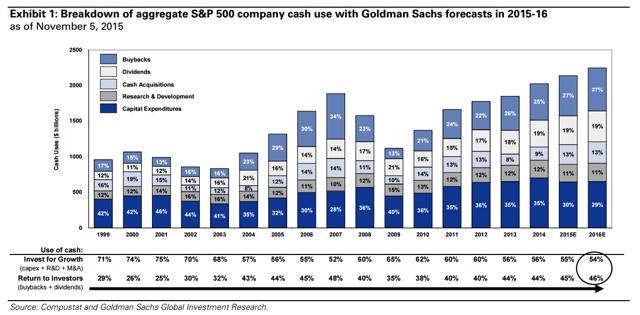 (Source)
We are now apparently trapped in a vicious cycle in which weak growth and excess capacity are teamed with bad demographics (Chart 10), massive debt accumulation, and declining business investment to produce flat or declining earnings for the S&P 500, even when financial engineering is naively counted as if it represented valid reporting (Chart 11). When financial manipulation is excluded from the data (Chart 12), not only are 1Q/2017 S&P 500 earnings seen to be flat with Q4/2011 results; there is also startling quantitative evidence as to how big the misallocation of capital has actually been. In fact, blogger Wolf Richter (2017) has calculated that a massive $1.7 trillion has been spent on financial engineering via buybacks, with zero results in terms of actual earnings (cf. Charts 11, 12). This amount of money spent on improving productivity (efficiency) might have proved quite useful in the long run, although again, secular over-capacity has also been a constraint on how that money could have been put to work. The declining rate of productivity growth is nevertheless strong evidence that corporations appear to have lost sight of their own long-term interests.
Chart 10: Demographic Challenges Are Also Hurting Growth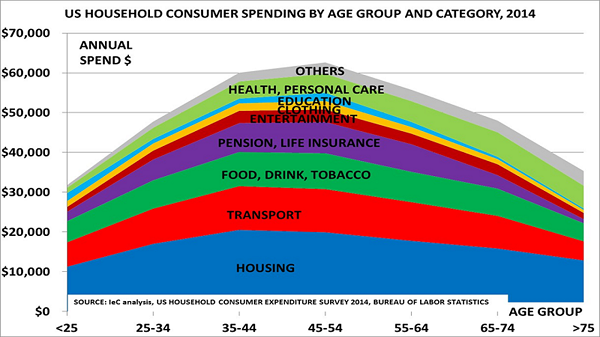 (Source)
Chart 11: Even Financial Engineering Can't Overcome Weakness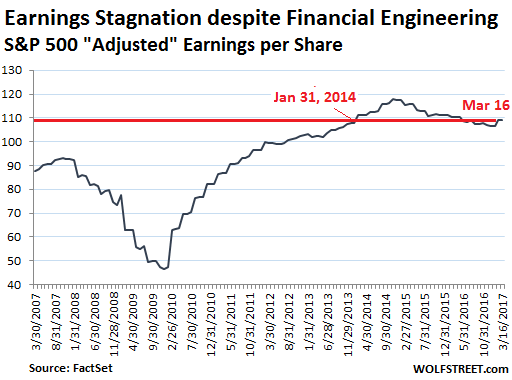 (Source)
Chart 12: S & P 500 Actual Reported Net Income Is About Flat to 2011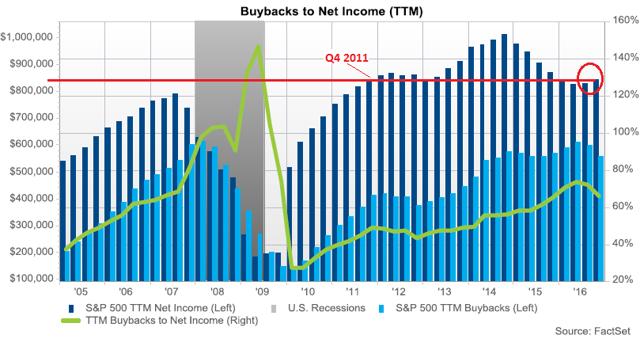 (Source)
Now, in the midst of all this economic weakness, with a massive total debt overhang, and arguably far later than was advisable (Chart 13), the Fed wants to "normalize" rates for a variety of reasons. Some of the reasons may include: 1) reported U-3 unemployment rates are very low at 4.3%, suggestive of possible labor market tightening; 2) the Fed still rather naively expects inflation to rise well beyond targeted rates (~2.00%) in spite of fairly strong evidence to the contrary (Charts 14, 15), and in the face of major disinflationary pressures (Charts 16, 17, 18); 3), the Fed has almost no interest rate ammo in the event of another recession, and it is late in the cycle; and 4) the Fed believes in the efficacy of the Phillips Curve as a diagnostic tool (i.e., it predicts that low unemployment is inversely correlated with inflation), in spite of the fact that this approach was repudiated by no less than former Fed Chair Paul Volcker 30 years ago (Chart 19). This general line of argument is reminiscent of many previous Fed rate increase cycles, in that a recession generally followed as a result of tightening late in the cycle (Chart 20).
Chart 13: Fed Fund Rate Could Arguably Have Been Raised in 2014, and Could Have Already Reached 2.00%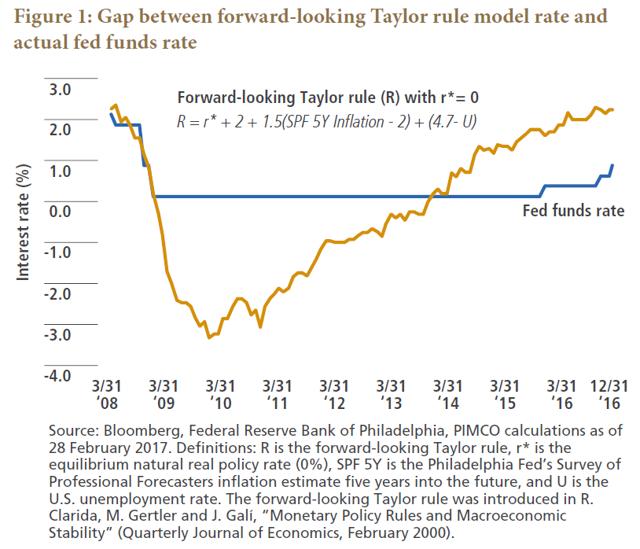 (Source)
Chart 14: Inflation Data Are Subdued and the Fed's Hawkish Stance Now Seems Unjustified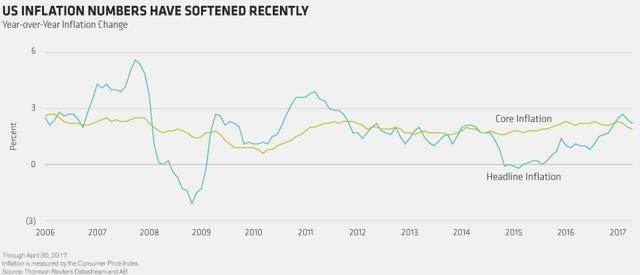 (Source)
Chart 15: Core PCE Fell Sharply in the Spring of 2017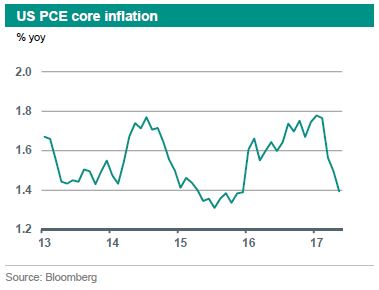 (Source)
Chart 16: Oil Prices Seem Unlikely to Drive CPI Going Forward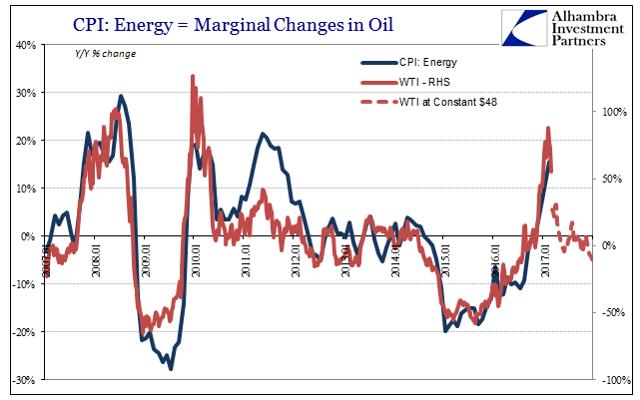 (Source)
Chart 17: Treasury 10s-2s Spread Indicates Disinflationary Trend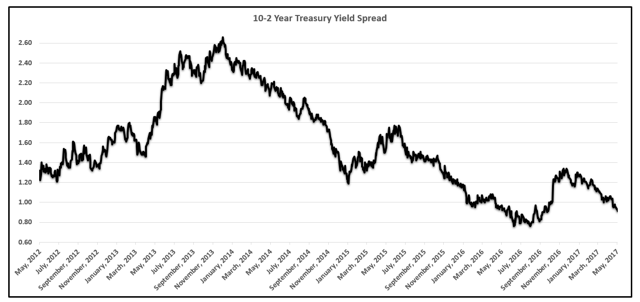 (Source)
Chart 18: US C & I Bank Loans Falling Sharply, Indicating Probable Disinflationary Pressure

(Source)
Chart 19: Failure of Phillips Curve Data to Support Theory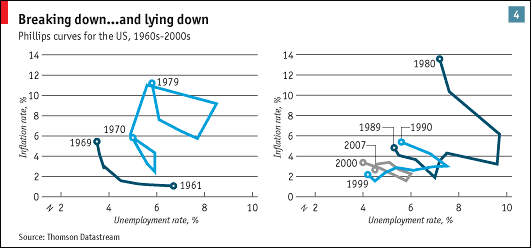 (Source)
Chart 20: Fed Rate Hike Cycles Generally Help Initiate Recessions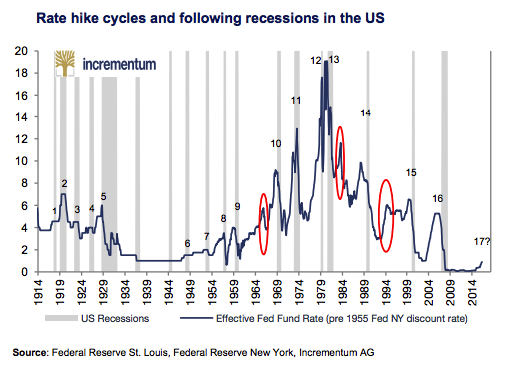 (Source)
Not only does it appear that the Fed is far too late in raising rates, having missed its tide, but it also seems clear that its reasons for acting are just as devoid of evidence now, as its reasons for not acting were three years ago. To add insult to injury, the Fed also appears to be planning to shrink its enormous ($4.5 trillion) balance sheet at the same time, something that has rarely been done before, and certainly never in such quantity, or under such challenging circumstances. There is some reason for concern that an active approach to shrinking the Fed's balance sheet could result in market turmoil (Chart 21). However, after World War II, the Fed reduced its balance sheet passively (Chart 22), letting GDP growth gradually offset the relative weighting of its balance sheet over many years, with few ill effects; this is the approach favored by former Fed Chair Ben Bernanke (Tom Fairless, 2017).
Chart 21: Fed Balance Sheet Shrinkage Could Cause Bond Sell-Off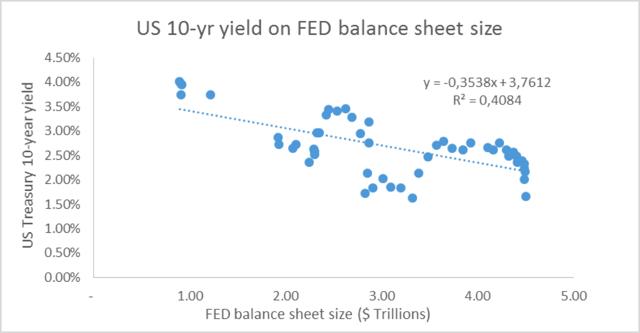 (Source)
Chart 22: Fed Balance Sheet Shrinkage During 1940s-70s Was Passive and Gradual, With Few Ill Effects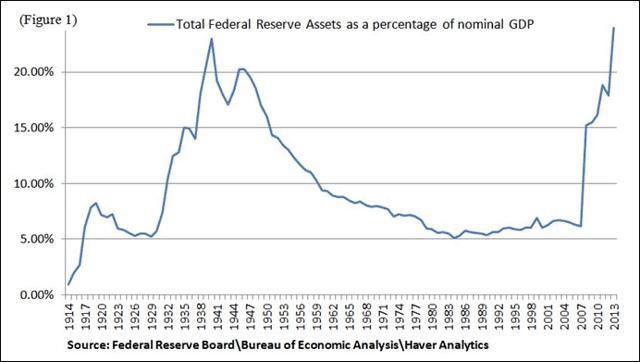 (Source)
I would argue that the Fed will either: 1) proceed ahead with its rate hike cycle, thus triggering a major recession; or 2) return to its cautious and dovish long-term stance as economic data continue to deteriorate (Charts 23, 24, 25, 26). The latter approach may not avoid a recession, but it might make any recession shorter in duration and easier to recover from than it otherwise might have been. Either way, because the Fed missed its tide, we cannot complete a normalization process without doing damage to the economy; the primary question then is when the Fed will admit that the evidence requires a reversal in its policy stance (i.e., before, or after a recession is triggered).
Once the Fed realizes that it missed its tide and it will have to start easing again, then stand by for some drama. With little ammo in its belt and a bloated balance sheet, few options will be available for dealing with a recession. It seems to me the choices might be: 1) adoption of NIRP as a goal; 2) re-institution of QE as a strategy; 3) the dropping of a one-time boost of helicopter money; or 4) massive intervention in equity and junk bond markets (cf. Japan's BOJ), and the ultimate destruction of any remaining pretense of capitalism in the US economy. Let us hope the Fed adopts the least damaging of these.
Chart 23: Real Aggregate Wages Growth (YOY) Declining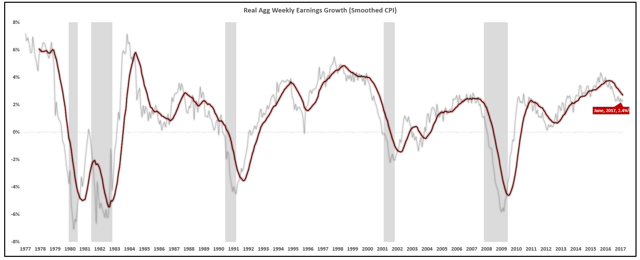 (Source)
Chart 24: US Auto Sales (YOY) Declining Dramatically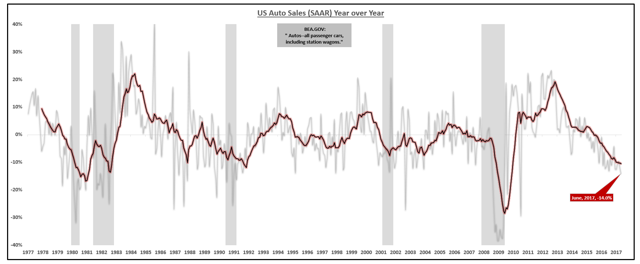 (Source)
Chart 25: Commercial Real Estate Prices Down Substantially

(Source)
Chart 26: Retail Sales for Control Group Plummeting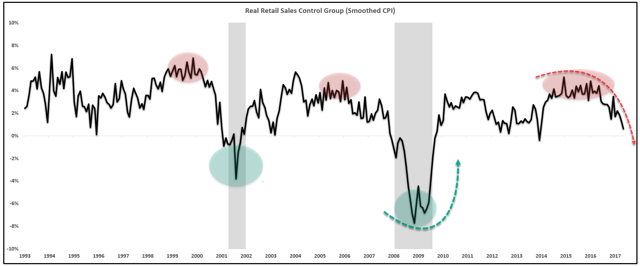 (Source)
The recent trend towards doubling up on risk will continue until it stops. When it stops, especially if a recession is looming, the losses will likely rival those of other famous crashes in 1929, 1987, 2000, and 2008. Investing in a gold fund like I-Shares Gold Trust (IAU) may be in order for all investors. Also, for those discounting a possible recession, some liquid alternatives like the Otter Creek Prof. Mngd. Long/Short Portfolio (OTCRX), the AQR Long/Short Equity Fund (QLENX), and the AQR Managed Futures Fund (AQMNX) could be held to protect assets in the event of a market dip associated with deteriorating economic data. Those in a more defensive frame of mind because of the long-expected market dip should hold some intermediate to long Treasuries in spite of bearish arguments to the contrary, as a stock market crash would be hugely supportive of bond prices: the Wasatch-Hoisington Treasury Fund (WHOSX), the I-Shares 20+ Yr. Treasury Bond ETF (TLT), the Vanguard Intermediate Term Bond Fund (BIV), the PIMCO Total Return Active ETF (BOND), and the DoubleLine SPDR Total Return Tactical Bond Fund (TOTL) are likely candidates in that event.
Disclosure: I am/we are long IAU, OTCRX, QLENX, AQMNX, WHOSX, TLT, BIV, BOND, TOTL. I wrote this article myself, and it expresses my own opinions. I am not receiving compensation for it (other than from Seeking Alpha). I have no business relationship with any company whose stock is mentioned in this article.
Additional disclosure: Disclaimer: This article is intended to provide information to interested parties. As I have no knowledge of individual investor circumstances, goals, and/or portfolio concentration or diversification, readers are expected to complete their own due diligence before purchasing any stocks or other securities mentioned or recommended. This post is illustrative and educational and is not a specific recommendation or an offer of products or services. Past performance is not an indicator of future performance.