Written by Trevor Lowenthal, Arrow Loop Research
To put it simply, part of our investment strategy in biotech focuses on tracking insider and hedge fund trading. Before committing to an investment, we research whether or not key financial actors have put some skin in the game. So to speak, we ask, "is their money where their mouth is?"
In conjunction, we assess the timing of major investments in relation to important company catalysts. We believe that well-timed buys from key financial players can indicate optimism toward a products' and/or the company's outlook; on the flip side, we believe that well-timed sells from key financial players can indicate pessimism toward a product's and/or the company's outlook.
This is the working assumption that has guided much of my research over the last few months. Generally, we piggyback on informative insider purchases and sales in healthcare as it has proven to produce sizable returns as compared to more conventional strategies that we have employed (see, for example, Dr. Paul Price's 2016 marketplace article recommending our subscribers to buy Royal Caribbean (RCL) around $68/share after insiders started buying up shares; RCL just hit all-time highs this week at around $120/share).
With that being said, the biotech company that we are looking at today is BioTime (BTX).
The Market Opportunity
BTX is a clinical-stage biotech company in the regenerative medicine space. It is advancing OpRegen, a treatment for dry age-related macular degeneration (dry AMD), and Renevia for HIV-associated lipoatrophy (facial fat loss). OpRegen received FDA Fast-Track Designation and is currently in Phase I/IIa study and enrollment in a third cohort in the US is underway after BTX announced optimistic top-line results from the first and second cohorts in the study.
To put BTX's dry AMD market opportunity into perspective, there appears to be no FDA-approved treatment for the condition. Approximately 90% of cases of AMD are dry AMD, and approximately 10% are wet AMD. The market for wet AMD appears to be more than $5 billion based on sales of two FDA-approved treatments for wet AMD, Lucentis and Eylea. Thus, if BTX penetrates the dry AMD market it would stand to acquire significant market share and shareholders should expect to be heavily rewarded (at least that's likely what a recent insider expects after buying a large amount of BTX shares). We will have to wait and learn the results from the third cohort before we can provide more color on the clinical and commercial viability of OpRegen for dry AMD.
Aside from OpRegen, BTX is advancing Renevia for HIV-associated lipoatrophy. We urge readers to review an excellent recent article by another Seeking Alpha Contributor which discusses the commercial opportunity for Renevia. BTX plans to submit Renevia for approval in Europe by the end of 2017, following positive results from a pivotal trial conducted in Europe.
To put the market opportunity into perspective, BTX estimates that Renevia could serve a patient population of 1.5 million, representing a $5.4 billion opportunity through 2020. BTX is trying to tap into a larger $7 billion aesthetics market with additional clinical studies conducted in the US and anticipated geographic expansion of Renevia outside of Europe. It would certainly be impressive and lucrative if BTX penetrates the US market, although the precise market opportunity is unknown.
Heavy Buying in BTX Two Days Ago By A Successful Insider
With these developments underway, how do insiders perceive them? Based on consistent buying, it is very clear that Director Broadwood Partners is bullish on BTX. As recently as July 31, 2017, Broadwood purchased 150,000 shares ($400,000). This is informative because it was a direct purchase on the open market at a stock price of $2.80. Broadwood now owns more than 27 million shares of BTX. We have monitored Broadwood's activity in the past as it has a very successful track record. Thus, we think that Broadwood's latest purchase is a positive sign for investors.
It should be noted, however, that on the same day of Broadwood's BTX purchase Officer Alfred Kingsley sold 150,000 shares at a stock price of $2.80. Nevertheless, Kingsley still owns almost 6 million shares of BTX so it could be the case that he just wanted to take a little money off of the table despite still being bullish.
Given that all of this recent insider activity occurred at $2.80, where does BTX stand today? See the chart below: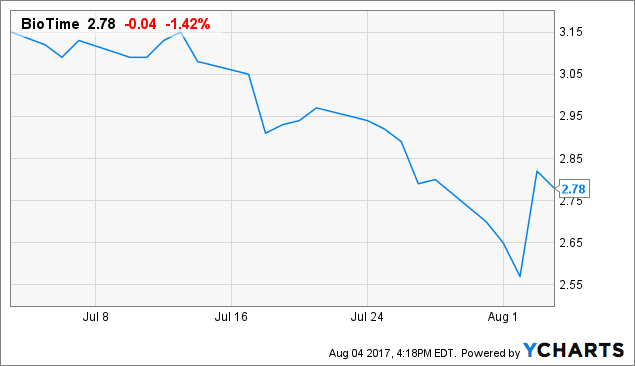 The stock is trading at just about where Broadwood purchased shares. This followed more than a 9% drop in value last month. Thus, we believe Broadwood sees a floor at $2.80/share and considerable upside ahead with the submission of Renevia for market approval in Europe in late 2017, and the continued clinical development of OpRegen.
Recent Analyst Upgrade
While it is important to know what insiders are doing, it is also important to know what analysts are thinking. Raymond James recently initiated coverage on BTX with an Outperform rating and a $6 (81% upside) price target. This represents approximately 81% upside from today's close. James is clearly optimistic about BTX's prospects through 2018, and perhaps investors should be too.
Financials
BTX's financials are strong for a clinical stage biotech company. BTX's cash position stood at $21 million as of June 30, 2017, compared to approximately $24 million on March 31 2017.
However, the primary source of BTX's financial health comes from BTX's almost 22 million share ownership of its subsidiary Asterias' common stock and almost 15 million shares of its subsidiary OncoCyte's common stock. This ownership represents an aggregate market value of approximately $137 million.
On this basis, we believe the risk of a near-term dilutive capital raise is small. BTX appears to have sufficient runway for the foreseeable future.
Health Care Companies On Our Radar
Other noteworthy healthcare companies with recent insider activity include the following:
Apollo Endosurgery (APEN), where 9 days ago Director Matthew Crawford purchased more than 1.1 million shares directly at a cost of more than $6 million, Director Rick Anderson purchased more than 1.1 million shares at a cost of more than $6 million, and Ptv Sciences purchased more than 1 million shares at a cost of $6 million. We perceive three major insider buys in APEN as a bullish signal. APEN is up approximately 1.6% over the last three months, as reflected in the chart below: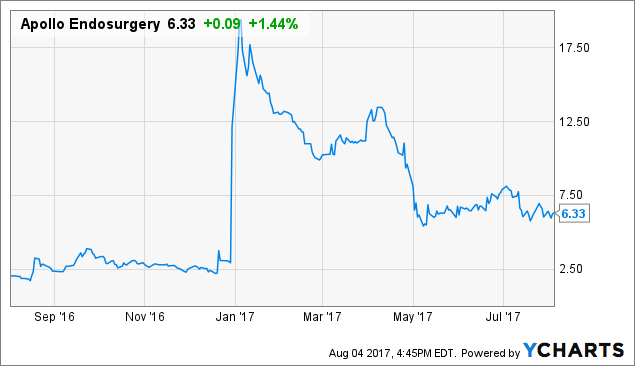 OncoCyte (OCX), where 10 days ago Director Broadwood Partners executed 540,000 shares locked up in options at a value of approximately $1.75 million. OCX is down approximately 30% over the last three months, as reflected in the chart below: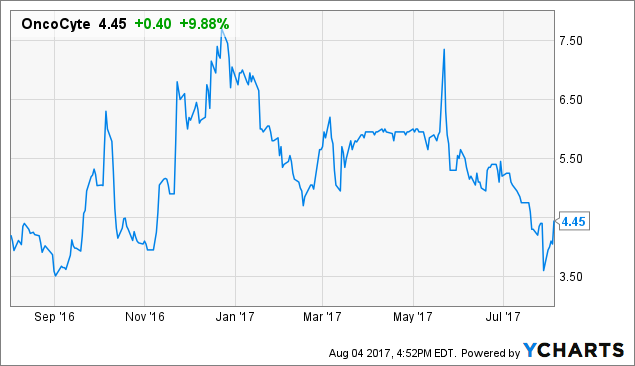 Conclusion
We will continue to keep our eye on BTX for any significant price movement, and may pull the trigger on a micro trade on any significant dip or stagnation in stock price. APEN and OCX will continue to be on our radar, but we will not be pulling the trigger in those names at this time. Stay tuned for our next article featuring insider activity in the health care industry.
Disclosure: I/we have no positions in any stocks mentioned, but may initiate a long position in BTX over the next 72 hours. I wrote this article myself, and it expresses my own opinions. I am not receiving compensation for it (other than from Seeking Alpha). I have no business relationship with any company whose stock is mentioned in this article.
Editor's Note: This article covers one or more microcap stocks. Please be aware of the risks associated with these stocks.