Background
One weekend, while driving back from Houston to my home town of Corpus Christi, Texas, I happened to be jumping between stations on Sirius XM (SIRI) and I landed on a fascinating BBC World Service piece on Vladivostok, Russia, as part of the "From our own Correspondent" broadcast. The piece profiled the city of Vladivostok, and had an interview with the Scottish gaming manager of the new gaming casino the Tigre de Cristal, which had just opened to great fanfare over there, who was called Craig Ballantyne.
Craig talked at length about the strategy for Tigre de Cristal, which was essentially to attract Chinese gamblers from the northern parts of China, and how the construction of a road linking the casino with the airport would help to transform the infrastructure so as to make the casino an attractive destination. Now that interview took place a couple of years ago, and things have not gone completely to plan as a recent article in the New York Times (see In Russia's Far East, a Fledgling Las Vegas for Asia's Gamblers) documents. The Chinese tourists have come, with a doubling of the visits in 2016, and the owners of the casino company (G1 entertainment), namely Summit Ascent (OTC:SMTNF), turned a small profit in 2016, but the local infrastructure clearly needs improvement, and some of the (famous) red tape dealt with in a more efficacious manner.
Recent developments
Well in June this year, clearly the Russian government had had enough with the local bureaucrats and so the Deputy Prime Minister, Yuri Trutnev, flew to Vladivostok and met with local officials and representatives from the casinos and made a decision to terminate 2 of the 5 licenses that had been granted. Once the Russian federal government stepped in, things have started to move quite rapidly. Nagacorp's (OTCPK:NGCRF) stalled gambling development has re-started (after some interesting antiquities unearthed at the site had halted the project), and is now due to be completed in 2019. Another new development has also started, namely the Selena World Casino and Resort, funded by the Russian company Diamond Fortune Holdings), and the phase II of Tigre de Cristal continues with the opening of a golf course and plans for retail development. Another private Russian operator, Royal Time Group, had been granted a license, but had its contract annulled by a local court in June after failing to adhere to specified development timelines. Deputy Prime Minister Trutnev, whose mandate includes the country's far east region, declared that the gaming zone was a "socially significant" project that required more federal oversight, and that, it seems, is exactly what it has got.
In this first article, I am going to look at the development as a backdrop for making a case or otherwise for investing in casinos operating in the Vladivostok Primorye Entertainment zone, and in a subsequent article I will look in detail at the two investment opportunities that are available and the their long term prospects.
Location, location, location
So let's first consider where Vladivostok is, so as to assess the potential market. Vladivostok is a relatively small city on the eastern seaboard of Russia with a population of just over 600,000, and is the Naval headquarters for the Russian Navy in the Sea of Japan.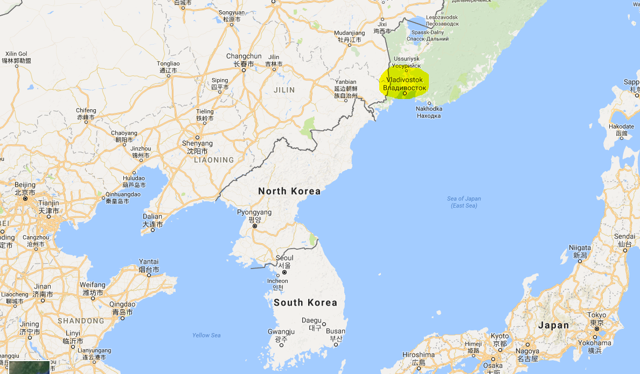 (Source: Google Maps)
Clearly its location is very strategic, both militarily and in terms of its proximity to some major population hubs. It is within striking distance of north east China, as well as Japan, and although less attractive for South Koreans (as they already have several casinos there), it is not that far for them either. Rather surprisingly, there is also a direct flight from Pyongyang, North Korea to Vladivostok as well. This idea is fleshed out on the next graphic, which shows concentric circles to indicate the flight times to Vladivostok from major population centers, and also the flight times to Macau using the same method.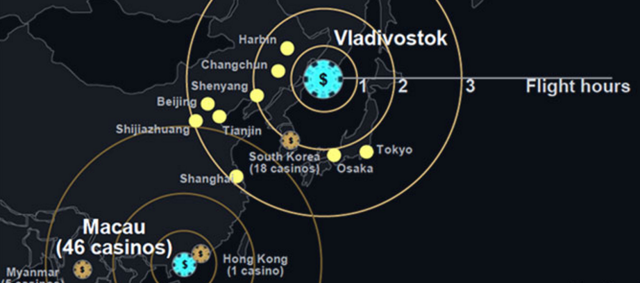 Now it is difficult to compare Macau, where there are 46 casinos, and Vladivostok where there is currently only 1 casino. But now that Nagacorp has broken ground and started construction on its casino, the Russian government clearly wants the momentum to continue and not be slowed by red tape or delays. So although there is clearly a substantial difference in size between the two resorts, Vladivostok may be an ideal location to create a small northern regional gaming center, given that there are 300 million people who live (mostly in China) within a 3 hour flight radius from Vladivostok. That is a lot of people, and almost equals the population of the US. That being said, the resort needs to offer both developers and visitors an attractive proposition both in terms of good infrastructure and activities in situ, both of which must rival those of Macau, if the development is to flourish.
As the map below shows, the site of the gaming development zone is closer to the airport (at 15 minutes) than the actual city of Vladivostok (which is currently about 40 minutes away), and the development lies right by the coast, with ample room for expansion.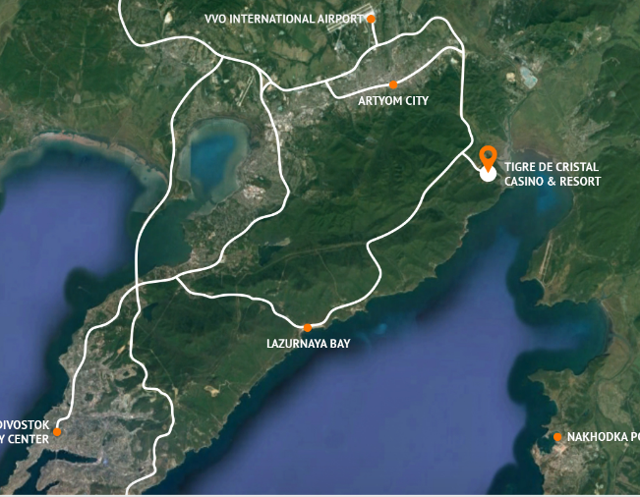 When looking at the actual plots and the zone as it is structured right now, the figure below shows the original plan for the development with villas, a pond, the beach and a mini port all planned out.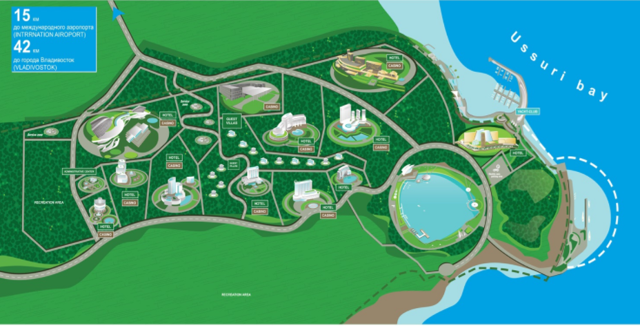 As 3 licenses have now been granted, there are still therefore 2 further licenses that can be granted, and the Russian Deputy PM was recently on a roadshow in late June to Macau to see if any Macau operators would be interested. I would not be surprised if they were, but with certain specifications to speed the project along so as to maintain return on capital deployed.
I will first pull together my personal impressions about the potential for this development, using a SWOT (strengths and vulnerabilities) analysis. But if you want more info on the actual development there are several good sources out there on the internet, so I will also reference these at the end of the article.
Strengths
1. The Development zone is in Russia. The rouble has been a great deal for the Chinese lately, and it offers great value for money. Although the ruble has recovered significantly in 2016, in 2017 it's been back on a depreciating trend against the Chinese renminbi. See the chart below from xe.com. The cost of staying at the resort is significantly cheaper than going to Macau.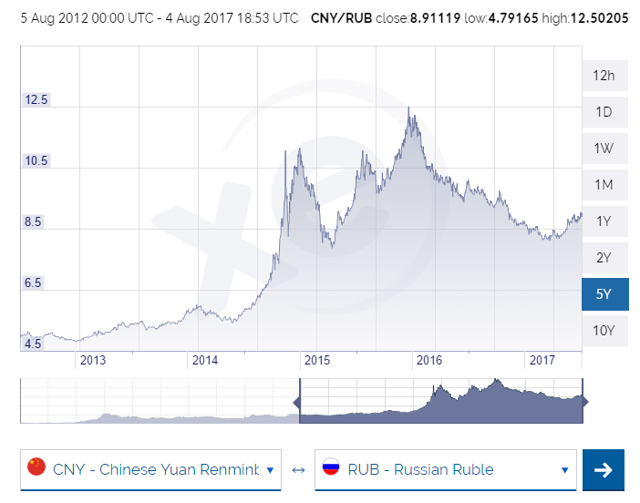 2. The tax burden in Russia stands at around 10% of revenue, while in Macau its much higher at 39%. This allows a lot of expenditures to be routed back to retained earnings. The gaming taxes have been increasing though annually, and given the low oil prices Russia is looking for government revenue wherever it can find it, so this cost advantage might narrow over time.
3. The airport at Vladivostok can currently handle 3.5 million passengers per year, and is well connected to other South East Asian cities, but from 2022 an expansion is set to enable the airport to handle 8 million passengers per year. This is easily sufficient to deal with the charter and regular airline traffic coming to Vladivostok.
4. Up until recently mostly Chinese have come to the resort as part of a tour to make the visa bureaucracy easier. But according to recent changes in visa regulations, citizens from 18 selected countries (including China and Japan) can apply to visit Vladivostok online. Applications are processed within four days. And if an entry permit is obtained, a visa can be issued immediately at the airport. The permit is valid for a month and the maximum stay in Russia is 8 days. This makes it much more attractive for individual and small group vacationing gamblers from China, for example, to visit Vladivostok.
5. During summer, Vladivostok offers refreshingly cooler temperatures than Macau, with average temperatures in June through August ranging from 55.2F to 67.1F (winter is a different story). Anyone familiar with Beijing temperatures during this period will know that these temperatures sound rather attractive.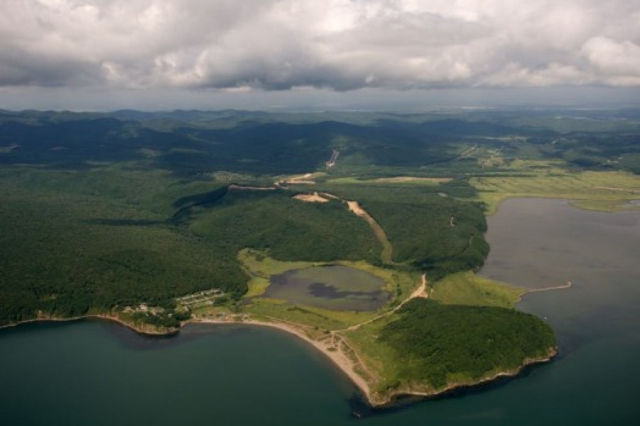 6. The crackdown on corruption in China. Although Macau has nicely recovered from its downturn after the Chinese Premier's crackdown on corruption, some Chinese who like high-stakes gambling feel much more comfortable leaving the country to go and gamble elsewhere. This is clearly the case as the one casino open in the Primorye zone has seen a big increase in its high-stakes players.
7. A readily available, well educated, and relatively inexpensive work force.
Weaknesses
1. The current lack of casinos. Only Summit Ascent (HK:0102;SMTNF) has a casino that is currently operating in the Primorye Development Zone, namely the Tigre de Cristal. Two further casinos and the phase 2 of Summit Ascent's offering should be open within a couple of years, but in the meantime the appeal of traveling to a place like Vladivostok is rather limited, given the lack of amenities currently available. I would add that the golf course at the resort is now open, so that does provide some alternative activity to gambling during the day, but shopping opportunities are still quite limited at the resort. The figure below shows the plots (taken from the Primorsky Krai Development Corporation webpage video at http://www.cdprim.ru/iez-primorye) and over half of the zone currently by area is still not licensed.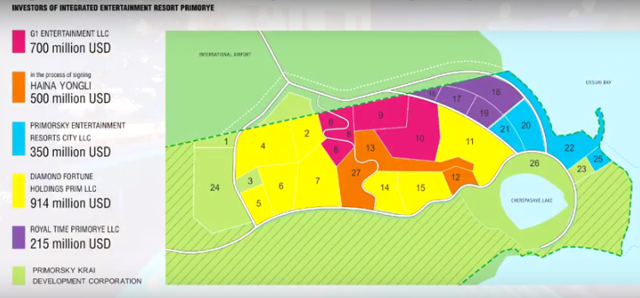 2. Russian bureaucracy. The level of corruption in the Russian far east is renowned, and already there have been some issues with local government with regard to 2 Hyatt hotels that were supposed to have been built in the city, but never got constructed. Getting the infrastructure in place in Russia is always a challenge, and whether the local infrastructure can keep up with rapid development of the gambling zone is obviously a potential problem. Also foreign casino companies might see more reliable governmental partners elsewhere, which may hobble the envisioned expansion of the development to give it the critical mass it needs to become an important regional gaming destination.
3. The weather in winter. Vladivostok is not an attractive destination in winter, as there is snow and ice for much of that season. Obviously winter gamblers from China are much more likely to head for Macau than Vladivostok.
4. Although Russian gamblers are allowed to go to the Tigre de Cristal, they have to register, and show their passports to do so. Gambling still is somewhat taboo in Russia, so there is not much chance that oligarchs from the East will pitch up to spend some of their wealth at casinos. As gambling is illegal outside of the 4 gambling zones in Russia, Russians who do like an occasional flutter at the gambling tables have tended to visit illegal gambling dens, and this last winter there was a minor dust up between the Tigre de Cristal and the local council in Vladivostok as the Police were clearly turning a blind eye to gambling dens in the city which clearly reduced visits from Russian inhabitants.
5. Internal Russian politics. At present, the Deputy Prime Minister is a native of the Vladivostok region, so is pushing the development of the Primorye Entertainment zone as a priority for the region, and is clearly backed by President Putin to do so, given the fact that the Asia Summit was also held in Vladivostok back in 2012. This "pivot to the East" is a nice counterbalance to the clear souring of political relations with both Europe and the US. But things could change fast, and then there might be less impetus to complete the development.
Conclusion
There are significant opportunities in the Primorye Entertainment zone just outside Vladivostok to develop the zone into an attractive gaming and integrated gaming destination. The geographic situation of Vladivostok as a gaming center is good, the costs and tax implications are advantageous, and the potential addressable market is large.
The main downsides to investing in this gaming zone are the current lack of casinos, public infrastructure, the weather during the winter, and the vicissitudes of Russian politics. Nevertheless, if Russian Federal government intervention continues, then this bodes well for future developments.
In the next part of this article on the Primorye entertainment zone, I will highlight the two stocks that investors can buy to have a stake in the development and outline the advantages and disadvantages of each
Disclosure: I am/we are long SMTNF, NGCRF.
I wrote this article myself, and it expresses my own opinions. I am not receiving compensation for it (other than from Seeking Alpha). I have no business relationship with any company whose stock is mentioned in this article.
Editor's Note: This article covers one or more microcap stocks. Please be aware of the risks associated with these stocks.