Markets are pushing for all time highs, and skepticism continues to grow about the current state of the markets. If you look at fundamentals, the markets do not exactly look that bad, and there are some areas of opportunity. However, there are other factors to look at as well. Certain metrics should make investors wary to go all in. Unemployment numbers in North America look good but looking in closer shows that employment numbers look good mostly because of part time or temporary jobs that are heavily dominated by the restaurant or tourism industries. Other statistics are showing that disposable income is in a long term downtrend and that households are saving a lot less cash. Debts among people are reaching uneasy levels, but what if this is just what the modern market is going to look like now, and it doesn't necessarily mean markets are on the brink of crashing.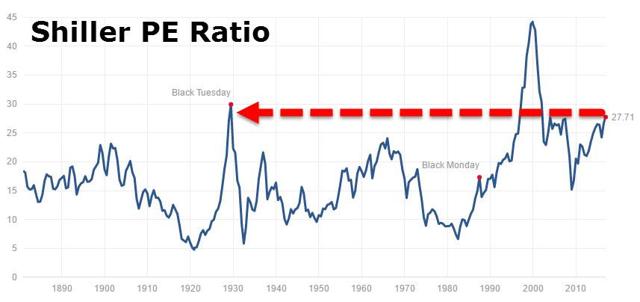 Image taken from Zerohedge.com
The Shiller PE ratio is sometimes known as a doom market crash indicator, and although it does have a minor correlation with that statistic, it is mostly intended to be used as a figure for future market returns; a higher ratio is not good for future equity returns.
Investors are also taking bets on VIX options. There has been a significant increase in large money pouring into VIX calls that range from 14 strike prices all the way to low 20s. These could just be hedges for portfolios but the bottom line is people are bracing for some sort of correction in the short term. If you couple all this with the worldwide political instability you got yourself a reason to be at the very least a little wary.
I've been cutting my equity portion of my portfolio slowly, leaving mostly blue chips I'm confident in, and a couple small risky plays here and there. Fixed income and cash is becoming a prominent position in my portfolio though.
Introduction to Bombardier
Here's where Bombardier (OTCQX: BDRAF) comes into play. Firstly Bombardier is a Canadian aerospace and transportation company that has been a potent player in the railway industry for quite some time now. The company has had its fair share of ups and downs (mostly downs) for the past 20 years. Revenues and profits in its foundation businesses are being eaten away by competitors and the company has been trying to expand into other business (like airplanes) with much struggle. However, all this aside Bombardier could be a decent play if you ignore the common shares.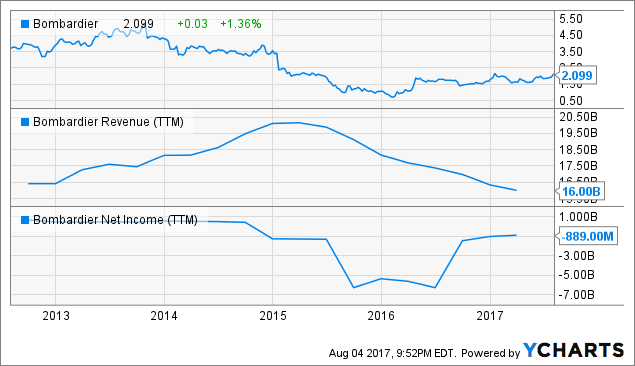 Taking a quick glance at the charts one can see that Bombardier's share price has taken a hit the past several years, and along with that its revenue is declining with no net profits. Bombardier's debt currently stands at just under 9 billion dollars. A quick fundamental glance would make any sane investor look else where but I'm not arguing investing in common shares.
As a company Bombardier is here to stay, and its debt seems like a safe play, even its preferred shares. Whenever the company struggles the Canadian government has always been there to bail the company out or even just lend a hand in affairs. The Globe and Mail reports that the company has received around 4 billion dollars since 1966 from the federal government and Quebec, but that doesn't even take into account other money the company could have received from other federal departments or other provinces. The number could be generously higher. Even recently the company received money from the government which resulted in media backlash. Bombardier is not only financially backed by the Canadian government but also in regard to other matters. Just last month Boeing (NYSE: BA) complained to the U.S. government that Bombardier was breaking trade laws by selling its jets at a discounted price to the U.S., and they demanded the company be investigated. In retaliation the Canadian government threatened to drop its significant purchase of Boeing fighter jets, which eased down Boeing a little bit on the matter. Generally I think its safe to say that Bombardier debt is backed by prominent forces and the company will be around to pay creditors and investors for quite some time.
Bombardier also sits on a solid bit of cash just above 2 billion, and has virtually no short term debt. Interest rates are a thing to consider when playing bonds; Canada and the U.S. have risen rates and look to raise them further, but the correlation between rising rates and Bombardier debt is not strong, yet. Bombardier has debt that yields anywhere from 5-7% for medium term length notes, and if one where to hold to maturity it could be a good modest play. Even if one were to sell before maturity, Bombardier debt prices have shown to be pretty volatile and one could get lucky and sell high. Below are the yield movements of the 2023 6.125% bond.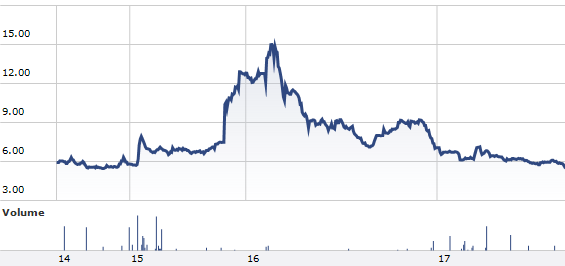 Image taken from Morningstar
Preferred shares are also on the radar for me. Preferred shares have risen 17% just the past month and pay a dividend yield of around 6.5%. Bombardier's preferred shares have been consistently paying dividends since inception and never missed a payment, if they did they are structured as cumulative so you would eventually get your missed income payment. Once again there doesn't seem to be much of a correlation between interest rates and the preferred shares. All equity and debt seems fairly stable and not volatile generally. The beta on the preferred shares is 0.49 compared to common shares beta of 0.96. Some of the shares appear to be convertible as well, and most cannot be recalled unless the shares are worth 25$, which at that point an investor would make significant capital gains.
Looking Forward
Bombardier has a lot of things coming up for it for the next couple months and years. Bombardier is heavily cutting jobs so expect to see higher profit margins which would secure debt even more, the company is very adamant to become profitable again and regain market prominence. Bombardier struggled heavily with its jet production, but appears to have the wheels in motion and is starting to sell large chunks of its production. On the operations end things could be looking pretty good in the near future.
One has to keep an eye on the Boeing case however; see where the investigations go. Also there are rumours that Bombardier and Siemens (OTCPK: SMAWF) are close to merging their rail operations to fight against Chinese competitors. There are apparently going to be spin off ventures in which Bombardier and Siemens will have different stakes, its unknown how this will affect investors currently. Recently Siemens were public about saying they are not rushing to make this deal just yet.
All in all, Bombardier is a pretty risky play, but I consider it to be less risky than the current market outlook for equities.
Disclosure: I/we have no positions in any stocks mentioned, and no plans to initiate any positions within the next 72 hours. I wrote this article myself, and it expresses my own opinions. I am not receiving compensation for it. I have no business relationship with any company whose stock is mentioned in this article.
Editor's Note: This article discusses one or more securities that do not trade on a major U.S. exchange. Please be aware of the risks associated with these stocks.