All dollar values are in U.S. dollars unless otherwise noted.
ETFGI, a leading independent research and consultancy firm on trends in the global ETF/ETP ecosystem, reports today that the global ETF/ETP industry was $1.07 trillion larger than the global hedge fund industry at the end of Q2 2017. Assets invested in ETFs/ETPs globally were $4.17 trillion at the end of Q2 2017 vs. $3.10 trillion invested in hedge funds. Assets invested in the global ETF/ETP industry first surpassed those invested in hedge funds in Q2 2015, and in two years the difference in assets has grown to exceed $1 trillion for the first time.
Global ETF/ETP and hedge fund growth, as at end of June 2017

Sources: ETFGI and Hedge Fund Research.
This milestone is the outcome of rapid growth in the ETF/ETP industry since the 2008 financial crisis, with a Compound Annual Growth Rate (OTCPK:CAGR) in assets over the 8 years to end 2016 of 21.0%, more than twice that for the global hedge fund industry, with a CAGR of 9.5%. In recent years growth in assets in hedge funds has slowed, to 4.2% in 2016 and 2.7% for 2017 Year To Date (YTD), whilst growth in assets in ETFs/ETPs has remained strong at 18.5% in 2016 and 17.5% for 2017 YTD.
ETFGI's analysis of flows in Net New Assets (NNAs), shows investors increasing preference to allocate to ETFs/ETPs over hedge funds. Net inflows to ETFs/ETPs listed globally grew annually from 2010 to a record $390.4 billion in 2016, and half-way through 2017 this trend looks set to continue with $347.7 billion in NNAs YTD. In contrast net inflows to hedge funds remained largely unchanged around an annual average of $57.4 billion for 2010 to 2015, and in 2016 hedge funds suffered net outflows of $70.1 billion. YTD 2017 hedge funds globally have gathered $1.2 billion in inflows.
Net New Asset (NNA) flows into ETFs/ETPs and hedge funds globally, as at end of June 2017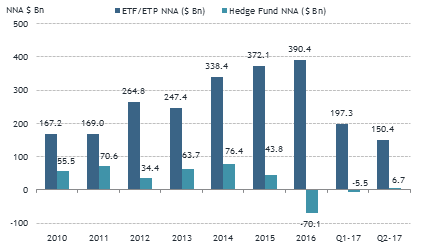 Sources: ETFGI and Hedge Fund Research.
The movement of assets towards ETFs/ETPs and away from hedge funds reflects hedge funds' poorer than expected returns in comparison to passive investing. For example, the S&P 500 Index has significantly outperformed the HFRI Fund Weighted Composite Index every year since 2011, and Q2 2017 has been no exception with returns of 3.09% and 1.10%, respectively.
Returns of the HFRI Fund Weighted Composite Index and the S&P 500 Index
Year

HFRI Fund Weighted

Composite Index

S&P 500

Index w/ dividends

2011

-5.25%

2.09%

2012

6.36%

15.99%

2013

9.13%

32.36%

2014

2.98%

13.65%

2015

-1.12%

1.38%

2016

5.44%

11.93%

Q1-17

2.51%

6.06%

Q2-17

1.10%

3.09%

Sources: Hedge Fund Research, S&P Dow Jones Indices.
The ETF structure offers intraday liquidity, transparency, small minimum investment sizes and at costs that are lower than many other investment products, including futures in many cases. According to our research the asset-weighted average annual cost for ETFs/ETPs is 27 basis points or less than one third of a percent, while fees charged by the majority of hedge funds are 2% of assets and 20% of profits.
This situation has benefited the ETF/ETP industry which offers an enormous toolbox of index exposures to various markets and asset classes, including hedge fund indices, listed real estate, infrastructure, private equity, smart beta indices, fixed income and commodities as well as some actively managed ETFs.
Attribution Policy: The information contained herein is proprietary. The media is welcome to use our information and ideas, provided that the following sourcing is included: ETFGI is a leading independent research and consultancy firm on trends in the global ETF/ETP ecosystem, based in London, England. Deborah Fuhr, Managing Partner, co-founder, ETFGI website.
The information provided: (1) is proprietary to ETFGI and/or its data providers; (2) may not be copied or distributed; and (3) is not warranted to be accurate, complete, or timely. Neither ETFGI nor its data providers are responsible for any damages or losses arising from any use of this information.
Disclosure: I/we have no positions in any stocks mentioned, and no plans to initiate any positions within the next 72 hours. I wrote this article myself, and it expresses my own opinions. I am not receiving compensation for it (other than from Seeking Alpha). I have no business relationship with any company whose stock is mentioned in this article.