2017 has so far been, as Warren Buffett put it once, a year where a monkey throwing a dart at the stock pages would have made money. Major market benchmarks are all in the green with Dow Jones Industrial Average up 11.79%, the S&P 500 up 10.63% and the Nasdaq up a whopping 17.99%. (As of the market close on August 6th, 2017).
At some point, the average investor has to stop and ask him or herself why. Why are we this high? What's driving this market rally? Is it something real or is a good dose of "hopium" involved? Is it time to take profit or buy more?
The answer to these questions can be reviewed in 3 parts:
The first: Earnings
After an ugly global growth slowdown in 2015 and 2016, earnings have got back on track.
In Q1 2016, earnings took a nosedive of 6.6%, followed by a 2.9% dive in Q2 2016. Q3 2016 returned positive (with favorable comparisons) to 4% growth and 2016 finished with a 7.4% earnings boost for Q4 2016.
2017's first quarter clocked 13.4% growth and with roughly 85% of the S&P 500 companies reported so far. For Q2 2017, we are standing at an impressive 11.6% growth, although to be fair, it was an uneven comparison to Q2 2016.
Revenues too are picking up. In Q2 2017, revenues rose 5.6% on a YoY basis.
(S&P 500 earnings data as summarized by Zacks Investment Research: Q2 Earnings Season Brings All Around Strength)
Nonetheless, global growth seems to have got back on track and Price/Earnings ratios seems to satisfy investors thus far. Although estimates for Q3 2017 have been trending downwards, they remain positive at 4.3%, providing an uplifting view on what's to come.
The recent boost in earnings and higher sales across the board has given investors new hope for higher prices. Blue chip and mid cap stocks have seen solid inflows from retail and institutional investors throughout the year.
When it comes to the justification of current market prices, we believe this is the single largest contributor. Even though price impact of earnings reports has been unfavorable in the current quarter, higher profits and encouraged investors have brought the benchmark indexes into solid territories.
The Second: Monetary Policy
In December 2016, the Federal Reserve announced its first tightening of the Federal Funds Rate from 0.00-0.25 to 0.25-0.50 and have proceeded with 3 further rate increase throughout 2016 & 2017.
This tightening has had a positive earnings impact on Financial Services companies who have seen their Net Interest Margin shrink considerably in the past 10 years since the Global Financial Crisis of 2008 with rates at 0%.
On the flip side, however, is the rise in Interest Expense that (almost) all companies pay on their debt. Over the past 10 years with the continued low-interest rates, corporations, whether needing it or not, have taken on a considerable amount of debt. The example we always use is Apple Inc (AAPL) which reported $0 in debt throughout 2012 and is now holding over $100B, all used to fund its shareholder value dividend and share repurchase program.
Although an increase in interest rates is not as worrisome for a company like Apple Inc, there are hundreds of companies, especially in the Oil & Gas sector, that have loaded up on debt to fund day-to-day operations. A rise in interest expense and the inability to pay back that interest with still-low Oil Prices can start a bankruptcy chain reaction like we saw begin in mid-2016.
The Third: Policy Hopium
Whether you agree with President Trump's views or not, it was a sweet deal for investors when he announced he was planning on cutting corporate tax rates by more than half and reducing the overall tax rates for citizens. The prospect of such measures, which coupled with massive deregulation of the Financial and Oil & Gas industries, prompted a surge in market sectors such as Financials, Industrial and Defense and Basic Materials.
However from an economic standpoint, not a political one, after the failure of any major legislation push on behalf of the President and a hesitant Congress on how exactly it's best of process the lowering of general tax rates, it is hard to see any major effects coming into the tax system in 2017 or 2018. Other political uncertainty will add fuel to the fire and prevent major legislation to get through the already full chambers of Congress.
Although the "hopium" in the market is not the entirety of its recent moonshot, a considerable amount of turmoil is expected to force a market correction if and when the above scenarios do indeed occur and major tax legislation is left hanging towards the 2018 mid-term elections.
Other Factors
We're always hesitant adding these measures to not sound overly panicked but it would seem irresponsible to leave them out.
China's (and the U.S.'s) debt load is indeed a factor that may cause some global turmoil in the not so distant future. In May, Moody's downgraded China because of their debt load, still remaining stable, but taking caution. Again, this is a far-fetched concept that the world's second largest economy will not likely face extreme volatility on an increased debt load.
Among other things, the U.K.'s exit of the European Union, although good in the long run, will see some medium term volatility with major financial institutions pulling out and with it, tens of thousands of jobs (however most likely to relocate) remains a concern. Australia's housing market is another concern.
What does this mean to me?
For the average investor, this should mean very little. As long as you are able to follow general market data and the occasional political market movers, you shouldn't need to be overly concerned or start hedging your portfolio 1:1. Even with today's fast market moves, the average investor should be up enough that a sentimental or full-scale correction should not leave them holding the market bag.
For Hedge Funds, institutional investors or large pension funds, this seems to be the time for the cyclical unwinding of some positions or actively hedging portfolios. Doing this at a slow pace should not harm markets as we've seen this occur multiple times in the past few years.
Is there still value left?
As always, under any market circumstance (Okay, maybe not ALL market circumstance), there is always value to be found. Below, we present a few companies we believe will come out the other end of a potential correction rather unscathed.
These stock picks are based on 4 sectors that we believe will have a cushioned reaction to a market correction. Healthcare and Cyclical Consumer picks are value stocks with consistent demand, a solid shareholder return program and should report solid financial data throughout 2017 & 2018.
The growth stocks mentioned are in the Technology and Energy sectors, which exhibit strong trend growth with the change in enterprise and consumer spending habits.
Gilead Sciences (GILD)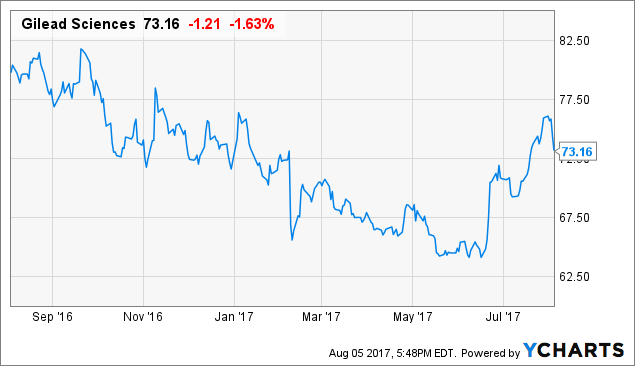 GILD data by YCharts
Gilead Sciences has had a rough couple of years with pricing pressure and hesitations when it comes to its organic growth being taken to the wood shed with generic competition. However, with its large R&D pipeline, healthy margins and nice cash pile to grow inorganically through M&A. we believe the recent price correction is way overdone and give a firm buy rating for 2017 & 2018.
Callaway Golf Co (ELY)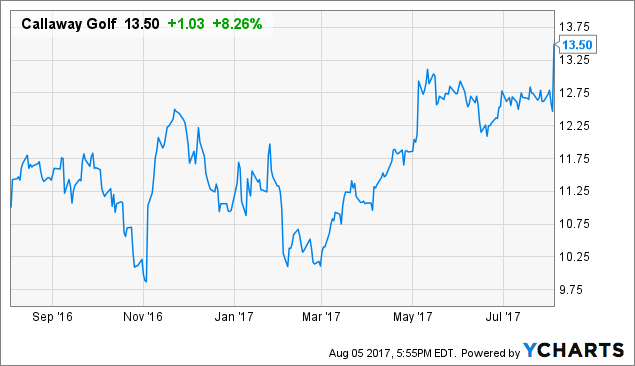 ELY data by YCharts
Callaway Golf Co has had fairly stagnant growth in the past few years and has recently regained organic growth through brand reshaping and its inorganic growth through acquisitions of Golf lifestyle companies. Beyond the recent restructuring, we believe that with the retirement of baby boomers and Generation X'er in the upcoming 10 years Callaway Golf is set to rake in a considerable amount of business with its increasing market share.
Tableau Software (DATA)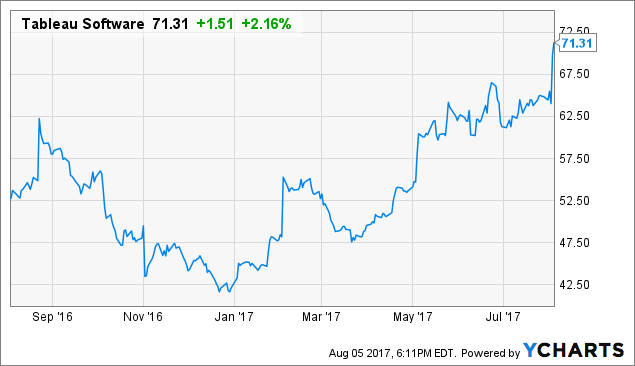 DATA data by YCharts
Tableau Software has had a roller coaster of a ride in the last 2 years after plummeting almost 50% in Q4 2015 after lowering guidance citing a high degree of competition. However, in the recent quarter, Tableau Software has gained thousand of clients to its impressive portfolio of products and service offerings and shows no sign of stopping. Profitability, however, remains under a significant pressure with the companies compensation plan. Adding a purely speculative note to higher revenues expectations is the prospects of an activist investor taking a firm hand in the companies compensation practices to produce outstanding profit growth.
JinkoSolar Holdings (JKS)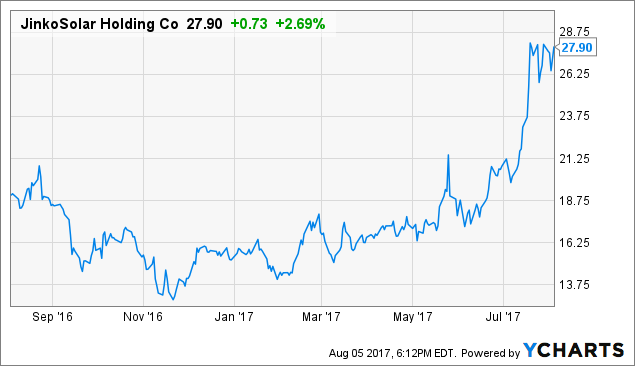 JKS data by YCharts
Jinko Solar is an alternative energy company based in China. Following the Paris Climate Agreement, China has been ramping up its alternative energy projects and has been investing and subsidizing Solar and Wind power for the worlds second largest economy. We expect this company to do exceptionally well and outperform the benchmark markets for years to come.
Summary
For the average investor, it does not seem to be the time to start getting the panic button prepped. There are still numerous opportunities for investors and the factors influencing a possible correction are not ones to set off a sudden and large price move as seen on August 24th, 2015 as an example.
Nonetheless, with the variety of risk factors taking shape in the economic an geopolitical sphere, investors might want to follow the footsteps of the larger institutional investors and begin unwinding positions they've enjoyed a healthy margin of profit on.
Disclosure: I/we have no positions in any stocks mentioned, and no plans to initiate any positions within the next 72 hours. I wrote this article myself, and it expresses my own opinions. I am not receiving compensation for it (other than from Seeking Alpha). I have no business relationship with any company whose stock is mentioned in this article.