By Parke Shall
Toward the end of the weekend, an article appeared in the Economic Times claiming that Eros (EROS) was close to selling its content library to Apple (NASDAQ:AAPL) for $1 billion. We wanted to write an article this morning to offer our advice, which is to take all of these "rumors" with a grain of salt until something definitive is actually announced.
In addition, we wanted to point out a letter that appeared on Twitter overnight, which seemingly appears to be the company communicating with the Indian stock exchange and informing them that they are "not privy to any strategic discussion that our NYSE listed parent company Eros International Plc may be having..."
Last night, the Economic Times reported the following:
MUMBAI: Eros Group, the largest movie producer in India, is in talks with Apple Inc., the world's most valuable public company, to sell its entire content library of films and music for around $1 billion multiple sources aware of the ongoing negotiations. A deal may also include their digital OTT platform, Eros Now, billed as the Netflix of Bollywood.

Parallel discussions with rival media and technology majors Amazon and Netflix have also gathered momentum as the Kishore Lulla led company is planning to embark on a mega restructuring exercise that is likely to result in a reverse merger of its NYSE listed parent Eros International Plc into its locally listed subsidiary Eros International Media by the end of this financial year to create a single listed firm.
While this proposed sale of assets is a bit light on the details, the source is reputable and was certainly credible enough to put a charge into EROS shares in very early trading this morning. Shares are up more than 20% in pre-market trading, but we suspect that this move higher will eventually fade. The stock was as high as $14 in pre-market trading, but has already faded to under $10.
This isn't the first time that such rumors about EROS have surfaced. There have been scattered rumors over the last year or two about potential deals with Apple and Amazon (AMZN). Netflix (NFLX) has also been thrown into the ring on one occasion that we can remember. To date, none of these rumors have materialized, and the stock has wound up, we believe, in a precarious position.
The company's liquidity has been called into question by several critical articles over the last few months. We had written about a week ago that the company's intention to file a shelf registration, which it stated during earnings, is an indication that new shares could be issued, that cash is needed, and that downward pressure might remain on the stock. We can't help but notice the timing of these rumors with regard to the company's forecast intention to sell stock. We have no evidence the two are related in any way, but we have taken note of the timing.
To wrap things up, this letter was posted on Twitter this morning. It appears to be an official company correspondence on EROS letterhead, detailing to the Indian stock exchange that the company isn't aware of any official correspondence with regard to these buyout rumors by its U.S.-listed entity.
The letter states: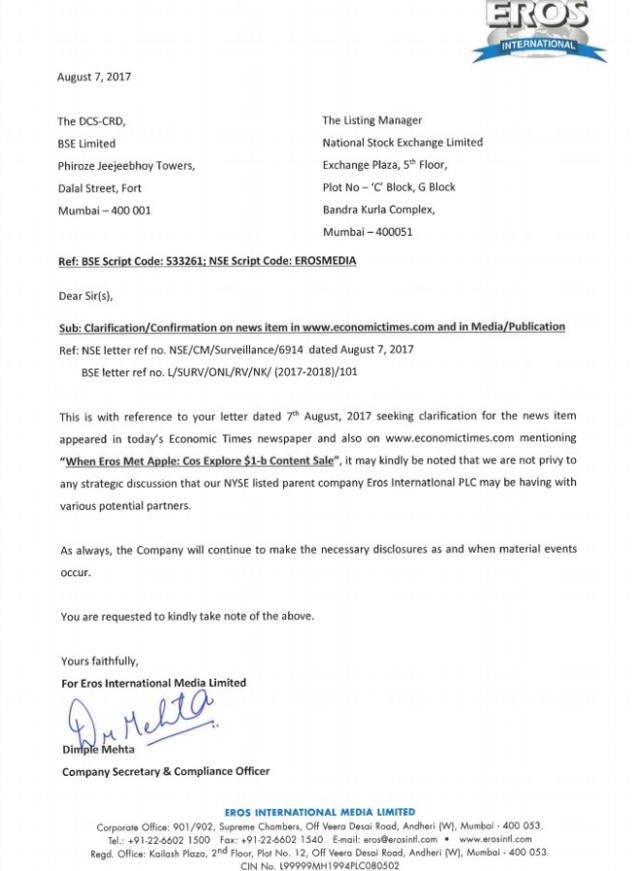 Between the nature of the timing surrounding this rumor, the lack of definitive details in the article, and the absence of some type of definitive binding agreement, we have no choice but to let the company's past experience with these types of rumors dictate our thought process going forward. We urge potential investors and current shareholders to make themselves aware of the inarguable facts surrounding this story, instead of speculating on what is little more than a rumor at this point.
Disclosure: I/we have no positions in any stocks mentioned, and no plans to initiate any positions within the next 72 hours. I wrote this article myself, and it expresses my own opinions. I am not receiving compensation for it (other than from Seeking Alpha). I have no business relationship with any company whose stock is mentioned in this article.