ETFGI, a leading independent research and consultancy firm on trends in the global ETF/ETP ecosystem, reported today that assets invested in Smart Beta equity ETFs/ETPs listed globally reached a new record of $592 billion at the end of the first half of 2017, according to ETFGI's June 2017 global smart beta equity ETF and ETP industry insights report an annual paid for research subscription service.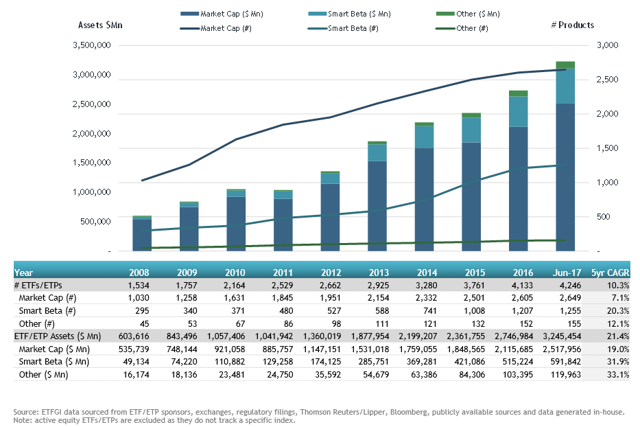 Year to date through end of June 2017, smart beta equity ETF/ETP assets have increased by 14.9% from $515 Bn to $592 Bn, with a 5-year CAGR of 31.9%.
At the end of June 2017, there were 1,255 smart beta equity ETFs/ETPs, with 2,159 listings, assets of $592 Bn, from 153 providers on 39 exchanges in 32 countries. According to Deborah Fuhr, managing partner at ETFGI:
Equity markets have performed well in the first half of 2017: the S&P 500 gained 9.34%, international equity markets outside the US were up 14.27% and emerging markets were up 16.69%. Political risks remain a focus for investors - the ability of the Trump administration to move forward on policy goals and hearings on Capitol Hill, Brexit negotiations, and North Korea is still an area of concern.
89% of Smart Beta assets are invested in the 617 ETFs/ETPs that are domiciled and listed in the United States and 76% of the assets are invested in Smart Beta ETFs/ETPs that provide exposure to the US market.
YTD, iShares gathered the largest 'smart beta' ETF/ETP net inflows with $13.18 Bn, followed by Vanguard with $7.81 Bn and Charles Schwab Investment Management with $4.46 Bn net inflows.
YTD, products tracking S&P Dow Jones 'smart beta' benchmarks gathered the largest net ETF/ETP inflows year to date with $11.62 Bn, followed by CRSP with $6.78 Bn and MSCI with $6.31 Bn in net inflows.