Apple (AAPL) had a stellar fiscal Q3 on a number of fronts, but let's face it, the "Street" cares about five numbers from AAPL:
Top-line revenue
Gross margin
iPhone Unit Sales
Growth of 'Services'
Guidance
AAPL's stock price is particularly sensitive to iPhone unit sales, which is why commentary on its channel inventory is particularly noteworthy. On its August 1 call to discuss the company's AAPL's Q3-FY17 results, CFO, Luca Maestri, said the following:
During the quarter we sold 41 million iPhones and reduced iPhone channel inventory by 3.3 million units, leaving us with our lowest level of channel inventory in 2.5 years and well within our five-week to seven-week target inventory range.
Understanding the iPhone Channel
The iPhone channel is defined as any non-AAPL, authorized retailer that sells the iPhone. The reason why the iPhone channel inventory level (and changes) matter at all is because of the way AAPL recognizes sales (revenue). Here is how that criteria is defined in the "critical Accounting Policies" of its SEC filings:
(Sales to Retailers - Channel Partners – SELL-IN):
Product is considered delivered to the customer once it has been shipped and title, risk of loss and rewards of ownership have been transferred. For most of the Company's product sales, these criteria are met at the time the product is shipped. (Emphasis Added)
Now contrast that with how AAPL recognizes revenue on sales to individuals:
(Sales to Individuals):
For online sales to individuals, for some sales to education customers in the U.S., and for certain other sales, the Company defers revenue until the customer receives the product because the Company retains a portion of the risk of loss on these sales during transit.
So the key takeaway is that an iPhone sitting in the channel (e.g., on the shelf of a Best Buy or a wireless carrier) shows up on AAPL's income statement as a reported sale for that period as that unit (and revenue) has already been recognized as a sale upon shipment. It makes no difference when an end customer buys that phone.
Defining a "Draw Down": AAPL "draws down" on its iPhone channel inventory by not replenishing inventory to its channel partners. For example, if a particular phone (such as the iPhone 5C) is not selling well, it will not ship (sell-in) more units to its channel partners – it will merely let that inventory dwindle to a point to where it either decides to replenish more or discontinue. In the case of the 5C, it discontinued the product. A similar thing happened with the iPhone 5 (the only iPhone in AAPL's history that was discontinued in less than one year).
AAPL's channel inventory changes and impact on reported vs. underlying sell through:
I have been tracking AAPL's channel inventory since the company began providing detail around its channel inventory units in 2012. The below table shows its movement since Q1-FY15 (Dec-2015), which is highlighted in yellow as it was noted by AAPL CFO, Luca Maestri, as the reference point for how low the channel inventory level was that AAPL exited Q3-FY17 with: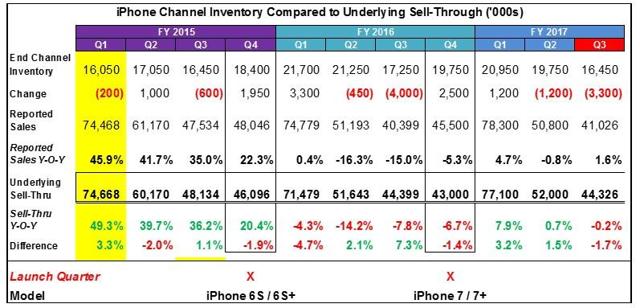 Source: Seeking Alpha; Earnings Calls - AAPL
A "first" in a product measured in billions:
| | |
| --- | --- |
| Fiscal Year | Net Channel Inventory Change: |
| 2013 | +5.20 million units |
| 2014 | +1.95 million units |
| 2015 | +2.15 million units |
| 2016 | +1.35 million units |
| 2017 (through Q3) | -3.30 million units |
So even though we are only through Q3, AAPL would need to add over 3.3 million iPhone units to the channel to be net positive in its iPhone channel inventory change for the year. Keep in mind that the most units it has ever added in a single quarter since FY12 is 3.3 million units (Q4-FY13 and Q4-FY16). So, it is possible that AAPL could break even in FY17 channel inventory change, but it certainly is not going to have a multi-million unit build.
This "first" suggests something about what's next: For some companies, the word "Always" and "Never" mean very little as the companies operate in unpredictable ways. For AAPL, those words mean something. The fact that AAPL has never had a fiscal year where it has drawn down its iPhone channel inventory says a lot about what the company is expecting with its 10th anniversary launch. To me, it's saying that AAPL expects the new product to be so compelling that customers will choose it over any other iPhone that is available. The best way to manage to that expectation is to clear the channel in advance – and that is exactly what has happened.
Managing expectations through flexibility:
Changes to the level of iPhone inventory levels (as measured by units) have always been a predictor of AAPL's subsequent quarters – it is the one lever AAPL can use to effectively manage its revenue. After all, the company's target channel inventory level is 5 – 7 weeks. We have seen AAPL mis-read demand (e.g., the launch of the 5C in Sept-2013 and the 6S / 6S Plus in Sept-2015) where they built 3.3 million units of channel inventory in the launch quarters for those phones, only to have to suffer from the necessary "bleed" in subsequent quarters.
AAPL's draw-down of 3.3 million units in Q3-FY17 is not the most significant part; the most significant part is that AAPL is entering what is arguably going to be its biggest iPhone refresh in history with its lowest level of channel inventory since Q1-FY15. AAPL having a highly desired product is the most important part of its success. But having the flexibility enabled by a low-stocked channel in order to manage to an unrelenting investor base that puts a disproportionate emphasis on iPhone unit shipments (even over Average Selling Price) also is incredibly important.
Disclosure: I am/we are long AAPL.
I wrote this article myself, and it expresses my own opinions. I am not receiving compensation for it (other than from Seeking Alpha). I have no business relationship with any company whose stock is mentioned in this article.
Additional disclosure: I