Investment thesis
The Piotroski F-score is a proven quantitative variable to measure the performance of a company and can help in seeking out candidate stocks for outperforming the market. Over the last period, PennantPark Investment Corporation (NASDAQ:PNNT) has scored relatively high. Seen purely from an accounting/quantitative point of view, it is a strong stock, and it is likely to outperform the market. When incorporating the Fed's decision to increase interest rates on the other hand, its future earnings are under pressure.
Piotroski score
There are many ratios and fundamentals which are of use to value investors. However, an accounting professor from Stanford University, Joseph Piotroski, came up with a metric which is easy to implement and easy to understand. It's called the Piotroski F-score. The test was used on historical data and showed that above-average market gains can be achieved in using the multiple. Today, we will use this tool to determine whether PennantPark is highly rated. A solely quantitative valuation is quite one-sided, and the incorporation of increasing interest rates in an investment decision makes for a more well-rounded analysis. For now let's tackle the firm's F-score.
How it works
Firstly, the companies in the lowest 20% percentile in terms of P/B are selected. With a P/B of 0.82, PNNT is a candidate for this method. The Piotroski score incorporates multiple categories which relate to a total of nine tests. Passing a test scores a 1 while failing a test scores the company a 0. The maximum score possible is 9 points while the lowest is 0. Companies are considered to have a bad score when they are valued from 0-3, average when valued from 4-6, and high when valued from 7-9. Piotroski tested his score over a period of 20 years from 1976 to 1996. The results were an outperformance of the market by 13.4%. The score is reassessed from year to year, but for the purpose of this analysis, we will use the full year of 2016, and in the overview, we will discuss past scores and the twelve trailing months for PNNT.
Profitability (4/4)
PNNT scores 4 out of 4 points in profitability. The company has a positive return on assets and a positive operating cash flow. Furthermore, the cash flow from operation is larger than its return on equity, and in 2016, the company had a higher return on assets (1.5%) than the previous year (-0.8%).
| | | | |
| --- | --- | --- | --- |
| Profitability | | 2016 | Points |
| Positive return on assets | - | 1.44% | 1 |
| Positive operating cash flow | - | 4.52M | 1 |
| Cash Flow from operations > ROE | - | 595.59M | 1 |
| Profitability | 2015 | 2016 | Points |
| Higher return on assets this year than previous year | -0.8% | 1.5% | 1 |
Source: Author's calculations
Leverage, liquidity and source of funds (3/3)
In this segment, PNNT scores 3 out of 3 points. No new shares were issued in 2016. In combination with a current ratio of 0 due to no outstanding short-term debt and lower long-term debt, a strong score reflects the strength of its balance sheet.
| | | | |
| --- | --- | --- | --- |
| Leverage, liquidity and source of funds | 2015 | 2016 | Points |
| Lower long term debt ratio than previous year | 606.60M | 595.59M | 1 |
| Higher Current Ratio than previous year | 0 | 0 | 1 |
| No new shares issued | | no | 1 |
Source: Author's calculations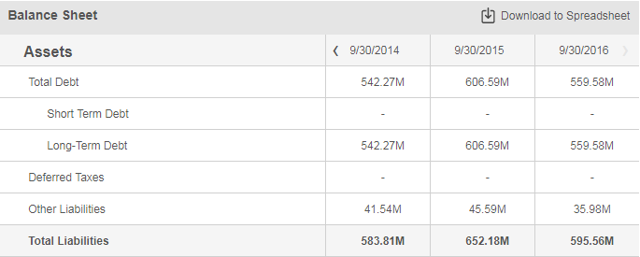 Source: Seeking Alpha
Operating efficiency (1/2)
The first test with respect to operating efficiency considers the gross margin which is calculated by dividing the operating income by revenue. The data is found in the companies' income statement. In PNNT's operating efficiency, we find its one flaw which is related to a lower asset turnover compared to 2015. In 2016, the asset turnover dropped from 9.9% to 9.2%.
| | | | |
| --- | --- | --- | --- |
| Operating efficiency | 2015 | 2016 | Points |
| Higher gross margin compared to last year | -0.053 | 0.343 | 1 |
| Higher asset turnover compared to last year | 0.099 | 0.092 | 0 |
Source: Author's calculations
Overview
When basing investment decisions on the Piotroski F-score, it is important to note that firms' fundamentals and thus their score change over time. For example, Cal-Maine Foods, Inc. (NASDAQ:CALM) (which I wrote about in this article) used to score a 9 in 2016 only to drop to a 2 for the past twelve trailing months. It is arguable though that CALM did not meet the P/B requirement. When using the F-score for investing, an investor should reassess the portfolio frequently and get rid of the strongly deteriorated stocks while purchasing new stock with strong F-scores. That being said, the table below indicates that PNNT is not deteriorating whatsoever. The change which occurred for the TTM is that the firm's long-term debt increased, while it increased its asset turnover ratio, still scoring it 8/9 points.
| | |
| --- | --- |
| Year | PNNT Piotroski F-score |
| 2013 | 6 |
| 2014 | 3 |
| 2015 | 4 |
| 2016 | 8 |
| 2017 (TTM) | 8 |
Source: Author's Calculations
Interest stability and earnings
From the data above, we can derive that a decrease in earnings will negatively affect future F-scores. As PNNT is heavily involved in providing long-term loans, a sudden change in interest rates will negatively affect its earnings by increasing the rate at which it borrows money. This is troublesome for Pennant's mark-up on interest when loans are fixed and outstanding for longer periods of time while debt is borrowed at a variable rate. In the Q2 2017 earnings call, the firm's CEO exclaimed:
You know we continue to be in an environment of yield compression.
The Fed is planning to slowly increase the interest rate in bursts of 0.25% over a three-year period, which means the yield-compressing environment will persist. However, PNNT is trading at an impressive PE ratio of 5.82 and incurring lower earnings will not be detrimental to the business. PNNT will release its earnings on Monday, August 7, after market close.

Source: Trading Economics
Dividends
PNNT has always issued a healthy dividend and is currently yielding a 9.6% dividend yield. However, its dividend has already been cut by 10 cents from 28 to 18 cents. The first dividend cut in PNNT's history. I argue that this is good news for investors as a decrease in future earnings will be less shocking. Also, it shows that management puts the firm's interests first. Sustainable dividends ensure the perpetuation of the firm. CEO Arthur Penn told investors in the earnings call of Q2 2017:
We believe that our new dividend rate of $0.18 per share is sustainable.
Source: Nasdaq (edited by author)
Conclusion
Purely based on the Piotroski F-score, PNNT is a strong stock and I rate it a BUY. When buying a stock, I never solely look into quantitative statistics alone. The decision by the Fed to increase interest rates will likely have negative effects on PNNT's earnings and depress its margins. However, with a current PE of 5.82, it is highly unlikely to distress the company over the short/medium run.
Disclosure: I/we have no positions in any stocks mentioned, but may initiate a long position in PNNT over the next 72 hours. I wrote this article myself, and it expresses my own opinions. I am not receiving compensation for it (other than from Seeking Alpha). I have no business relationship with any company whose stock is mentioned in this article.
Additional disclosure: Do your own research and conduct your own analysis before making any investment decisions. Despite the authors vigilance there is a risk of human error involved in the provided data and calculations.