The CAD has enjoyed a strong reversal in fortunes. The currency had been beaten down against the USD towards the latter part of 2016 to early 2017, largely due to Trump's election threat to renegotiate the NAFTA agreement, as well as the imposition of tariffs on Canadian softwood lumber imports in April.
Since then however, in a space of about 3 months, the USDCAD has fallen approximately 8% from 1.3750 to current levels of 1.2600. This has been due to a couple of reasons - the softening in the USD which has been well-documented, as well as strong improvement in the Canadian economy which I will touch more on in this article.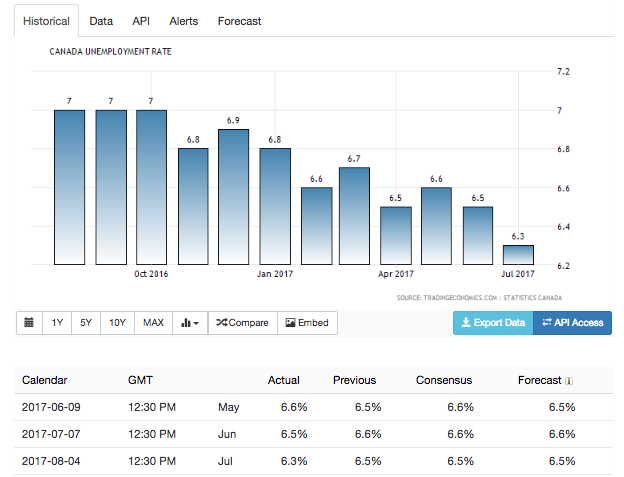 For starters, employment figures in Canada have been stellar. Unemployment rate has not only improved greatly as seen from the chart above, but the figures have also beaten analyst expectations since May. Canadian GDP numbers have also been healthy, coming in 0.9% QoQ for Q1'17, 0.6% QoQ for Q4'16, and 0.9% QoQ for Q3'16.
The improvement in the Canadian economy has led to the Bank of Canada raising its interest rates from 0.50% to 0.75% in its July meeting, the first time it has done so in 7 years. Governor Poloz said the decision to raise rates was justified, and that he was convinced the Canadian economy has "turned the corner", saying that growth was broadening across industries and was becoming more sustainable.
Although the central bank is far from embarking on a rate hike trajectory, the rate hike in July was symbolic as the Bank of Canada had previously employed a series of rate cuts to deal with plummeting oil prices. Its decision to start reversing the rate cut cycle could indicate the central bank's increased confidence in higher oil prices going forward. With the benchmark interest rate at 0.75%, there is plenty of room for the Bank of Canada to go higher.
There are 2 potential catalysts that could lead to CAD appreciation going forward. First, oil prices have been trading strongly, with WTI Crude prices in a range between $42/bbl to $54/bbl of late. With the USD trading softly and giving commodity prices a boost, I would not be surprised to see WTI Crude prices trade closer towards $60/bbl, especially given the fact that Saudi Arabia and its OPEC partners have been surprisingly committed in production cuts thus far.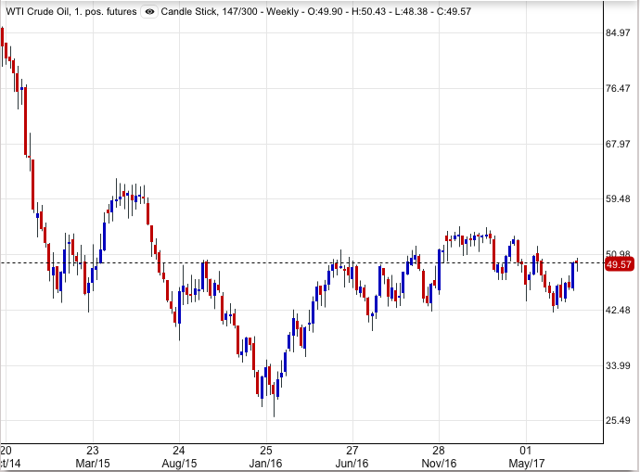 The second catalyst could be Trump's failure to follow through on his election promises to erect trade barriers against certain trade partners. At the moment, Trump has more than enough on his plate in the White House, from healthcare bill reform to dealing with the FBI-Russian probe. His threat to renegotiate NAFTA terms of trade with partners Canada and Mexico could potentially see no follow through. NAFTA talks will begin end August, and I would not be surprised these talks to be a non-event.
In addition, with respect to the softwood lumber tariffs imposed on Canada by US, Canadian Prime Minister Trudeau said he was "very hopeful" of striking a deal with the US to resolve the trade dispute. Any positive developments on these negotiations could bolster the CAD.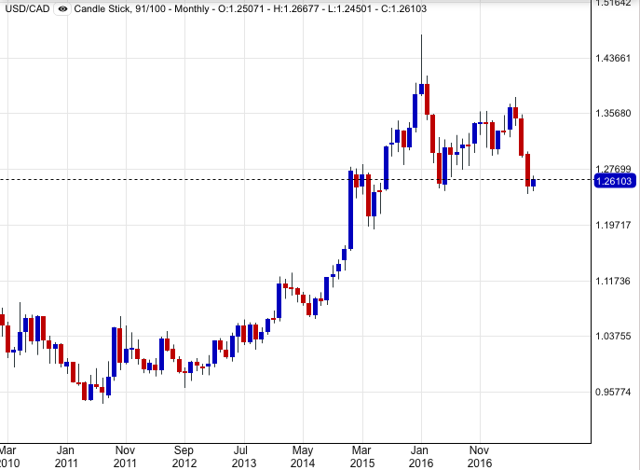 From the monthly chart of USDCAD above, 1.36-1.37 appears to offer strong resistance, and the two peaks in 2016 and 2017 could potentially be a double top, with price action now trading at the neckline at 1.2600 levels. Any break below these levels could potentially open up a huge leg lower in the currency pair, with support only coming in around 1.2000. Traders / investors could consider placing a stop sell order below 1.2550, with a stop loss at 1.28 and a take profit just above 1.2000.
Disclosure: I/we have no positions in any stocks mentioned, and no plans to initiate any positions within the next 72 hours. I wrote this article myself, and it expresses my own opinions. I am not receiving compensation for it (other than from Seeking Alpha). I have no business relationship with any company whose stock is mentioned in this article.