Introduction – Context, Investment Thesis
Allergan (AGN) has been one of my highest-conviction buys this year, as I tried to take advantage of more than one possible market inefficiency that affected the stock. Allergan was once a small generic company called Actavis, but has grown more than fivefold just in the last 7-8 years, becoming a global pharmaceutical company and leader in the field of aesthetics. Allergan has experienced several deep changes in its business model in the last two years. For example, it sold Actavis generics to Teva (TEVA), it tried to be bought by Pfizer (PFE) without success due to government regulation, and then continued to invest in smaller companies in the field of aesthetics or also in unrelated fields through a series of small deals. While I have never liked the "growth pharma" label chosen by management, I don't criticize the company's choice to sell the generic division and focus on growth opportunities in fields with unmet needs. Moreover, their more recent focus on fields that can be easily integrated with Allergan's core business makes me even more positive about the company's growth prospects.
My bullish thesis can be found in my previous articles for readers who are interested in an extensive discussion of all the factors, but can be summarized as follows:
The stock experienced a huge amount of trading activity due to the several and frequent changes in the business model, especially between 2015 and the end of 2016. First, the failure of the Pfizer deal triggered a strong sell-off due to arbitrageurs closing their positions. After that event, the company sold its generic division to Teva for $40.5 billion in order to focus on areas with better growth opportunities. Despite the strengthened balance sheet, the series of acquisitions that followed the Teva deal scared investors and led to a new sharp correction. After all, the Valeant (VRX) scar was still fresh.

On the other side, the company's main growth drivers remained in the portfolio, and the sharp downtrend was probably an exaggerated reaction. There were so many positive factors that could justify an investment in AGN – huge buybacks, strong insider buying from the CEO and a rich pipeline. I thought the excessive trading that followed the company's strategic moves generated a market inefficiency – too many investors were exiting their positions because they were betting on the Pfizer deal, or because they didn't feel comfortable with the new acquisitions. For me, it was an opportunity to buy on the drop, and it worked well so far.
The stock is up more than 30% since the bottom reached in November, but I don't think the investment opportunity disappeared. For sure, it's less evident than before, but there are still strong reasons to expect solid growth in the next several years. Those reasons are mainly two:
The huge and rich pipeline. The company has roughly 70 pipeline programs in current development, and six of them (the Star Programs) have the potential to generate several billion in sales. In a previous article, I estimated the potential revenue growth triggered by the Star Programs to be between $7B and $13B, which would translate into a sales growth of 48% and 89%, respectively.

The potential contribution of recently acquired business, such as LifeCell and Zeltiq, which can exploit the company's huge customer base to grow sales and geographical reach.
These bullish factors didn't change much, so let's give a look at Allergan's recent performance.
Recent Results – Highlights
Allergan's Q2 showed a further increase in sales momentum with an acceleration to an 8.7% YoY growth against a 5% growth in Q1. The company's recent acquisitions, mainly Zeltiq's CoolSculpting and Lifecell's Alloderm, are contributing to fuel top-line growth, although the company reported a widening operating loss ($902.4M) (-85.1%) and net loss: ($725.9M) (-44.7%). On the other side, Non-GAAP EPS of $4.02 (+20.0%) and operating cash flow of $1,629.3M (+18.1%) were both significantly higher than in the corresponding period of 2016. In the United States, Specialized Therapeutics showed strong growth (+15.1% YoY revenue growth), which more than offset the weakness in the General Medicine division (-1.5%). International markets also showed strength, with an YoY revenue growth of 13.4% to $858.5M.
While I am always skeptical about Non-GAAP measures and I think they must be taken with a grain of salt, results on the top line are more objective for sure, showing ongoing strength and a nice acceleration from the previous results. Such a positive revenue growth is largely a result of the contribution of Allergan's recently acquired business, such as Lifecell and Zeltiq. I have explained in a previous article why I was positive on the Zeltiq deal, given the positive synergies that we could foresee between the two businesses. Allergan's huge customer base is a solid growth leverage for these recently acquired divisions and they are already showing their ability to contribute positively to Allergan's growth – my opinion about this didn't change. Nonetheless, I will track Allergan's performance and see if actual results confirm my opinion. We already have a partial confirmation of Lifecell's positive momentum, as the "regenerative medicine" segment grew more than 53% QoQ. On the other side, we don't have clear data for Zeltiq as its revenue (labeled as "body contouring") in Q2 was $78.9 million. From now on, it's important to track the division's performance and check whether Allergan is actually able to leverage its huge customer base to drive sales in body contouring.
Regarding the rest of the portfolio, Allergan's performance has been good. Eight of the 10 most important products are growing and all the divisions (US Therapeutics, US General Medicine and International) reported an improvement in the YoY growth rate compared to last quarter.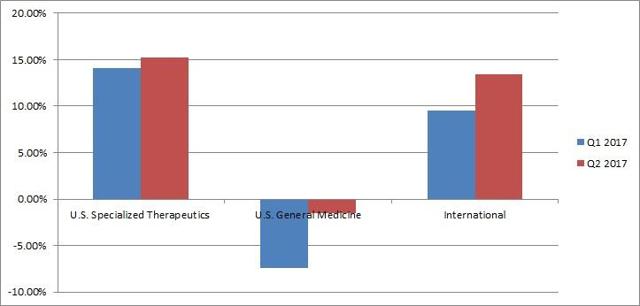 Source: Author's Elaboration
The "new products" such as Vraylar, Namzaric, Kybella, Viberzi, Xen, and Rhofade contributed $108 million to net revenue growth compared to last year. Growth was partially offset in the quarter by continued sales erosion from Namenda XR, loss of exclusivity from Asacol Hd and Minastrin, and lower Aczone sales that were negatively impacted by formulary coverage gaps and increased generic pressure in the category.
The balance sheet continues to be very strong according to key metrics such as Debt-to-Equity ratio (0.65) and current ratio (2.7), and I am glad to see that the company is able to generate high amounts of operating cash flow, which grew to $1,629.3 million from $1,379.8 million in the corresponding quarter of 2016.
Future Prospects And Risks
Allergan delivered a solid quarter with strong top-line growth and positive signs in all the divisions, which all showed a better YoY performance compared to last quarter. Momentum is actually rising and there is still upside to the current growth rates thanks to the integration of the acquired divisions and the (potential) additional sources of revenue in the pipeline, especially the 6 Star Programs. Revenue is so diversified and there is so much optionality in the pipeline that it's difficult not to expect further sales growth in the medium long term. Nonetheless, there are short-term risks that have to be taken into account related to the potential competitive threats to Allergan's key drugs (Estrace, Restasis, Namenda, Minastrin). Restasis in particular faces fierce competition from products such as Shire's Xiidra. Although Restasis is becoming less and less important for Allergan, it still accounts for 8.4% of total sales, lower than the roughly 12% of Q4 2016, but significant in absolute terms.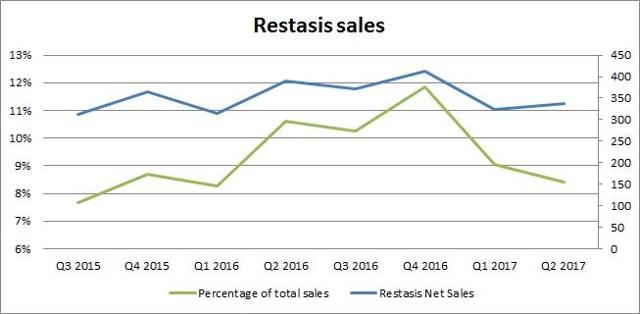 Source: Author's elaboration
Although I think the growth in new products can easily offset that kind of weakness, it's obvious that there are other factors that could pose a threat to the company's performance. As I wrote in June, the bullish thesis may encounter the following obstacles:
-Competition may come in above expectations, accelerating the decline of some of Allergan's legacy products.
-The public discussion on drug prices may heat up again, forcing regulators to take an unfavorable position for drug makers.
- Pipeline catalysts may not be as strong as expected.
Investing in Allergan
All in all, performance is improving and there is good visibility into Allergan's future sources of growth. Betting on Allergan at the current levels means betting on an improvement in GAAP margins in the next quarters/years and trying to take advantage of the huge growth optionality in the pipeline. In an ideal world, such margins should get very close to the company's Non-GAAP margins, suggesting an operating margin between 45% and 47%, based on the results of the last few quarters. But these margins are not credible. I don't want to get trapped into a long discussion of which adjustments make sense and which don't, but it's necessary to share some thoughts on the matter in order to discuss AGN as an investment. According to the last earnings release, Allergan's Non-GAAP earnings are calculated as follows:
We define non-GAAP adjustments to the reported GAAP measures as GAAP results adjusted for the following net of tax: (i) amortization expenses, (ii) global supply chain and operational excellence initiatives, (iii) acquisition, integration and licensing charges, (iv) accretion and fair market value adjustments on contingent liabilities, (v) impairment/asset sales and related costs, including the exclusion of discontinued operations, (vi) legal settlements and (viii) other unusual charges or expenses
While many of these cost items can be labeled as non-recurrent and, therefore, it's reasonable to adjust GAAP earnings in order to have a clearer idea of the underlying fundamental trends, I think some of these costs should be considered as recurring items. Integration charges, for example, may last many years if the integration is not as fast and easy as expected. Maybe they are more similar to operational costs than we might think. The majority of the amortization expenses, on the other side, reflect real costs to acquire assets and should be taken into account for the whole economic life of the assets amortized.
I estimate that a more reasonable and conservative operating margin target would be between 25% and 30%, more or less in line with peers such as Regeneron (REGN) and Celgene (CELG). I think that based on these margin assumptions and with revenue expected to grow almost 10% next year, with possible upside optionality in the pipeline for the following years, the current valuation at 7x EV/revenue and 13.8x 2017E EV/EBITDA (per Factset estimates) is still a fair entry point.
Thanks for taking the time to read the article. If you liked it, click on the follow button at the top of the page. You will get my articles as soon as they are published. I am available to further discuss the topics of this article in the comments section. If you are interested in having access to my best long and short ideas in the consumer industry, please consider joining Consumer Alpha. You can have a 2-week free trial and only for this month, I am offering a 25% discount on both monthly and annual subscriptions.
Disclosure: I am/we are long AGN.
I wrote this article myself, and it expresses my own opinions. I am not receiving compensation for it (other than from Seeking Alpha). I have no business relationship with any company whose stock is mentioned in this article.