The banking sector has shifted into the center of the market's focus this earnings season and the recent moves in Capital One Financial Corp. (NYSE:COF) have caught many investors by surprise. The stock surged 8.6% in one day after its latest earnings release and when we are dealing with valuation changes of this magnitude it is only natural to be somewhat skeptical over the validity of the move. But when we look at the factors supporting the upside surprise and Capital One's lack of exposure in recently problematic areas of the banking industry, we can see that there is still good upside potential even after the initial rallies. Long positions in COF can be taken while the stock is trading above 81.05, as any decline through here would alter the stance and signal a period of stalling in COF.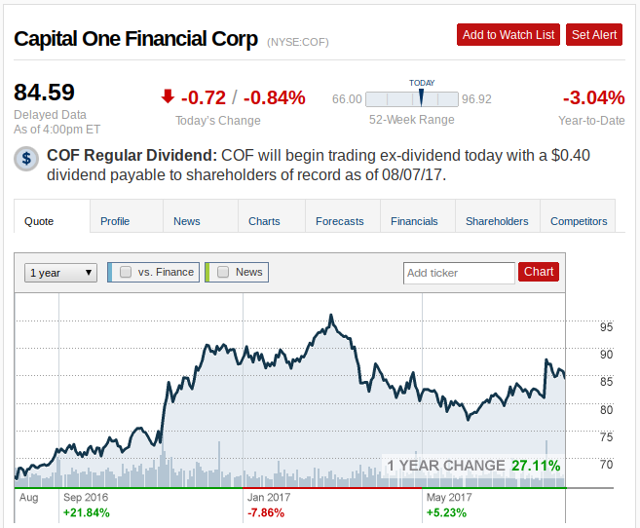 When making investor assessments in Capital One, it is important to understand how the company differs from other major industry competitors like Bank of America Corp. (BAC) and Goldman Sachs Group, Inc. (GS). Recent news headlines for both of these banks have highlighted deficiencies in trading volumes and the effect this has had on generalized profitability in core businesses. Capital One does not rely on trading businesses as a central revenue generator, so this is not something that will need to be factored into the equation when making projections about likely earnings growth in coming quarters.

Capital One Earnings Chart: NASDAQ
Much more important are the commercial banking, consumer banking, and their popular credit card segments and strength in the areas was what drove the upside revenue surprises in Capital One's most recent earnings report. For the second quarter, Capital One posted per-share adjusted earnings of $1.96, which was above analyst estimates and an improvement on the $1.76 in per-share earnings seen the previous year. Improved revenues, lower margin pressures and increased loan balances were all cited as positives and market investors responded favorably to the news. In the chart above, we can see that these trends are broadly positive -- and this does bode well for the stock in coming quarters.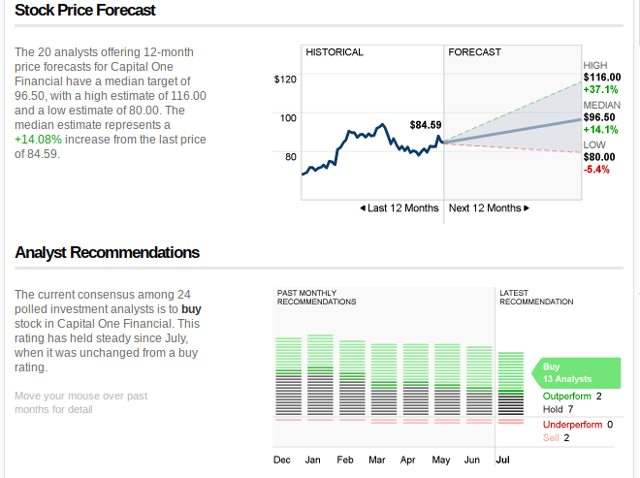 COF Analyst Forecasts: CNN Money
Perhaps what is most important in these numbers is what they do not tell us. That is, they do not explain the ways this latest earnings report has allayed earlier investor fears with respect to the bank's portfolio of taxi medallion loans (totaling $582 million). Analysts have suggested the possibility that these loans would lead to large writedowns. Taxi medallions have lost roughly 80% of their value in areas like New York City now that rideshare applications like Lyft and Uber have risen in popularity -- so the concerns were not unwarranted. But, in total, these loans make up only 0.24% of Capital One portfolio and this is down from 0.36% in the prior year. In addition to this, the nonperforming loan rate for the taxi medallion portion of the portfolio is at its lowest level in three quarters. All of this means that is previous concerns over COF have already started to correct themselves and that any negative influences in future earnings will be limited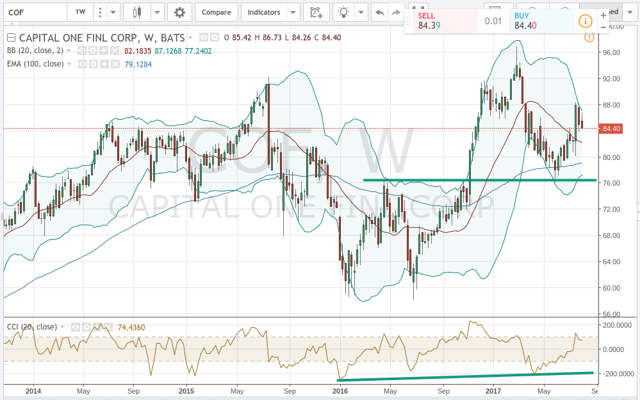 Capital One Stock Analysis: Dividend Investments.com
After the initial rallies, COF pulled back toward the 50% retracement of the entire move higher. We managed to find support at 76.30, which is significant because this was an area of prior resistance. Readings in the Commodity Channel Index are bullish and we are still at mid-levels and so there is plenty of room to extend higher from here. The final part of the equation lies in the actions of the Federal Reserve, which will be looking at Capital One's revised capital plans to be released on Dec. 28. In conference calls, management has sent optimistic signals in these areas and so the broader framework looks to be in place for COF to make another run higher. Potential headwinds could be seen at 96.90, which was the prior rally high. But at this stage, this does not look like enough of an obstacle to stall the stock
Disclosure: I/we have no positions in any stocks mentioned, and no plans to initiate any positions within the next 72 hours. I wrote this article myself, and it expresses my own opinions. I am not receiving compensation for it (other than from Seeking Alpha). I have no business relationship with any company whose stock is mentioned in this article.