Finding good yield at reasonable valuations seems to be getting harder by the week, as the market rally of the last five months has left fewer and fewer bargains. One stock that has not participated fully in the rally due to a disappointing last quarterly report looks intriguing here. It is capitalizing on the rapidly expanding energy production from domestic shale (oil & gas), which is one of my favorite sectors due to advancing technology and increasing M&A activity.
Eagle Rock Energy Partners (NASDAQ:EROC) - "Eagle Rock Energy Partners, L.P., together with its subsidiaries, engages in gathering, compressing, treating, processing, transporting, and marketing natural gas and condensate, as well as in fractionating and transporting natural gas liquids (NYSE:NGL). It also involves in acquiring, developing, and producing oil and natural gas working interests in Alabama and Texas; and acquiring and managing fee minerals and royalty interests. The company has natural gas gathering and processing assets in the Texas Panhandle, east Texas/Louisiana, south Texas, west Texas, and the Gulf of Mexico." (Business Description from Yahoo Finance).
6 Reasons to pick up EROC at under $11 a share:
The stock pays a robust 7.6% distribution and has increased its distribution per unit to 21 cents per quarter, a rapid increase from May 2009, when it was forced to cut due to financial crisis.
The stock looks like it recently bottomed at $9, and is trading above its 200 day moving average despite the revenue miss on its last quarterly report (See Chart)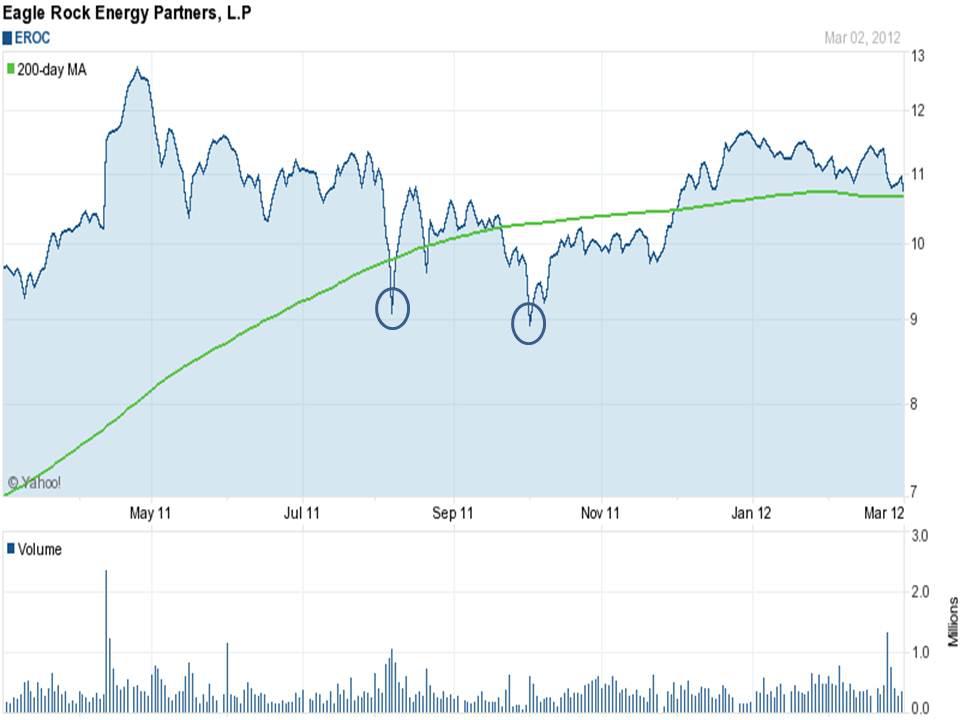 The median analysts' price target for the three analysts that cover EROC is $14, about 30% above the current price.
The company has stated its intention to raise the cash distribution per unit to $1 a share in 2012, which would be an over 9% yield at current prices.
The company's share price has been hurt by lower natural gas prices. However, the firm's asset base is quite diversified, especially with the recent acquisition of Crow Creek Energy. In addition to its thousands of miles of pipeline and NG assets, it also has 8.7mm barrels of proven oil reserves as well as 6.2mm barrels of natural gas liquid assets.
Insiders and 5% owners have 42% of the company. Insiders have sold less than .1% of their shares over the last six months.
Disclosure: I have no positions in any stocks mentioned, but may initiate a long position in (EROC) over the next 72 hours.