The U.S. and China have announced the initial steps in their 100-day action plan of the Comprehensive Economic Dialogue, inviting Chinese companies to negotiate long-term contracts for liquefied natural gas shipments from U.S. suppliers. This is a really big deal. -- "U.S. Liquefied Natural Gas To China Is A Game-Changer," Jude Clemente, Forbes, May 2017
Over the last two years, several analysts have raised the long-term potential for the U.S. and China to enter a major new energy trading relationship around U.S. exports of LNG to China. The most recent Department of Energy quarterly figures show the U.S. had exported 10 LNG cargoes to China, making China one of the leading destinations for U.S. LNG. And by volume China is the most rapidly growing LNG importer: demand surged by 8 million tons per day in 2016, representing annual growth of 33%. Thus, news that the U.S. was encouraging long-term LNG contracts with China was clearly positive for Cheniere (LNG), the first U.S. company to export LNG and the largest U.S. LNG player.
Summary
While Cheniere's first 100 LNG cargoes have delivered gas to customers worldwide, and its revenues are locked in under LT contracts, growth nevertheless depends on the health of world LNG markets. LNG prices have softened along with oil prices, dragging down Cheniere's stock this year. Soft LNG prices also mean less capital for new LNG trains, and lower growth prospects. Yet many market commentators expect global LNG markets to firm after 2020, and China in particular will need to lock in new supplies to meet demand.
A near-term jump in China LNG demand would help steady the market and could be a catalyst for Cheniere's stock price. In my view, the LNG market may be underestimating the upside in China gas demand this winter, as a major swath of north China switches to gas and market reforms in gas and power take effect. In addition, the market may still underestimate the rising urgency for oil companies to diversify by acquiring global gas assets, which should bolster the value of Cheniere's low-cost LNG export chain.
Background on Cheniere
Like most investors, I like long-term growth markets exemplified by LNG. Demand for LNG has grown from 155 million tons per year (MTPA) in 2006 to 258 MTPA in 2016, and is expected to rise further to 350 MTPA by 2020 and 465 MTPA by 2030. More and more countries are adding import receiving terminals.
Demand is hot in markets with inadequate pipeline or production infrastructure, particularly China, South Asia, Latin America, and Europe. The drivers for these markets are all different: energy diversification and clean air in China, rising power demand in South Asia, replacement for nuclear in Japan and Korea, and, for Europe, energy security plus power generation to back up renewable energy. The common point is that natural gas represents a clean and highly flexible power generation resource. A bonus for natural gas is that rising wind and solar investment (supported by subsidies and other policies) are further pushing markets toward retiring inflexible coal and nuclear.
LNG supply and demand, billion cubic feet/day: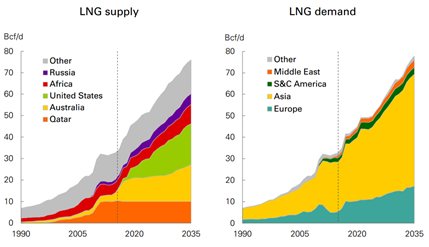 Source: BP Statistical Review of World Energy 2017 (Note: 10 Bcf/d = 75 MTPA)
While all LNG producers are suffering from low oil prices this year, Cheniere stands tall because of its brownfield location, its capital efficiency in bringing its Sabine Pass Liquefaction facility to completion (far faster than Gorgon in Australia), and its geographical location at the heart of the U.S. natural gas industry and land-based pipeline infrastructure. Cheniere's rapid expansion shows it can move aggressively when the market is in place, yet the company has shown discipline in relying on long-term contracts to support its capital program.
While Cheniere's business model is built on long-term contracts, the investment case nevertheless depends on the worldwide outlook for LNG prices versus domestic U.S. natural gas prices. While many analysts have predicted that shale gas production in the U.S. could face cost and price headwinds, especially if production growth slows, I've been burned by that argument before and tend to place greater confidence in forecasts for steady U.S. domestic output growth. The U.S. has decades of supply of sub-$3/MMBtu gas, in Cheniere's view.
China LNG demand could surprise to upside this year
In 2016 China's LNG demand shot forward by 8 MTPA, far above any other country. China is now one of the top three LNG importing countries, next to Japan and Korea. Because China's pipeline gas imports are challenged by a number of factors, and domestic production (including especially shale, of which so much was initially expected), LNG will likely grow faster than any other source of new supply for China. Under base case forecasts, the country could more than double its LNG imports by 2025 to 60 MTPA.
China's rising natural gas imports, in billion cubic meters:

Source: Data from BP and various media reports
China 2015 and 2020 natural gas supply, billion cubic meters: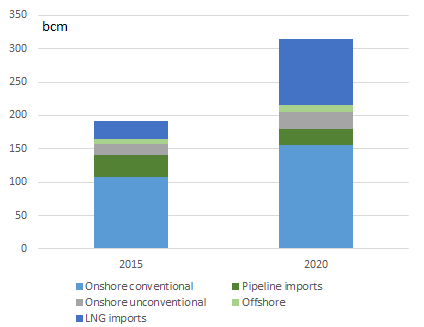 Source: IHS CERA 2017
China's 13th Five-Year Plan (2016-20) and other policies are highly supportive for LNG imports. Natural gas is targeted to rise to 10% of total China energy consumption by 2020 and 15% by 2030. The country will boost gas-fired power capacity from 66 gigawatts (GW) in 2015 to 110 GW, pipelines from 64,000 km in 2015 to 104,000 km, and underground gas storage will almost triple. China National Petroleum Corporation, one of the country's three national oil companies, estimates total gas demand will rise to 440 bcm by 2030, with a high-side case of 520 bcm. LNG import capacity should rise from around 40 MTPA in 2015 to over 70 MTPA.
CNPC estimates for China national gas demand, billion cubic meters: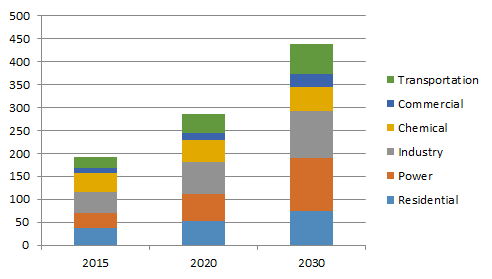 Source: CNPC 2016
China is working toward greater market-based pricing of electricity and other energy products -- part of a long-term effort toward allowing markets to play a "decisive" role in the allocation of natural resources. While energy market reforms have been on a slow drip, relatively speaking natural gas market reforms have proceeded rapidly, though the state's heavy hand remains on the pricing side to ensure steady growth in both supply and demand. Gas prices for non-residential customers were liberalized starting in 2015. Last year, the country adopted reforms to pipeline regulation, granting a flat 8% regulated rate of return for cross-provincial projects under 30-year depreciation, while instituting new rules of cost transparency for pipeline projects. In 2016 the doors opened at the new Shanghai Petroleum & Natural Gas Exchange and subsequently at the Chongqing Petroleum & Natural Gas Exchange, boosting competition. After the 2017 Two Sessions, the government released a further reform will grant third-party access to pipelines and LNG import terminals, expected to further enhance gas demand.
More importantly, ground-level policies are boosting heating and industrial gas demand. In the Jing-Jin-Ji (Beijing-Tianjin-Hebei) region, home to around 110 million people, vast regions that had relied on coal heating are being converted to natural gas or electricity, of which natural gas will supply the bulk. The deadline for completing conversion is winter 2017, in the hopes that China's capital city will not suffer another embarrassing rise in urban air pollution that it experienced this past year. The huge provinces of Shandong, Henan, Shanxi, Sichuan, and Chongqing are also subsidizing conversion of rural and urban heating from coal to gas. Shandong is a coastal province with LNG access and other eastern provinces are building out pipelines to connect to LNG. And for areas with limited pipeline access, LNG transport by truck remains a competitive option.
Electric power market reform is another shadow driver of China LNG demand. While coal power is still the cheapest option for China, many industrial parks in urban and port areas of China are switching from using electricity purchased from the grid towards self-generation using natural gas. While gas is expensive in China, combined-heat-and-power from gas is competitive versus grid electricity. Many urban industrial parks and port areas are not permitted to add new coal combustion and are being encouraged to convert existing coal combustion to gas.
How much could China LNG demand surprise this year?
As to provincial natural gas consumption, in recent years industrial and heating demand in places like Shandong, Fujian, and Liaoning has risen markedly, but unevenly. Drawing on the recent experiences of these three provinces, I estimate that heating and industrial demand in Shandong, Tianjin, Beijing, and Hebei-which together are the main focus of efforts to reduce air pollution this winter, and which have ready access to LNG imports-could each rise by 2 bcm this year, for a total of 16 bcm, equivalent to 11 MTPA. (Note: 1 million metric tons of LNG = 1.38 billion cubic meters of natural gas.) Shandong's just-released energy development plan calls for the province's gas consumption to rise from 9 bcm in 2016 to 25 bcm in 2020, with 85% of households converted to natural gas heating and a total of 337 LNG fueling stations for trucks. So Shandong's base case is for consumption to rise 2 bcm annually. I anticipate this to be front-loaded.
If we assume a base case where LNG rises from 27 MTPA (2016 actual) to reach contracted volume of 38 MTPA in 2017, this impressive increase of 11 MTPA would meet what I argue is the high-side of incremental demand from just these four provinces/municipalities. Rising trends in gas consumption in other coastal provinces, such as Guangdong, Zhejiang, Jiangsu, and Fujian would be additive to this estimate. China lacks storage capability, so any gaps between supply and demand must be met by spot cargoes, domestic production/pipeline imports, or demand curtailment.
Surging demand could compel upstream investment
While some comments on Seeking Alpha have questioned whether Chinese players are good counterparties for long-term LNG contracts, the fact is that as of 2015 Chinese companies had already signed long-term contracts for over 50 MTPA of LNG imports-with the three national oil companies accounting for 90% of that volume. Australia is the largest long-term LNG partner; several U.S. companies are leading owners of Australian LNG capacity, so in this sense China and the U.S. are already deeply linked in the LNG trade.
On the U.S. side, while Cheniere has done spot trades with China in the past, its future growth depends on long-term contracts, which can be used to secure financial backing for additional LNG trains at Sabine Pass and Corpus Christi. So would Cheniere do a long-term deal with China?
To answer this, note that Energias de Portugal (OTCPK:EDPFY), is a "founding member" of Cheniere's Corpus Christi LNG facility and has signed a Sale and Purchase Agreement (SPA) for Train 3, which is currently fully permitted and awaiting a final investment decision. EDPFY is 21% owned by China Three Gorges, a state-owned power producer. Chinese state-owned companies also have significant investments in power facilities across Latin America, including in Brazil, another LNG-importing country.
While there are many companies developing LNG export capacity in the U.S., and several others with approved sites currently suspended awaiting recovery in world LNG markets, Cheniere's position is bolstered by its low costs and established position, accounting for about half of U.S. LNG capacity for which a final investment decision has been made. Chinese state-owned entities tend to prefer to deal with large, established players and typically shun speculative bets. Equally, since Cheniere's SPAs are typically unrestricted as to final destination, China can simply do long-term LNG deals with any global oil major, which in turn can contract volumes with Cheniere.
Cheniere has the lowest-cost LNG assets in the U.S. and the only other players that can come close worldwide are the floating LNG terminals and facilities in Qatar.
Investment cost of major LNG projects worldwide: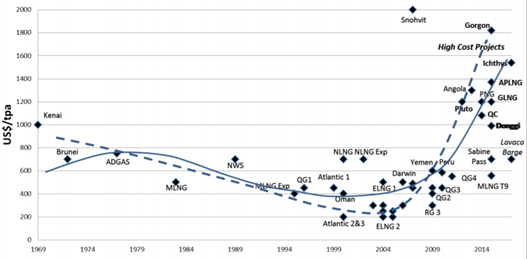 Source: Oxford Institute for Energy Studies, 2015
Concluding thoughts
Cheniere's stock price will be driven by the prospects for world LNG prices and by the success of marketing long-term contracts to back new LNG trains. For this reason, if China LNG demand surprises to the upside this year, this could be a major catalyst for the stock. In my view, solid demand growth this year will suggest an earlier resolution of LNG oversupply, making world oil majors more eager to demonstrate increased exposure to the world LNG market, given its growth prospects relative to global oil markets. In my next article, I will analyze the possibility this trend could make Cheniere a takeover target.
If you found this article useful, please consider commenting and subscribing.
Disclosure: I/we have no positions in any stocks mentioned, and no plans to initiate any positions within the next 72 hours.
I wrote this article myself, and it expresses my own opinions. I am not receiving compensation for it (other than from Seeking Alpha). I have no business relationship with any company whose stock is mentioned in this article.