What Happened?
Over the weekend Deadline reported that AT&T (NYSE: T) is discussing divesting some key assets after the merger with Time Warner (NYSE: TWX) closes. CNN and TMZ.com are two of the properties said to be under consideration for a sale. Deadline writes that CBS (NYSE: CBS) is a potential buyer of CNN, while TMZ could go to a private equity buyer. The AT&T-TWX deal is expected to close by the end of the year.
My good friend Regarded Solutions wrote an interesting piece out yesterday on the subject. I must credit RS for inspiring this piece. RS stated the following:
"I could be wrong, but then tell me why T is making it more than well known that it probably will sell CNN? There is no other reason in my eyes than to grease the skids with the Department of Justice and the White House. If those entities are appeased, then T can begin counting the added revenue and income from TWX."
Regarded Solutions further points out a piece in The New York Times that states "White House advisers have discussed" the merger as being used as a "potential point of leverage over their adversary," CNN. I am not buying it. I see the report by The New York Times as a good example of "fake news." In the following sections I give my take on why the announcement of the potential sale of CNN and other assets is simply business as usual.
Sale of CNN by AT&T does nothing to hurt CNN
First off, AT&T selling CNN will not harm CNN one iota. In fact, if it were revealed that President Trump's administration did force the sale of CNN through back channels, I posit that would increase ratings for the network. It is not like AT&T is going to shutter the network never to be heard from again. The sale of CNN to CBS or any other media company will only raise the profile of the network rather than lower it. So the narrative doesn't really hold water from the get go as far as I am concerned.
Announcement of merger divestitures standard
Furthermore, the announcement of these moves is simply standard operating procedure for a merger of this magnitude. AT&T recently announced major organizational changes and a new $22 billion bond offering in preparation for the mega-merger going through. The announcement of certain planned divestitures is simply the next step on the list. I believe the announcement was more about easing the fears of current investors regarding the company's post-merger high debt load than anything else. CNN is current firing on all cylinders.
Perfect time to sell CNN
CNN just clocked its most watched second quarter in its history. According to a recent report, "CNN saw ratings boost, logging 1.055M total viewers, with 370K of them falling in the 25-54 age bracket – up 10% and 19%, respectively."
The mantra goes buy low, sell high. I see AT&T's potential sale of CNN as perfect timing. With the network experiencing its best ratings in its history, now is the perfect time to put it up for sale. CBS and other network ratings are actually down at present. AT&T will most likely get top dollar for CNN as I see a bidding war in the offing. Moreover, AT&T rids itself of any potential issues down the road. CNN has had to retract several stories that were deemed inaccurate. On top of all this, the FCC and DOJ have already stated they do not see an issue with the merger.
FCC review already scrapped
FCC approval of AT&T/Time Warner merger deemed unnecessary. Time Warner's previously announced plans to sell its broadcast station WPCH-TV in Atlanta to Meredith Corp (NYSE: MDP) already has been approved by the FCC. AT&T said it expected to bypass the Federal Communications Commission in its planned $85.4 billion acquisition of Time Warner. WPCH-TV in Atlanta, formerly (WTBS), is the only FCC-regulated broadcast station Time Warner owns. This sale will expedite the merger now that the FCC review is off the table. This was a very shrewd move by Time Warner to get the deal done.
New DOJ antitrust nominee sees no issues
According to a recent Recode piece, President Trump's new antitrust nominee has said he doesn't see major problems with the AT&T-Time Warner merger. The piece states:
"The White House announced today that it had selected Makan Delrahim, who is already aiding the Trump administration, as its pick to be the assistant attorney general for antitrust, a key government position with the power to approve or deny mergers and investigate companies for potential competition threats. Delrahim previously said that AT&T's bid for Time Warner doesn't pose a "major antitrust problem."
I see no way the DOJ puts the kibosh on the deal at this juncture. Furthermore, there is historical precedent for this type of vertical integration merger.
There is precedent
Comcast's (NASDAQ: CMCSA) takeover of NBC Universal created a $30 billion media behemoth. The company now controls not only the content, but how that content is delivered to customers. Comcast is the No. 1 provider of video and residential Internet service in the United States. The company acquired a 51% stake in NBC Universal from General Electric (NYSE: GE).
DOJ regulators were quoted at the time as being concerned about many of the same points some are making about the AT&T/Time Warner merger today. The DOJ was quoted as stating that an all-powerful Comcast might stifle competition from new online video competitors. Nevertheless, the deal went through after Comcast agreed to certain conditions. The conditions included relinquishing management rights of its minority stake in Hulu.
The Bottom Line
Some have said Trump may stop the deal due to his hatred of CNN. I have no concern whatsoever that President Trump has an issue with CNN. In fact, I believe that is actually a positive for the deal getting done. Trump doesn't want to appear to be taking out his personal issues on the company. He will have to recuse himself so to speak.
The DOJ may huff and puff a bit to ensure no one thinks they are giving a pass to AT&T, yet in the end the deal will get done. AT&T will have to make some promises regarding being fair to other content providers and that is about it. President Trump has continuously stated he wants less regulation. If the DOJ were to disapprove the deal, this would fly in the face of everything he has been espousing. I don't see Trump backtracking on his promise for less, not more, regulation.
With the market trading at all-time highs, value propositions are few and far between. AT&T's best-in-class dividend yield of 5.10% coupled with its forward P/E ratio of 12.36 makes it an excellent buying opportunity at present if you ask me.
Current Chart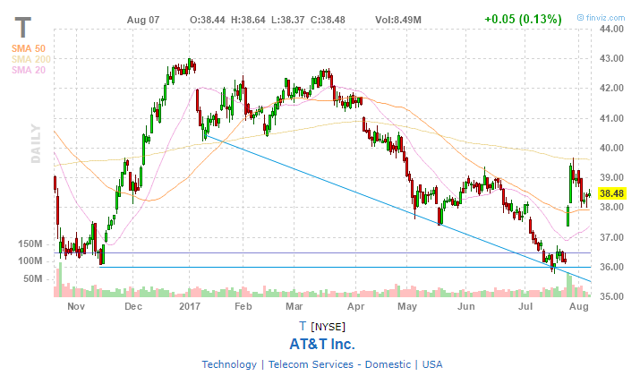 Source: finviz.com
Nonetheless, always layer in to any position to reduce risk. The market is trading at all-time highs while volatility seems abnormally low. These are the times I proceed with caution. Those are my thoughts. I look forward to reading yours. Please use this information as a starting point for your own due diligence.
Your input in required!
The true value of my articles is provided by the prescient remarks from Seeking Alpha members in the comments section below. Do you think Trump is forcing the sale of CNN by AT&T? What would be the repercussions if the merger was not approved by the DOJ? Thank you in advance for your participation.
Final note: If you found this article interesting, please click on the follow button. It would be greatly appreciated.
Disclosure: I am/we are long T. I wrote this article myself, and it expresses my own opinions. I am not receiving compensation for it (other than from Seeking Alpha). I have no business relationship with any company whose stock is mentioned in this article.