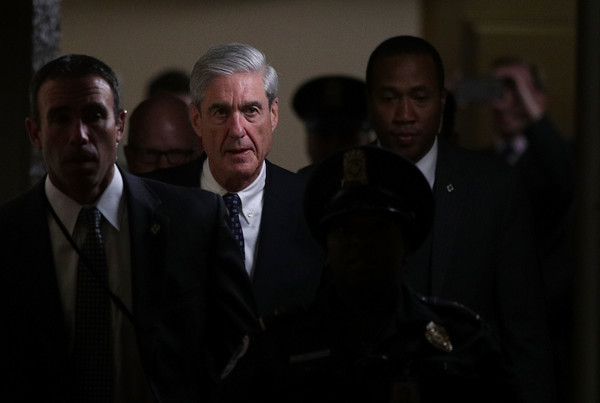 (Source: Alex Wong/Getty Images)
Investigators working for the special counsel, Robert Mueller, have asked the White House for documents related to former national security adviser Michael Flynn.
Why am I bringing this up? What does it mean for your portfolio?
This is how equities reacted Thursday to news that Mueller impaneled a grand jury: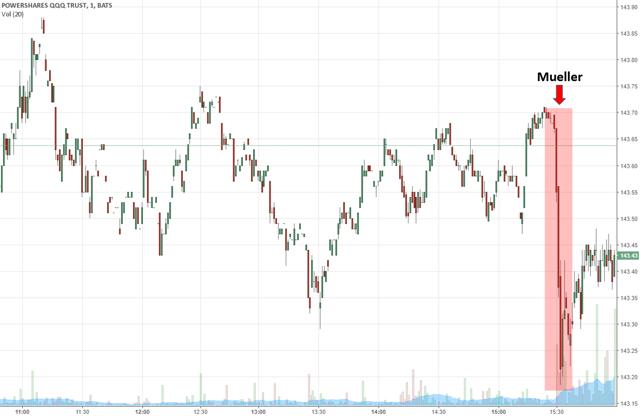 The selloff provides a clue as to how the market would respond to a "smoking gun" scenario. A 35-basis point decline in a matter of seconds is no small feat. If this special prosecutor does find something –anything at all, really– we could easily see 20% of equity wiped out before the bulls step in with a bid.
And if the recent shakedown of Martin Shkreli taught us anything, it is that if you put a cop car on anyone's tail for 500 miles, at the very least he is going to get a ticket. Shkreli was found guilty of defrauding investors, even though nobody lost a dime (in fact, investors made 3x-9x returns). Similarly, Trump may not have colluded with any Russians, but never underestimate the power of legal discovery to produce damaging headline risk.
FBI agents are poring over details of Flynn's business dealings. And to be sure, accepting payment from a foreign government, as we already know Flynn has, is not illegal. But trying to hide source money by routing it through a private company or some other entity, and then paying kickbacks to middlemen, could lead to serious criminal charges. This is what the feds will be on the lookout for.
Meanwhile, here is what the market thinks about the value of insurance: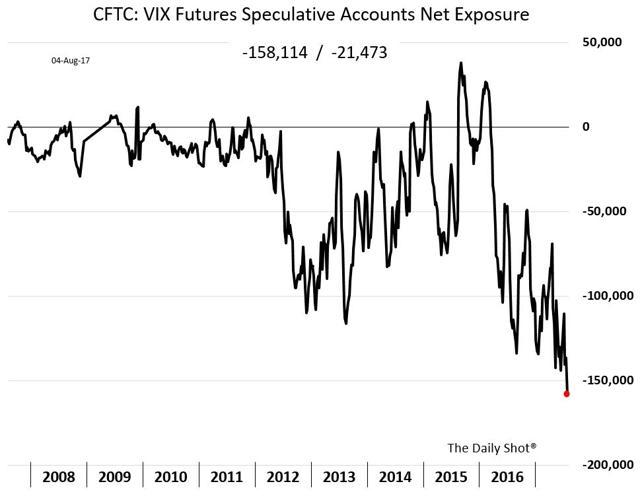 (Source: Daily Shot)
All the while federal agents looking to make their careers are searching for any leverage they can find to roll Flynn against Trump and other surrogates in a classic prisoner dilemma. Recall that after Trump sent Flynn packing just 24 days after taking office, Flynn requested immunity from prosecution.
Is the market getting complacent? It certainly would not be the first time. After all, it took months for investment advisers — and, by extension, individual investors — to accept the bearish implications of Watergate.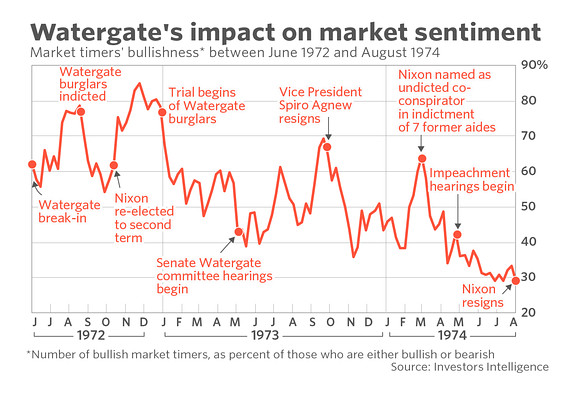 (Source: MarketWatch)
But apparently "the bull market could continue forever," according to Jim Paulsen, chief investment strategist at Leuthold. Indeed, "we are currently going through a very special period" similar to the secular bull market of the 1990s, a conclusion reached by our own Rida Morwa – to which I largely agree. The problem is that he goes on to say: "Those fully invested are likely to see outsized returns over the next 12 to 24 months."
There are several global macro risks to contend with, in addition to the "Russiagate" headline risk. These headwinds are, just to name a few:
I am not suggesting you bet the house against equities. At the same time, to remain "fully invested," as Morwa suggests, would be irresponsible. Hedge your portfolio with assets that can protect in a downturn yet still perform reasonably-well in an upturn.
How to do this varies greatly depending on the type of investor you are. As for me, I certainly will not be "fully invested" in risk assets over the next 12-24 months. While I have been comfortable levered long since 2010, it is time to start deleveraging, paying off debt, and increasing the cash allocation to at least 20% of my portfolio at all times. In addition, I also like the idea of adding haven assets with at least another 10%-20% of portfolio NAV. For me this means call options on Swiss franc futures, Japanese yen futures, gold futures, silver futures, VIX index, and at some point Treasury futures.
To be clear, not all of this will happen at once, and I will probably still maintain 50% long exposure with equity options. But as political headline risks mount and the Fed starts winding down its balance sheet, it may be time for us to start doing the same.