"What would you do with a million dollars?"
I was asked that question by a reader two years ago, and I presented my response of what I'd do if I suddenly came into a large sum of money and had a million dollars to my name.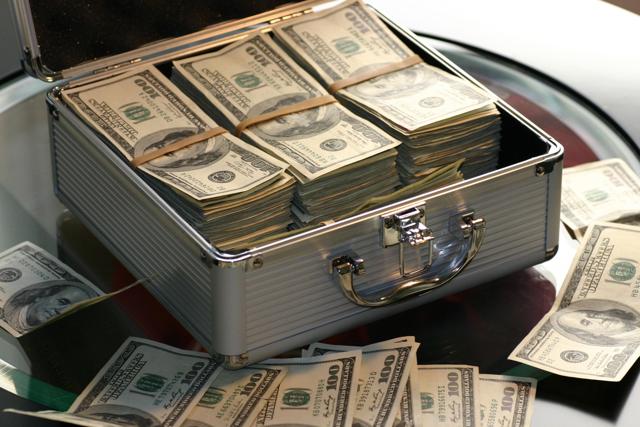 Rather than buying some Dijon ketchup, a fur coat, or a monkey, I decided that investing the cash would be my first choice. To do so, I selected 40 companies across 10 sectors that I felt were trading near fair value and offered attractive dividend income and growth prospects.
These were the stated goals of that hypothetical stock portfolio:
this portfolio is for someone who is looking as much for preservation of capital as they are capital gains, so I will concentrate my efforts on high-quality stocks with high credit ratings and long track records, trading at a reasonable valuation...

My final assumption is that since this is either a recent retiree or someone investing a large lump sum of money, the individual is looking for an income stream from their investments. For this requirement, I will create a portfolio with an overall dividend yield of greater than 3%, which is roughly equal to the 30YR treasury yield and 50% higher than the yield of the S&P 500. I will also look for a blended dividend growth rate of better than 5% to counter the effects of inflation.
The original portfolio performed well. At the one year mark it had provided capital gains of 13.07% and an income increase of 2.96% on top of the 3.6% yield provided at purchase. This met both the preservation of capital and income goals, but lagged the 5% goal for income growth.
Comment Leads To Portfolio Management "Case Study"
As often happens on Seeking Alpha, the discussion that followed the article was as fun and informative as the article itself, and this comment from reader "scoots" caught my attention:
I hope that you will address the question now of what you would do with the "portfolio" going forward for the next year.

I would particularly like to see what you might discard, add to or subtract from, purchase new, etc.

Hopefully you will take a shot at this question!
I'm not one to back down from a challenge, so I quickly responded with this:
scoots,

The names I have most concerns with would be COP, HCP, GILD, EMR and IBM, but I'm not sure which, if any, of those I would actually cut. I suppose it could be an interesting exercise to pick replacements that I think are more attractive right now and then come back in a year again to see how they would compare.

Is that something people would be interested in?
People did indeed show interest, so with that my "case study in portfolio management" was born.
Those 5 stocks: COP, HCP, GILD, EMR, and IBM were cut, along with Cummins, Inc. (CMI). In their stead I went with Flowers Foods (FLO), General Electric (GE), Kraft Heinz (KHC), Cardinal Health (CAH), Omega Healthcare Investors (OHI), and Cisco Systems (CSCO).
My reasoning for each of those moves can be read in the "case study" link above. Here is a snapshot of the results of those moves after one year:

I think the results are quite interesting, as the companies that were sold have far outperformed on a capital appreciation basis, while the replacement companies have far outperformed on an income basis.
As I suspected, HCP did end up seeing a significant cut to its dividend. Its spin-off, Quality Care Properties, has yet to initiate a dividend either, so the combined income provided by them was reduced by nearly 36%.
HCP's replacement, Omega Healthcare Investors, hasn't done well price-wise, but has done quite well on an income basis. It grew the dividend by 6.7%, leading to a healthy yield-on-cost "YOC" of 7.23%.
The replacement companies are now producing 13.4% more income than the original six, which is impressive considering they produced about $57 less income than the originals at the time of purchase.
To see the overall performance of each portfolio, check out the link below.
Million Dollar Portfolio - Current Spreadsheet

I'll note that the above link is run through Google Docs, and should update automatically as time goes on if you are interested in following it throughout the year.
Changes To Make Today
This series of articles has turned into a test case in portfolio management, so I suppose there should be a few trades made in an attempt to improve the holdings. I'll admit that there weren't any positions that jumped out as absolutely needing to be cut, but I identified two trades for the portfolio that I think make some sense.
First, when looking at the health care holdings, AmerisourceBergen Corp. (ABC) sticks out as a bit riskier pick than needed for this type of portfolio. It has a low yield of just 1.8%, and some question marks as a pharmaceutical distribution company, which have been under pressure from increased competition and questions surrounding potential healthcare reform.
I still believe that AmerisourceBergen is a quality company, but with the goals of this portfolio being a reliable and increasing dividend income, holding a stock with growth concerns and a yield under 2% doesn't make much sense.
In it's place, Abbott Laboratories (ABT) offers a good alternative. It too has a long history of dividend growth (clouded as it may be by the AbbVie spin-off), but offers a more diversified business that includes: consumer products, diagnostics, medical devices, and pharmaceuticals. It also offers a tad more yield at 2.15% vs. 1.81% from AmerisourceBergen.
Abbott struggled to grow in the first couple years following the AbbVie spin, but with the recent acquisition of St. Jude Medical, analysts are bullish on it returning to the double-digit earnings growth that investors were accustomed to.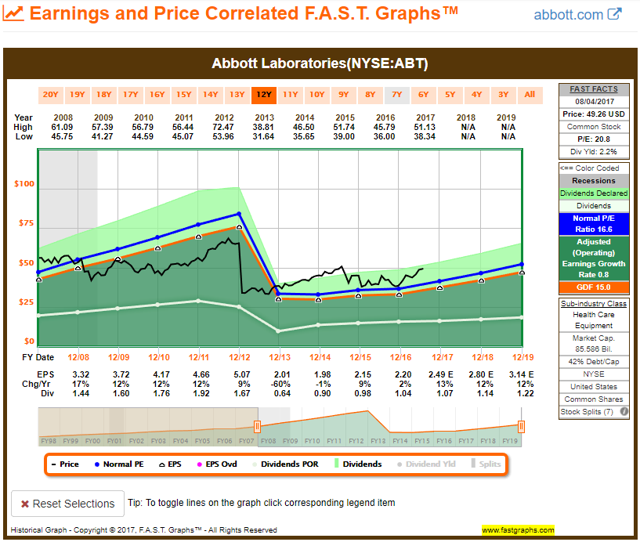 I expect dividend growth to be low for another year or two as it digests the St. Jude acquisition and the potential merger with Alere (ALR). After that, I expect dividend growth to roughly match earnings growth, which is expected to be 10-12%.
My next candidate for removal is South Jersey Industries (SJI), which is an energy services holding company located in New Jersey. The stock has performed quite well, putting up a nearly 42% gain in the two years it has been in the portfolio. This share price increase has happened despite negative earnings growth and an expanding payout ratio that has now reached 90% of expected 2017 earnings and 74% of 2018 earnings. The increased share price has also dropped the yield to just 3.2%, which isn't particularly good when considering its slower growth.
In its place I have selected renewable energy leader NextEra Energy Inc. (NEE), which is a diversified utility headquartered in Florida, with operations spanning 27 states and 4 Canadian provinces.
This utility has a slightly lower yield than South Jersey, but makes up for it with a superior growth rate. NextEra has grown EPS at a 6.9% annual rate over the last decade; nearly twice the 3.7% rate provided by South Jersey. It holds an A- credit rating and is also significantly larger in size, which allows a diversified portfolio that spans the country, providing more stable and consistent earnings.
This is quite visible when comparing the F.A.S.T. Graphs between the two. NextEra has a steady slope higher in earnings, while South Jersey has more peaks and valleys over the years.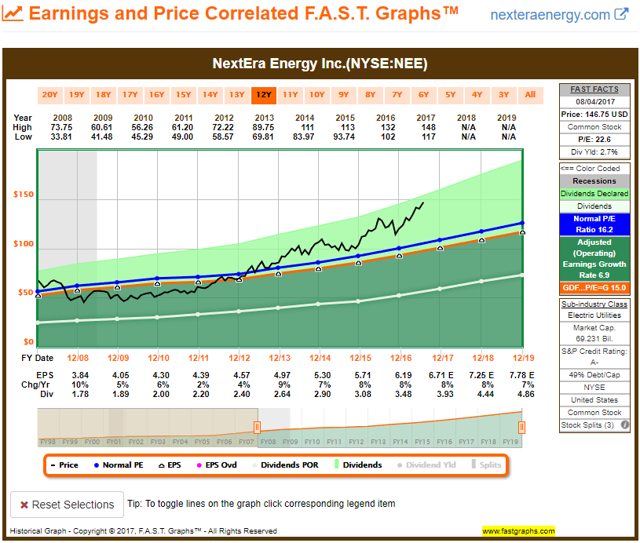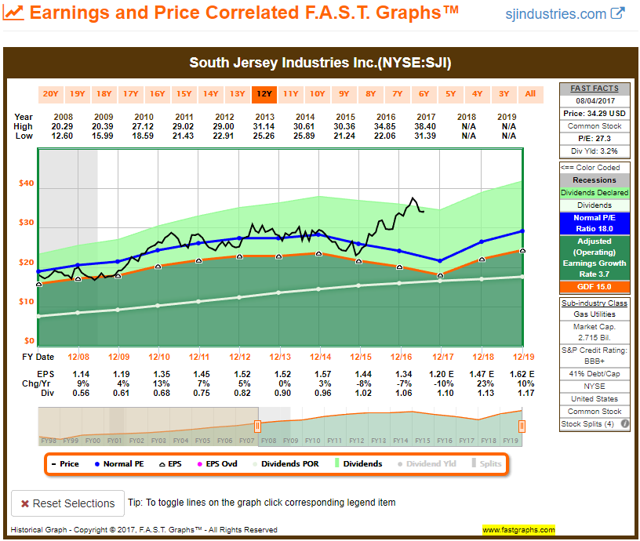 NextEra management has guided for 12-14% dividend growth through 2018 and for a dividend payout ratio of ~65%. With a current payout ratio of just 58.6% and 8% EPS growth expected by analysts, I think the dividend could see 10% growth beyond the 2018 target.
Shares of NextEra are expensive, but so are South Jersey's, so I'm essentially trading one expensive stock for another. However, I like the long-term prospects of NextEra more, so think this will end up being a good trade for the long run.
There are three other companies in the portfolio that I considered for removal, but at this time I think I'll give them another year to work through their struggles.
First is Target Corp. (TGT), which has seen earnings growth stagnate and its share price take a hit over the last year. Threats of increased competition from Amazon (AMZN) and other retailers does cause some concern, but with a 47-year streak of dividend increases and a still quality "A" credit rating, I am willing to give it the benefit of the doubt and keep it around.
Coca-Cola (KO) has also struggled to find growth of late, but it remains one of the best brands in the world and is bringing a new CEO aboard. Maybe it will see a resurgence similar to McDonald's after it got new leadership, and take off once again.
Finally, last year's addition, Omega Healthcare Investors, was considered for removal due to concerns surrounding the healthcare sector and potential changes to medicare. However, the company seems to be navigating the situation well and is still expected to see FFO growth in 2017.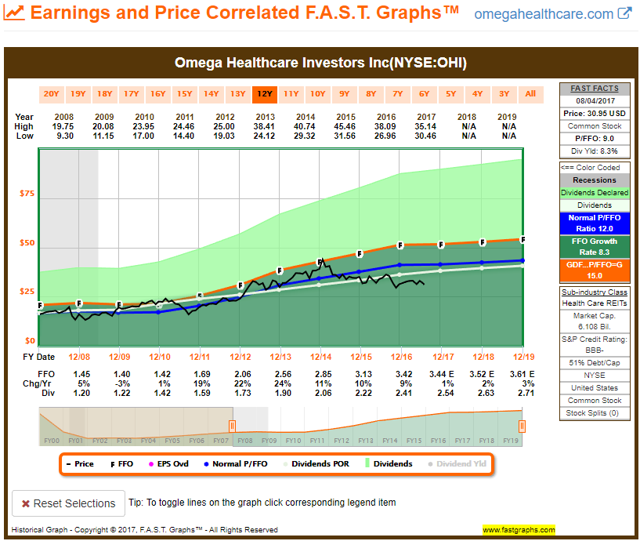 The payout ratio remains reasonable at around 70%, and management recently raised the dividend for the 20th consecutive quarter. For those reasons I'm not as concerned about the dividend being cut as I was with HCP, so for now it stays in the portfolio.
Here is the how the two trades shake out for the portfolio:

I used the closing prices from August 4th for my value calculations and equally weighted the two new purchases. I also kept the new purchases about $32 lower than the sale proceeds from the companies sold to account for transaction costs for the trades.
Add it all up and the swap to Abbott and NextEra lowers the current income of the portfolio by $157.22. This seems significant when looking at this trade in a vacuum, as it is a nearly 11% cut from the $1,468.33 that was being produced by AmerisourceBergen and South Jersey Industries.
However, when focusing on the big picture we must consider that the overall portfolio produces over $39,000 per year in dividends, meaning this trade's impact on income is really only a 0.4% cut for the portfolio.
I think that difference can be made up within a year or two due to the higher growth rate of NextEra Energy. Time will tell if that is the case!
Conclusion
I am enjoying tracking and maintaining this project, as I think it can provide some good lessons on portfolio management. I know in my personal portfolio I had a tendency to dump under-performing companies in order to replace them with what looked like better alternatives.
While that has worked well in some cases, its also burned me on other occasions when I ended up selling low before the turnaround and replaced them with companies whose performance didn't live up to my expectations.
By tracking both the original portfolio as well as each iteration of it after trades, I hope to gain some insight on the pros/cons of active vs. passive management of a dividend growth portfolio.
One year after the first trade shows that the move paid off with higher income, yet lagged significantly on capital appreciation. We'll see if that trend continues going forward.
I would love to hear your thoughts on the trades made and ones that weren't. Am I overlooking other stocks ideas? Holding onto a dog or two that should dropped? Let me know in the comments below.
Also, if you are interested in following this series or want to read similar works on dividend growth investing, please consider hitting the "follow" button next to my name at the top of the page.
Happy Investing!
Disclosure: I am/we are long AAPL ABBV ABC ABT AMGN AMP BDX CBRL CHD CLDT CMI CVS CVX D DLR DPS EOG FLO GE GILD GIS IBM KMI KO LMT LOW MCD MDU mo MSFT NKE NSC O OHI OXY PII PM QCOM ROST SBUX SKT STAG T TGT THO UNP V WBA WEC WFC WSO XEL XOM.
I wrote this article myself, and it expresses my own opinions. I am not receiving compensation for it (other than from Seeking Alpha). I have no business relationship with any company whose stock is mentioned in this article.
Additional disclosure: I am a Civil Engineer by trade and am not a professional investment adviser or financial analyst. This article is not an endorsement for the stocks mentioned. Please perform your own due diligence before you decide to trade any securities or other products.