Summary
I have created a virtual oil field production simulator. For this article, oil well production was simulated for all oil wells located in the Williston basin. The simulation was allowed to run for future months in order to effectively forecast future oil production.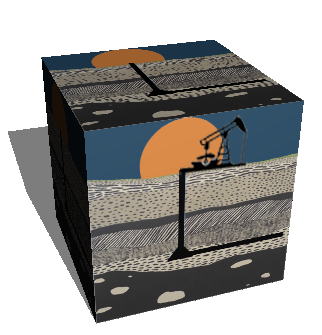 (image source:Illinois DNR)
In this simulation, virtual oil wells were added to a virtual oil field over time based on the estimated effect of the number of active Bakken drilling rigs as reported by Baker Hughes.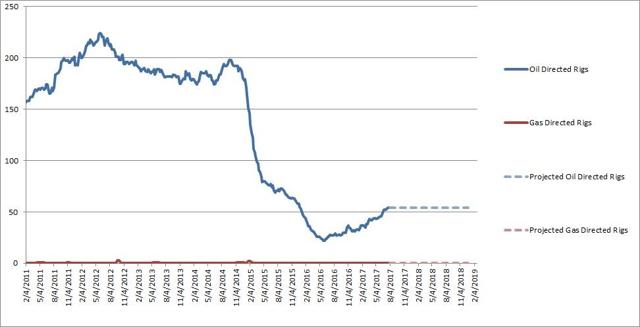 The number of drilling rigs was assumed to remain constant during future months. This allows for the presumption that if future drilling activity increases then future production would increase above the modeled result, and visa versa.
Oil wells were assumed to be complete a number of weeks after drilling commenced and only then produced oil. Production decline for the newly drilled virtual oil wells was assumed to follow a typical Bakken decline curve as shown below. Production decline curves for many US oil and gas basins can be found at Shaleprofile.com.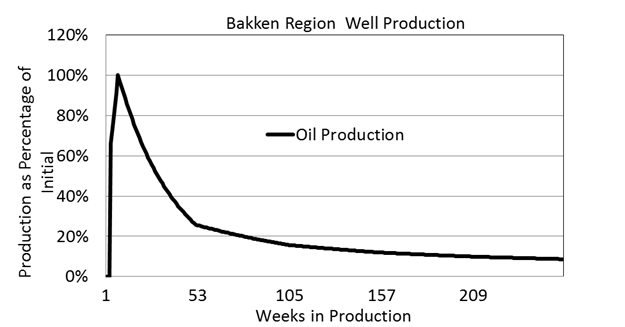 The initial estimated production rate of each virtual oil well, over time, was based on data from the EIA Drilling Rig Productivity Report (DPR). The EIA calculates Drilling Rig Productivity based on the reported number of all active drilling rigs and the reported total production from all newly completed wells. The virtual Oil Well Productivity Factors, shown below, were generated from the relative changes in EIA calculated Drilling Rig Productivity over time.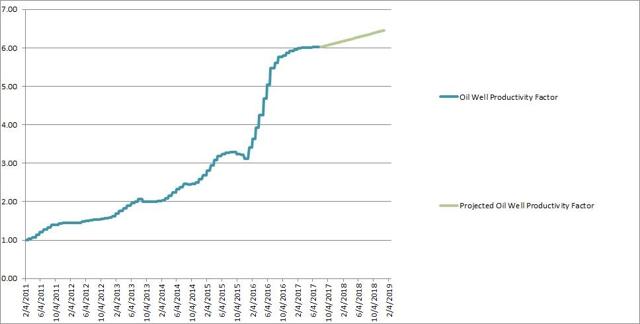 Drilling Rig Productivity at Bakken appears to be nearing the end of a large innovation S-Curve, at least temporarily. Therefore, future oil well productivity factor growth is assumed to remain relatively subdued.
After an actual well is drilled it must be physically worked to completion (e.g. fracked). EIA's monthly DPR includes an inventory of drilled but uncompleted wells (DUCs) in a 'DUC Supplement'. The DUC Supplement is helpful in gaining additional insight into production and productivity trends at the most prolific US oil basins.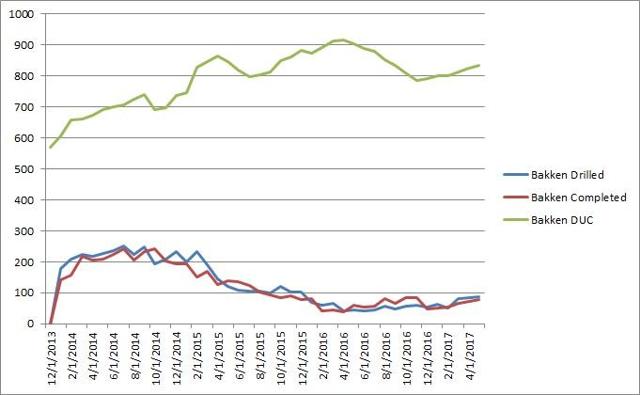 Based on the recent DPR DUC Supplement, the number of Bakken DUCs has been increasing slightly since late 2016. This data suggests that future EIA Drilling Rig Productivity is more likely to trend higher in coming months. This is mainly due to the practical methods used by the EIA to calculate drilling rig productivity. For example, when more wells are being completed than are being drilled, new well production will increase and thereby show as an increase in EIA reported drilling rig productivity.
With the aforementioned data entered into the virtual oil field model, total oil production at Bakken was simulated over time and compared to past Bakken oil production as reported by the EIA. Results, shown below, indicate that the model generates oil production consistent with actual production and that oil production at Bakken will likely increase to a record high by the end of 2018.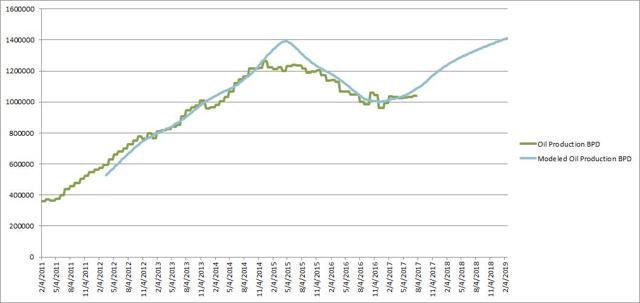 A similar model was run and published in September of 2016 (Bakken Shale Oil Production Has Bottomed). That model accurately predicted that Bakken oil production had finally bottomed.
Notice that 2015 production was less than calculated by the model. This is likely due to Bakken takeaway limitations during that year. Recent oil pipeline construction should have alleviated many of the bottlenecks by now which should allow Bakken oil production to reach new highs.
Considering that production has been flat since 2016, and considering that rig counts are still very low compared to 2014, it would be reasonable to guess that Bakken production will remain stuck in the mud indefinitely. This model strongly suggests otherwise.