The DJIA came into the week riding a streak of eight straight trading days of record closing highs and is currently on pace for a ninth straight record close. Including today, the index has now seen 35 record closing highs so far in 2017. The first chart below compares this year's total number of closing highs to the number of closing all-time highs by year going back to 1900. Looking at the chart, several years have seen a lot more closing highs. As recently as 2014, the DJIA saw 38 record closes and the year before that there were 52. The record number of closing highs for a given year was back in 1995 when there were 70. If the DJIA were to go the remainder of the year without notching another closing high, 2017 would rank as the 16th most record closes in a given year since 1900.
The year may be going fast, but we all know that there are still another 4+ months before 2017 comes to an end, so while nothing is guaranteed, there's still plenty of room for this year to add to the total of new highs. With that in mind, the chart below shows the number of record closing highs for the DJIA by year only through 8/7. Using this apples-to-apples comparison, 2017's total looks a lot more impressive as the 35 total record closing highs would rank as the 7th most all time and the most since 1997 when there were 39. Two years before that, there were 46 in 1995, but the record number of closing all-time highs for the DJIA through 8/7 was 49 back in 1987. In that year, though, there were only seven more record closing highs before the bottom started to fall out of the market ahead of one of the fifth worst final four months of a year for the DJIA in its history.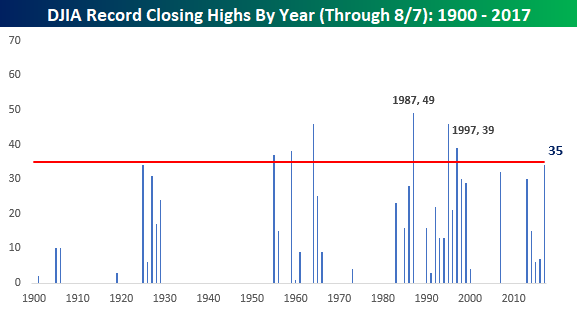 Thanks for reading the article. Follow our account to get our articles as soon as they're posted to Seeking Alpha. To get our full newsletter, sign up for Bespoke Newsletter PRO. Subscribers to that service get access to Bespoke's model stock portfolios, actionable data-driven insights, and in-depth analysis of everything that drives the markets, among other things.